I hope you enjoy reading this blog post.
Would you like to get expert advice? Click Here
home / blog / Astrology And Horoscope App Development: Features and Benefits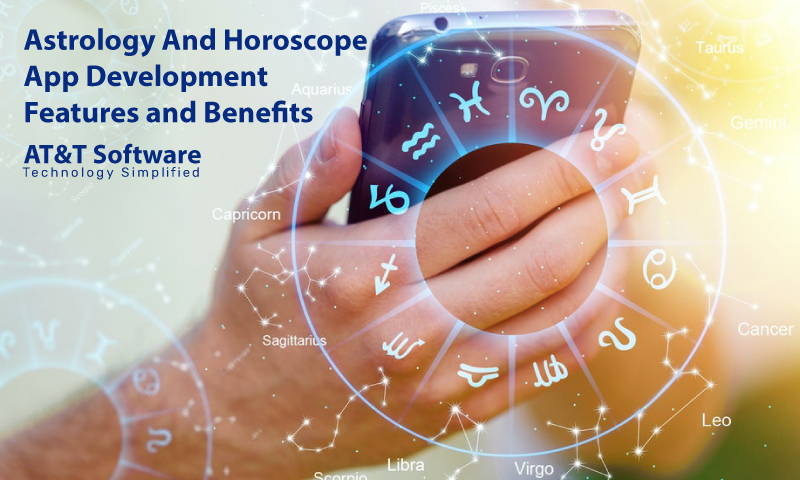 AT&T Software offers premium quality astrology and horoscope app development services to meet your business demand efficiently.
AT&T Software is a trusted name in the app development industry for offering feature-rich apps and meeting the specific requirements of your business. With AT&T Software, you may get the unrivaled astrology consultation app solution. Moreover, you can create a traditional astrological consultation marketplace using our indigenous technologies.
Talk to our Expert Team for astrology and horoscope app development services! Purchase Right Now!
App Development For Astrology And Horoscopes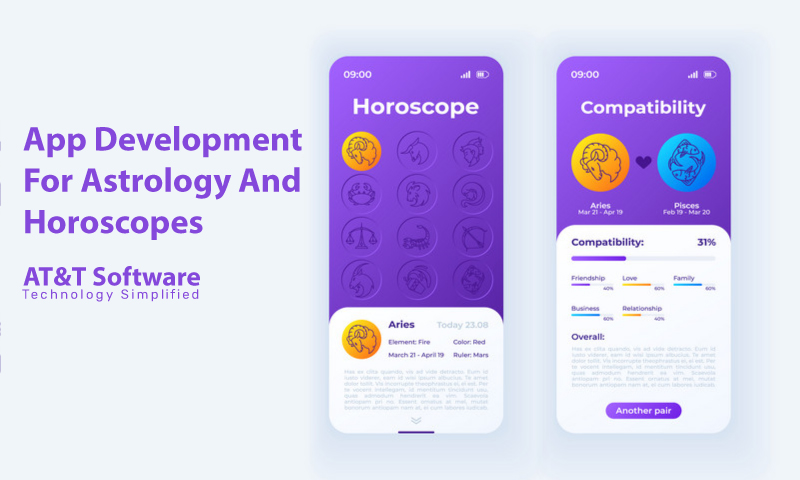 Develop an astrologer consultation marketplace by collaborating with AT&T Software. Technology has been enhancing numerous industries with its strength, and the astrology field has not been left out. It has played a prominent role in advertising services and propelled the firm with an online presence. If you want to increase engagement and gain a competitive advantage over your competitors, you should look into developing a user-friendly and results-driven astrological app.
Building an astrology and horoscope app will provide you with all the output you have been looking for. Whether you are an astrologer, tarot card reader, numerologist, or horoscope specialist, you can effortlessly engage your target demographic and increase customer loyalty. Our astrology and horoscope app software would also help you launch an excellent campaign to raise awareness among potential clients for good measure.
AT&T Software's highly qualified staff of app developers will work diligently to fulfill all of your demands during the astrology and horoscope app development process. In order to answer all of the astrologer on-demand consultancy app development ideas, our crew leaves no stone untouched.
If you are looking for an immersive design, we deliver it all with thorough attention and equal expertise, whether seamless navigation or user-friendly functionality. So, hire astrology and horoscope app developer from us, and you will be able to grow your business globally!
Connect with us to get a rate quote!
What Our astrology and horoscope app Solutions Include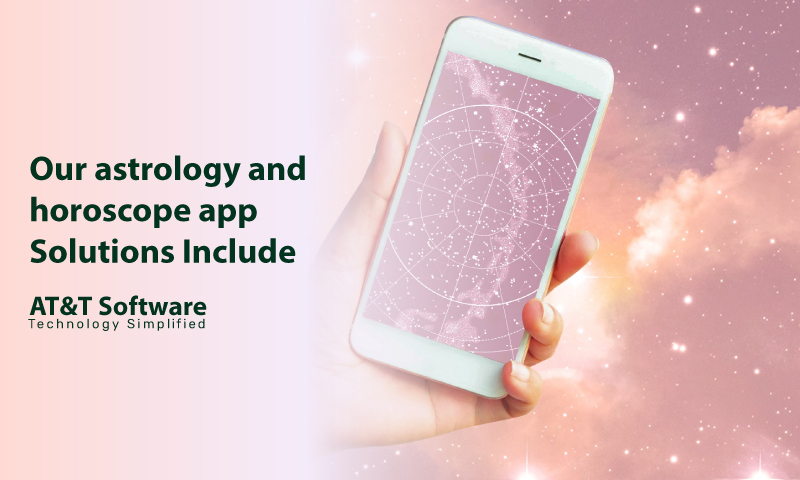 We can create a variety of astrology apps, such as
Development of a Vedic/Indian Astrology App
Development of a Western Astrology App
Developing a Chinese Astrology App
Development of a Numerology App
App Development Services for Numerology
App Development for Palmistry
App for Tarot Card Reading
App Development for Crystal Ball Gazing
What You Will Get In Our Astrology And Horoscope App Development Package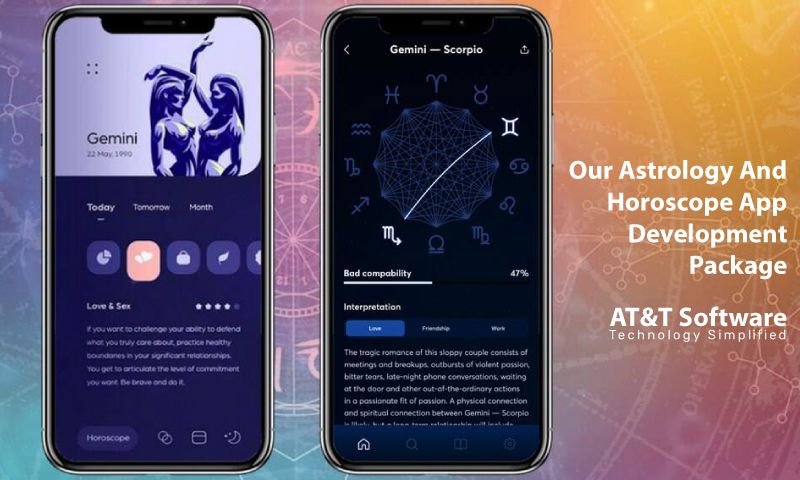 We will offer a feature-rich astrology and horoscope app for every astrology category.
Clone of the Daily Horoscope
Launch a popular astrology and horoscope app that can compete with the industry's top players! The app provides daily horoscopes to users. On a weekly or monthly basis, check the qualities of each zodiac sign and so on. Allow users to customize the app with numerous themes to boost engagement to the utmost.
Clone of the Time Nomad
In a short period of time, launch an astrology learning software like Time Nomad and redefine the term "success" for your company. It allows users to track the positions of planets in real-time, study birth charts, and be notified of forthcoming astrological events. Thanks to its exceptional features and straightforward design, learning astrology has become doodling. Launch an astrology and horoscope app and monetize the platform soon.
Clone of iHoroscope
An astrology and horoscope app with features that encourage clients to return to your app whenever they see it while scrolling! Allow consumers to communicate with professional psychics for more customized advice. Similarly, you can provide users with extra options for making in-app purchases while being on the astrology and horoscope app.
Personalized Astrology Clone for Co-Star
Attract users to your business and pique their interest by using astrological data to create a personalized horoscope based on the birth chart. Allow them to find their friends' or lovers' astrology on the astrology and horoscope app and see if they are suited for each other to pique their interest even more. We believe they will become frequent customers of yours!
Clone of Astrology's Daily Horoscope
Give a daily dosage of free, fun, and bright horoscopes, and you will hit the nail on the head with the world's population. Enhance your company's visibility by using the online astrologer appointment app's fun function that allows users to share their horoscopes with their pals.
Clone of Susan Miller's Astrology Zone
Allow your customers to view their horoscopes daily and monthly and assess their compatibility with others on the astrology and horoscope app. In addition, you can allow astrology devotees to benefit from premium versions, which provide superb features and dexterous capabilities that add to the app's awesomeness.
Clone of TimePassages
With the astrology and horoscope app, you can cement a top position for your company among competitors. Enable an interactive tracking experience by investigating the significance of the star movements. It is the most engagement-centric astrology app, featuring features like comparing charts with buddies and sharing.
Clone of Chaturanga Astrology
Personalizations are available on the astrology and horoscope app! In today's market, the most desired feature of any app. Never miss a beat, and have the Chaturanga Astrology Clone up and running today. You not only hook users to your application but also plan the golden path ahead of them with extensive and customized responses to the most challenging questions.
Clone of AstroStyle
By combining expert astrological readings and allowing your consumers to find them every day, you may become a prominent astrology business by using the astrology and horoscope app. Offer on-the-go horoscope readings for the week and month. The AstroStyle Clone's characteristic of loving horoscopes is incentive enough to spread the word!
Daily Horoscope Plus Clone
Launch an all-encompassing astrological app with features such as tarot readings, numerology, and blood type personality analysis, among others. Allow your users to verify the suitability between themselves and their famous crush to pique their curiosity.
Benefits of Using an Astrology Consultation App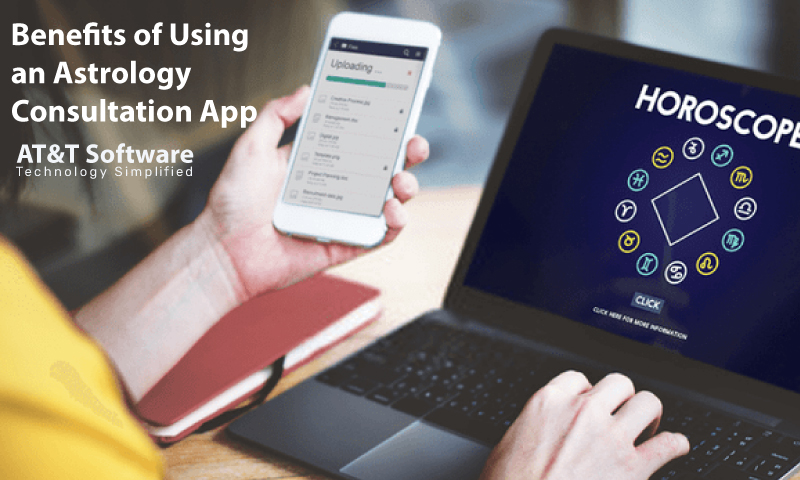 Consultation via text, audio, and video
With the superb channel, you may remove all communication and time zone barriers. Interact with your clientele in real-time, regardless of time zones, and provide an enjoyable experience with HQ calls that include screen sharing on the astrology and horoscope app.
Instant and Secure Payments
The astrology and horoscope app is built upon the latest technology and newfangled integrations. The app contains multi-payment options lined up to get you instant revenue with utmost security.
Analytics with Intelligence
Whether it is progress or perfection, your astrology and horoscope app and you deserve to be recognized right away. That is exactly it! You can receive a thorough tracking record of revenues and everyday transactions using smart analytics.
Calendar of the Stars or Celestial Calendar
Allow astrologers to calculate and find the user's birth chart with extreme precision in order to forecast future events via the astrology and horoscope app. This feature has been included as a sign of your app's achievement!
Notifications, Text, and Email
Continue to taunt your customers about their good fortune on the astrology and horoscope app! To notify them of the scheduled events on a regular basis, use push notifications, email, and SMS. If you keep this under control, your app will never run out of interaction or users.
Unprecedented Appointment Scheduling
Linked with time slots and calendars to allow users and astrologers to share available time slots with one another for a seamless experience. Always stay one step ahead of the competition with the astrology and horoscope app!
Do you want to start a marketplace for astrologer consultations? We have got you covered! Contact us to develop an astrology and horoscope app and increase your client base.
What Is The Prospect Of Building An Astrology App In The Present Era?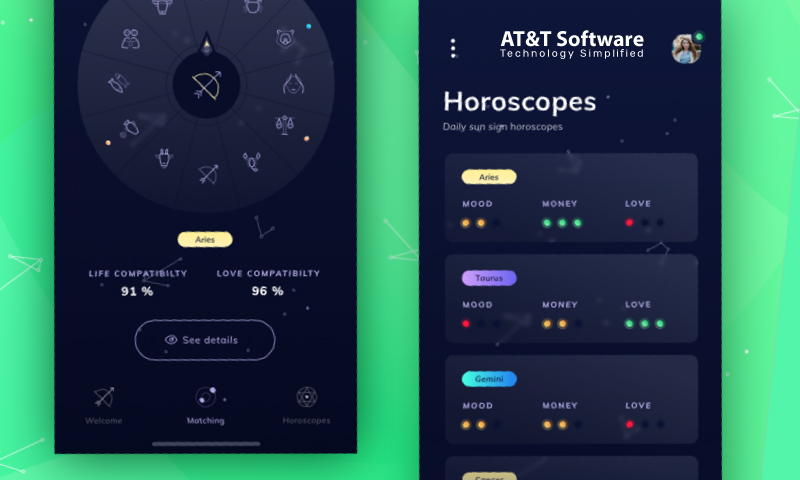 Astrology is neither a fad nor a trend; it has been practiced for centuries. Likewise, astrology forecasts have long been associated with medieval times and mythology. Even though technology has advanced to the point where we can have anything delivered to our home, the beliefs still appear to sway.
Let's take a look at what these astrology apps have in store for the future.
Potential Investment Prospects
International astrological and metaphysical services have grown into multibillion-dollar enterprises with exponential development. However, the level of competition is far lower. As a result of the growing craze combined with the minimal competition, launching an astrology and horoscope app can be a fantastic hit!
Potential Customers
According to researchers, millennials should spend more time using astrology apps to get advice and make the best life decisions. In addition, many studies have indicated that millennials are more interested in astrology and have a great feeling of curiosity about the world.
Venture capitalists' Interests
Venture capitalists can be described as market trend forecasters, and their focus has shifted to astrology due to the public's fascination with the subject. In addition, technology integrations like Al appear to have piqued their interest in hoping and exploring the field.
Characteristics of Our Astrologer On-Demand Consultancy App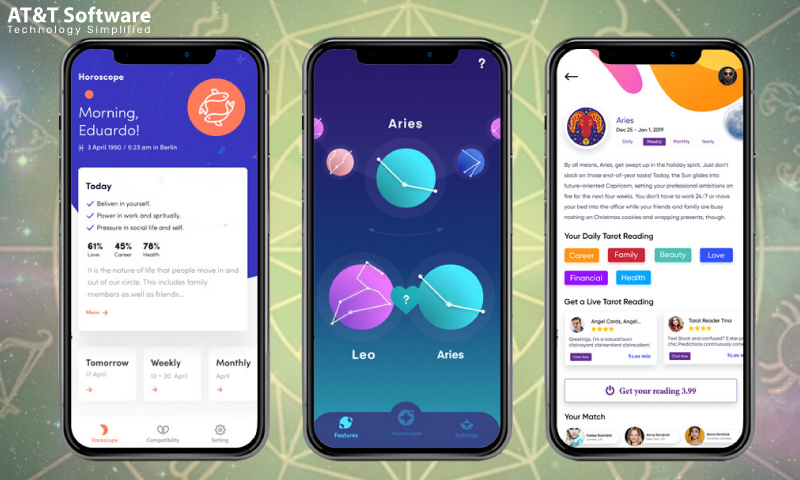 Deep Search
With the most advanced technology in place, an astrology and horoscope app would allow users to quickly search for and select astrologers from a list of hundreds of them based on their needs.
Horoscope Study
Allow users to acquire what they want without having to do any deep search on the astrology and horoscope app. A report provides a comprehensive overview of key details such as a crucial time to exercise caution, friendly aspects, etc.
Horoscope for Today
Follow the wishes of believers who like to begin their day with a daily horoscope reading by launching an astrology and horoscope app for customers across countries. The daily predicting is enclosed in the daily reading. It was a great day.
Horoscope for Love
Allow users to speak with professionals about their personal relationships and affairs via the astrology and horoscope app. When you have this function, an increase in the number of online dating apps is directly proportional to a potential business!
Horoscope for Money
Make a foray into the thoughts of businesspeople as well on the astrology and horoscope app. With the money horoscope function, your users can be readily enticed in with business and financial forecasts. Astrologers can provide guidance based on the signs of the zodiac via the astrology and horoscope app. However, you will have a lot of luck in the money games if you use the app!
Daily Horoscope Suggestion
Provide a basic forecast for each zodiac sign, including clothing colors and other details, through in-app notification messages of the astrology and horoscope app. The users' engrossment or rapport will be at an all-time high if they get regular updates based on their zodiac signs.
Astrology Consultation App Solution Revenue Models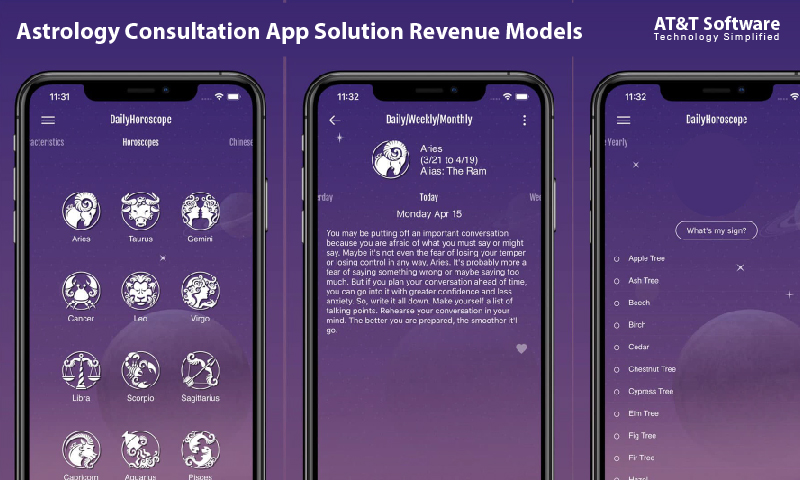 Marketplace for Astrology
Launching an astrology and horoscope app will allow you to create an astrology marketplace. You can bridge the gap between those looking for astrology consultations and people looking for astrologers who make a lot of money.
Selling Merchandise
In the astrology ecosystem, you can offer a plethora of products and services to choose from. Make the most of it by providing individualized readings on the astrology and horoscope app – third-party gem vendors, Feng Shui, and Vastu Shastra experts. The right selling method should scale up both your application and your cash box!
Ad campaigns
To make the most of the astrology and horoscope app, put up ads for astrology books, gemstones, personal counseling sessions, and so forth.
Talk To Our Team!
Arrange A Callback!
The Most Important Advantages Of Developing A Daily Horoscope App: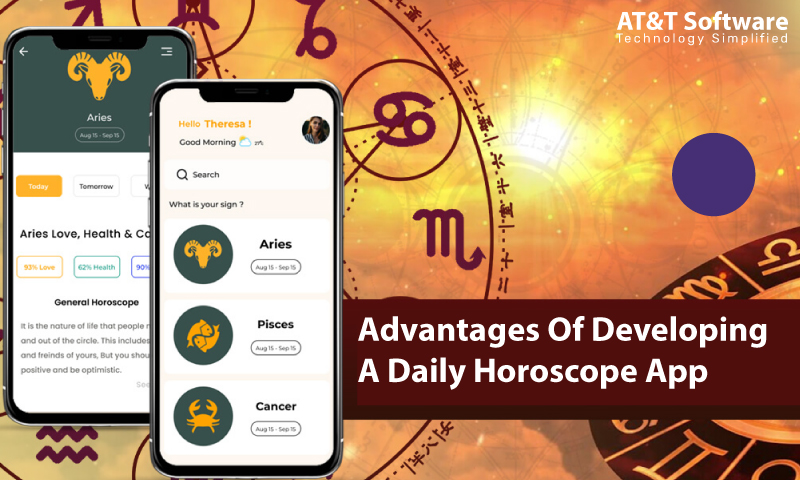 Digital Revolution
This point is self-evident! This is the buzzword circulating throughout various businesses, and why not utilize it for astrology and horoscope apps and allow users to get daily horoscope updates? It enables you to join the information world and rapidly scale your business.
Increased Participation
There is engagement between your company and its customers when there is quick and seamless interaction via the astrology and horoscope app. It is also worth noting that accessibility and services available 24 hours a day, seven days a week, can contribute to growth.
Design That Is Appealing
The astrology and horoscope app's appearance and interface play just as important a role in its use as its functionality. The appealing UI/UX of the astrology software makes it simple to expand your customer base.
Modern Astrology
Mobile astrology and horoscope apps and software solutions are sufficient to breathe new life into astrology, numerology, and other out-of-date services. They can improve the brand's image as well as its efficiency.
Expansion At A Low Cost
Our online astrologer consultation app can help you both horizontally and vertically, whether you are searching for transformation or scalability.
Our Horoscope and Astrology Application Development Process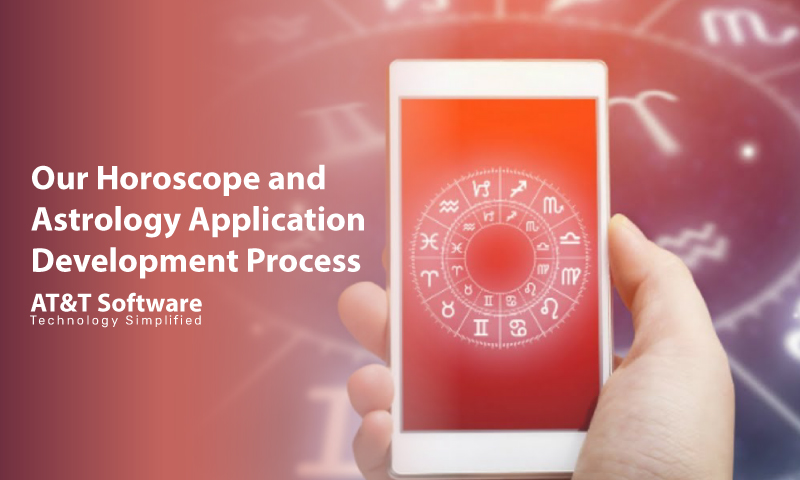 Articulation
You will share your thoughts on the future of astrologer on-demand consulting and your astrology and horoscope app development requirements. Your ideas will be written down, from functionality to branding the entire app.
Styling And Look Design
Our skilled design team will create wireframes based on the above parameters to show how your astrology and horoscope app will look.
Expanding
Following your acceptance of the demo, our expert developers will begin meticulously constructing the astrology and horoscope app.
Experimentation
The produced astrology and horoscope software will be subjected to extensive testing in order to ensure that it is free of faults and problems.
Release
Your perfect astrology and horoscope app, complete with your logo, will be available on app stores in no time and will grow in leaps and bounds.
Help service
We offer lifetime maintenance services that improve your astrology and horoscope app's functionality and increase user engagement. We work hard to ensure that your app has a large user base.
Why Choose At&T Software For Astrology And Horoscope App Development?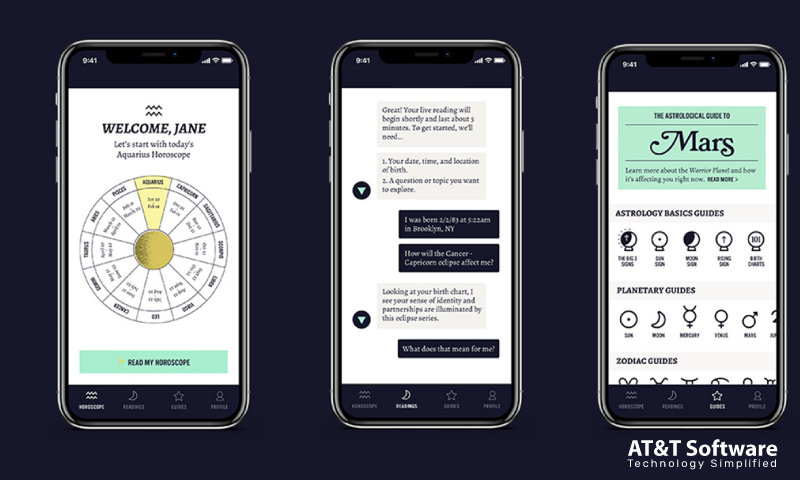 AT&T Software is a leading astrology and horoscope app development service provider in the industry. There are many benefits of collaborating with team AT&T Software.
Professional App Developers
Our dedicated team of professional app developers ensures attention to each detail and offers great support to make the app accessible to everyone. No matter how complex your astrology and horoscope app requirement is, our developers will do a good job in developing your app.
Generate Revenues
Our sole goal is to give you the best astrology and horoscope app possible, one that both astrologers and customers may use for consultation. By partnering with us, you will be able to assist clients and astrologers while also generating revenue from commissions collected on each transaction.
Value for Money
AT&T Software is known for providing best-in-class app services in the app and web development business. We provide you with industry-competitive rates so that you can create your astrology and horoscope app on a budget and profit from it using a monetization model.
Post Sales Support
Our work does not finish with the delivery of the app and its launch in the app store. We also provide app maintenance services to ensure that your astrology and horoscope app runs well and that its users get the most out of it. We make sure that app users have the best possible user experience with no downtime and that they may take advantage of astrology consulting services by scheduling an appointment through the app.
Get in touch with us today to discuss your requirements for developing an astrology and horoscope app.