I hope you enjoy reading this blog post.
Would you like to get expert advice? Click Here
home / blog / Elevate Your Ecommerce Sales With Our Best Buy Clone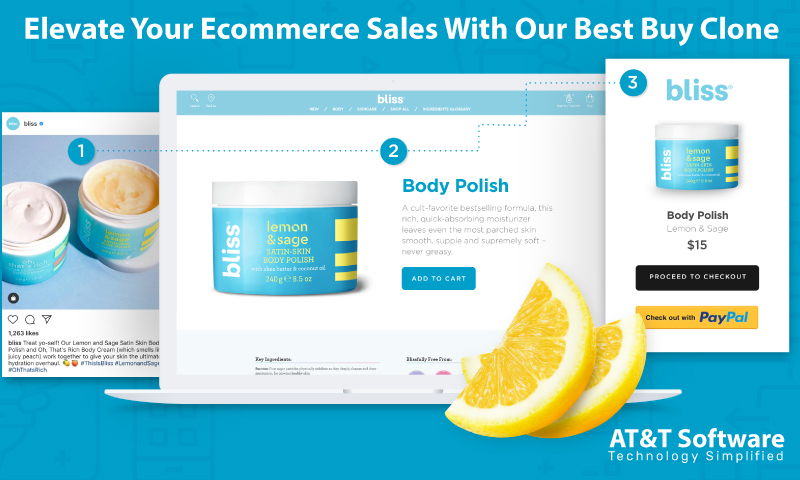 AT&T Software's Best Buy clone script is a superb on-demand eCommerce platform. Best Buy clone is a one-stop shop for all your electrical requirements, including mobile phones and other smart products. Our on-demand home service application is quite similar to Best Buy in that it provides clients with speedy and expert assistance. Our Best Buy clone application (Android & iOS) supports apps for both web and mobile platforms. We provide you with a ready-made Best Buy clone app to help you successfully grow your company. Our on-demand eCommerce application is equipped with the most up-to-date features to ensure that your consumers have a pleasant buying experience while on your website.
We provide a prepackaged Best Buy clone script that can be used to get your on-demand eCommerce service platform up and running quickly. We also provide customized Best Buy clone solutions on a bespoke basis. The customized Best Buy clone may be produced following your company's requirements. AT&T Software has a team of highly qualified designers and developers that can provide you with a full end-to-end solution tailored to your specific requirements. Please contact us to schedule a Best Buy clone demonstration.
What Do You Get When You Use Our Best Buy Clone Application?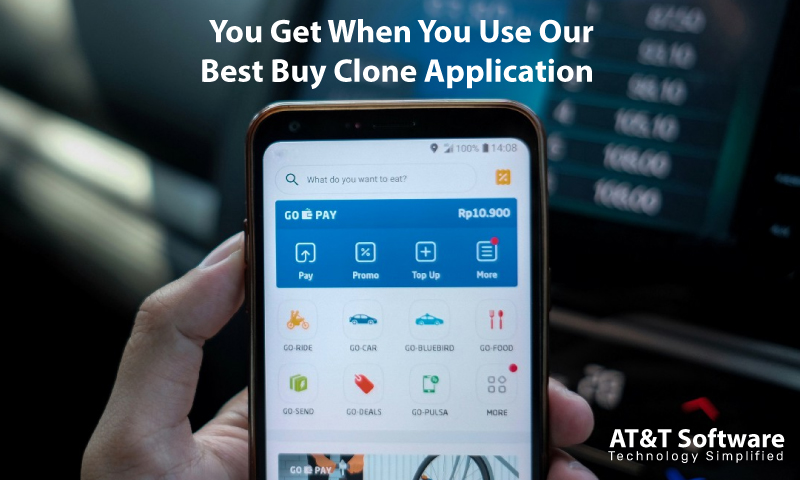 Our Best Buy clone script enables the connection of multiple sellers with millions of clients via a single platform. Customer service for electrical and other technology appliance products may be provided smoothly to your consumers. Our Best Buy clone is very versatile and can be used for any product that falls into several categories and subcategories. Some categories include health and wealth, electronics, mobile, technological device, smartwatch, and other accessories, amongst other things. In addition to supporting single and multi-vendor platforms, our Best Buy clone offers a customizable solution for every company type. Our Best Buy clone facilitates the connection of millions of consumers with a diverse range of providers. The ability to offer their services online to customers all over the globe allows many providers to increase their business's development.
Many clients utilize this Best Buy clone platform to get various on-demand services in one convenient location. With its advantageous qualities, Best Buy has given the most promising on-demand eCommerce platform. With our most recent application software, you may take your company to new heights. Please contact us if you are interested in the customizable Best Buy clone app.
What are the benefits of using our Best Buy Clone Script?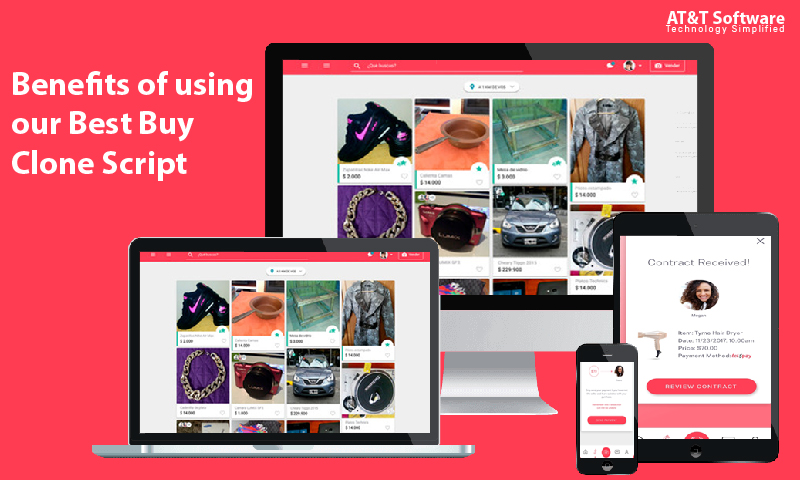 Our finest Buy clone script is pre-loaded with features and functionality that will help you provide your consumers with the best online buying experience possible. Now you can get a feature-rich, prepared Best Buy clone website with sophisticated functionality. In addition, we offer prepared online electronics and appliance software programs that have the features and capabilities that Best Buy customers need.
The system that is easy to use
Our Bets Buy clone software has been created in a user-friendly way to enhance the user experience of our customers.
Solution with a private label
In our Best Buy clone software, we provide white-label solutions in addition to a full set of features and functionalities.
The app can be customized.
The Best Buy clone software may be readily adapted to meet the specific needs of your company's operations.
Source code in its entirety
The Best Buy clone script online and mobile source code that we provide is completely customizable.
Support for Multiple Languages
To provide a better user experience, an app like Best Buy clone provides support for many languages.
Costs and time are being saved.
The Best Buy clone script saves end-users a huge amount of money and time by automating the process.
Third-Party Integration
It is a term that refers to the integration of a third party into a system.
Combining third-party technologies with the Best Buy clone app is possible to accelerate company development.
Payment Options in a Variety of Forms
Depending on your company requirements, the Best Buy clone app may contain a variety of payment alternatives such as cash on delivery, credit/debit cards, and so on.
The Provision of Support and Maintenance
Our Best Buy clone software has a dedicated support staff accessible 24 hours a day, seven days a week, to give complete support and help.
The Best Buy Clone App has many important features.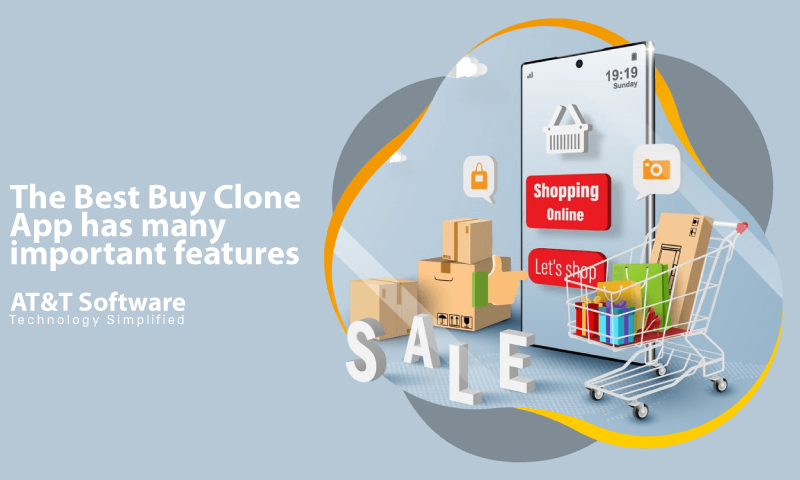 We provide fully customizable applications and Whitelabel solutions for your electrical products and services. We have all of the same features like the Best Buy clone and some additional ones.
Deals of the day
Best Buy clone website's homepage has a prominent display of the most popular bargains. These are the greatest prices available, only available for a limited period.
Today's special offer
The phrase "deals of the day" indicates that the bargains are only available for that specific day. Therefore, the transactions are no longer viable the next day.
Viewed most recently
This feature displays the items that consumers have recently seen on the Best Buy clone website, updated daily—showing 5 of the most recently viewed goods.
Items that have been saved
The goods that your customers save will appear in a list under this category in our Best Buy clone script, and the list of stored things will be accessible from there.
Locate a retailer.
Best Buy clone displays the location of several shop locations belonging to the online retailer on a map, along with the store address, to facilitate navigation.
Featured
The highlighted or sponsored items are shown at the top of the product listing in our Best Buy clone script.
Pre-order
Using our Best Buy clone software, users may make orders for things before they are available for purchase at the store itself.
Chat now option.
Customer service representatives are available to assist clients with any questions about the items by using the chat now feature.
Lease with the option to purchase
Our Best Buy clone offers a lease-to-own option. A person can lease a thing and then buy it after the leasing time.
What is the procedure for using our Best Buy Clone App?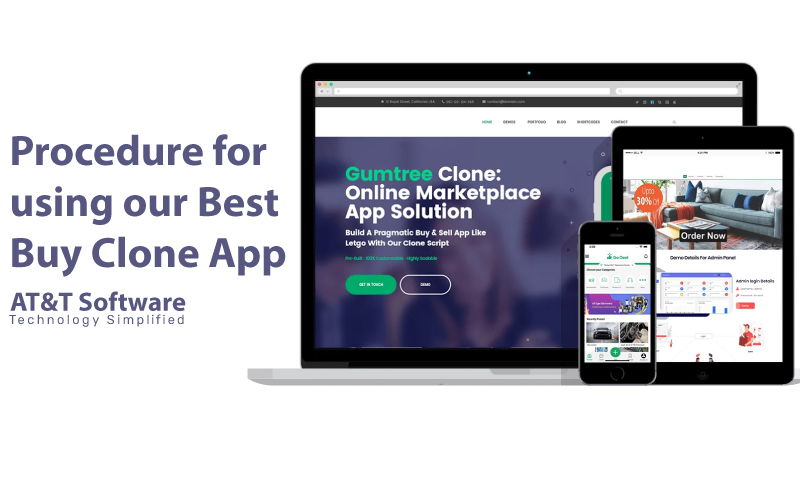 Login or Register.
By providing their credentials, such as their name, address, phone number, and so on, the user may register and log into the Best Buy clone app and begin shopping.
Search Products
Customers may search for items by sorting and filtering choices, reading reviews, and selecting the product they want.
Add Items to your shopping basket.
The chosen goods are added to the shopping basket, and you have the option to increase the number of the products in the cart. The order summary is presented on the screen.
The Transfer of funds
Customers may pay for their orders in various ways, including cash on delivery, credit or debit card, net banking, and so on.
Get it Delivered
Once the payment has been received, the product will be delivered on time to the customer's address on the specified day.
Sign in as a customer
The Best Buy clone app allows your consumers to register and log into the app using a username and password or other social media channels, such as Facebook and Twitter.
Testimonials and evaluations
Customers may only write reviews and ratings for things they have bought from the company. Product photographs or videos may be posted in conjunction with the review.
Box for Performing a Search
Customers may quickly find the items they are looking for by using the intelligent search box shown at the top of the Best Buy clone website.
Price range: Minimum – Maximum
Allow your client to view goods depending on their price range, beginning with the lowest possible price and progressing to the highest possible price.
Brand
Allow your consumers to browse for items depending on the brands, models, and other factors. Making it easier for your consumers to find what they're looking for.
Gift Suggestions
Our Best Buy clone script generates gift suggestions for your consumers depending on the occasion, such as an anniversary, birthday, or new year's present, amongst other things.
Sort
Your consumer may search for items based on color, user ratings, price range from low to high, new arrivals, brands, discounts, and other criteria, among other things.
Share
Your customers may share the product page link with their friends by using the share options on the product page itself. In addition, you may post the link on your social media platforms.
Compare
By including a comparison tool in the Best Buy clone website, you can allow your consumers to compare the product's characteristics for themselves.
Specifications of the product
Allow your consumers to learn much more about your items by providing them with a FAQ, specification, description, product picture, video, etc.
Reviews on the latest technology
Another fantastic feature you can discover on this website is Tech reviews. Expert evaluations on items are provided here, encouraging users to make a purchasing decision.
You may save up to
Inform your consumers about the amount of money they have saved by purchasing certain items. All of these characteristics appeal to potential clients.