I hope you enjoy reading this blog post.
Would you like to get expert advice? Click Here
home / blog / Online Furniture Shop App Development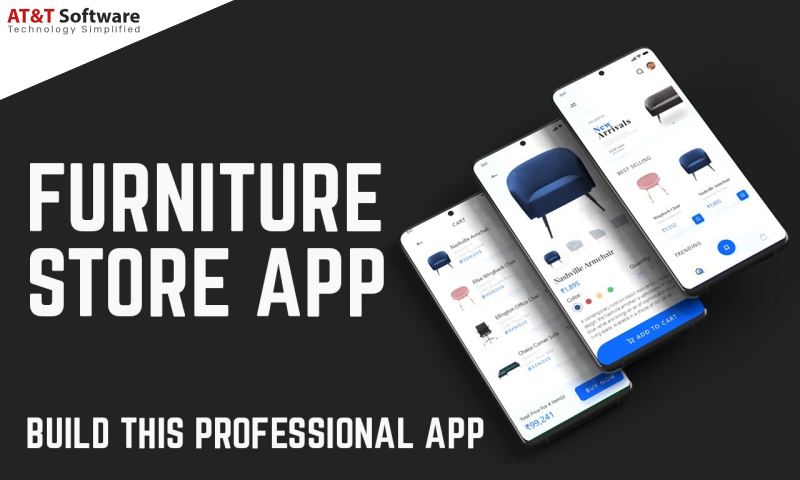 Choosing the right furniture for the home is a complicated and time-consuming task as people need to visit different stores to assess the quality of products. Online stores have garnered immense acceptance across the world for offering high-quality products to customers. As smartphone users are increasing with every passing day, you need to build a robust mobile app to extend your customer outreach. If you have a furniture shop and make it big in the crowded marketplace, you should build a robust mobile app. 
AT&T Software offers a comprehensive online furniture shop app development service suited to your business requirements. With our interactive and enriching mobile app, users can choose products from a catalog of numerous brands. If customers order anything by mistake, they can replace and choose other items. 
Once you hire online furniture shop app developer from us, you get something that grows your sales significantly. With the mobile app, you can take your e-store to a wider audience that leads to more revenues. As our developers are acquainted with all the latest tools and technologies, we know which features we should add to attract maximum customers.
We ensure to build an intuitive and user-friendly interface that offers a marvelous experience to customers. They can easily and quickly find all the products they look for. If your app looks attractive, customers will love your app and visit again. 
Photography plays a crucial role in e-commerce as users assess a product via images. Users can click on the photos and view them from different angles that help in decision-making. The clicks are crystal clear and presented attractively so customers can't resist them. 
Hire us temporarily to complete your online furniture shop app development project on time. 
Why Hire Online Furniture Shop Mobile App Developer?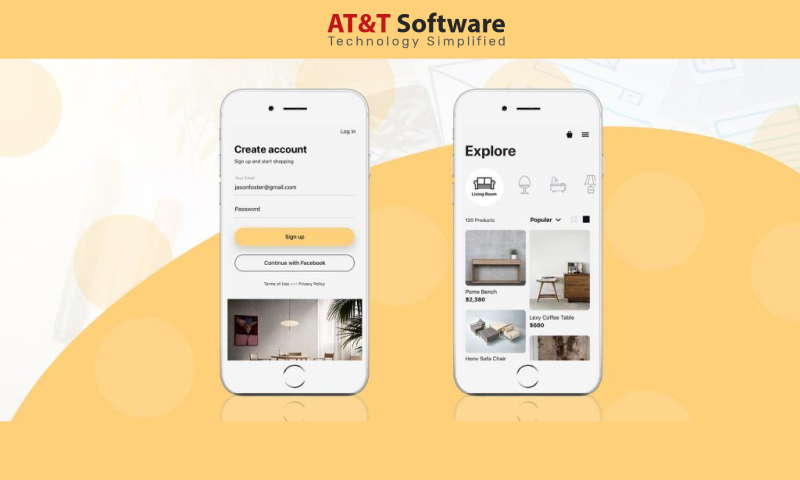 AT&T Software offers an all-inclusive online furniture shop mobile app development service suited to your business needs. Our skilled development team is always available at your service regardless of the project complications. 
Here are the reasons to hire our online furniture shop app developer:
User-Friendly Solutions
To make money in online furniture shop services, you need to build an engaging app that customers can use easily. We make sure that users can mention the locations where they would avail of the service and enjoy accessing the mobile app altogether. 
Timely Delivery
To achieve quick success, you need to build and launch a mobile app soon. With years of experience in the mobile app development industry, we can add rich features and deliver output quickly. This helps you to enter the market faster and earn maximum profits shortly.
Play Store Launch
online furniture shop app development is not enough. It would help if you launched it on the play store so your customers can access it. When you hire our dedicated developers, we do everything from creativity to app launch on play stores. Once we launch your app in the stores, people can easily access it, extending your customer outreach.
Flexibility
When you work with us, you do not need to get into fixed and long-term agreements. Hire our online furniture shop app developer temporarily(daily, weekly or monthly basis) to complete your project on time. We provide but not choose resources to fulfill your needs. You build your development team and scale it up/down later as per the changing requirements.
Cost-effective
We offer an all-inclusive online furniture shop app development service at an affordable price without compromising on quality. Besides development, we also provide thorough maintenance and support without charging extra. Hiring our team to build your app can always be a cost-effective yet profitable decision. 
Online Furniture Shop App Development – Our Areas of Expertise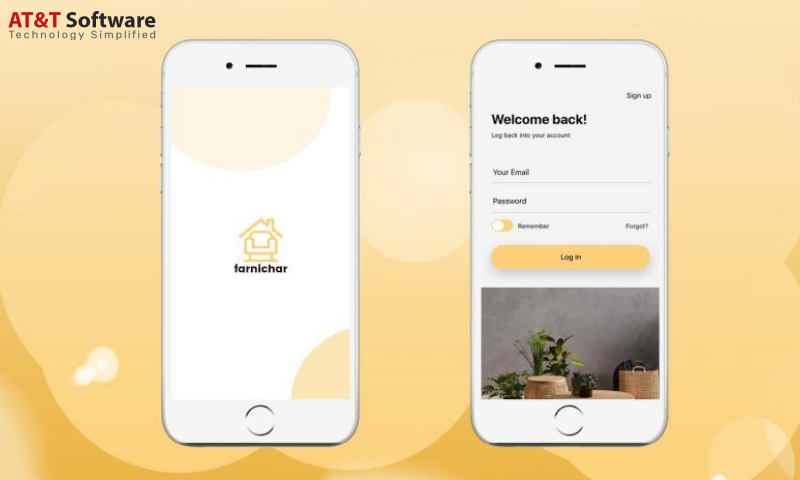 AT&T Software has got a skilled and dedicated mobile app development team who builds a powerful online furniture shop app suited to your needs and preferences:
Take a look at our areas of specialization:
Registration
We customize a mobile app that offers an easy registration process. To access the app, users need to enter only a username and password. They can also log in to the app via social media profiles that proves beneficial for them as they do not need to remember passwords and usernames. 
Push Notifications
We create 'push notifications' that serve as timely reminders to keep users updated with the latest additions. Whenever you add something new to your app, registered users get reminders instantly.  
Chatbot Support
Once users log in to your online furniture shop mobile app, they get to see a chatbot. It takes you across the e-store and responds to all your queries immediately. You can throw questions about it anything related to furniture collection/purchase and expect an instant response. 
Advanced Search Feature
Users can search for their desired products by using relevant images. As customers do not like to enter the name and product information, they prefer to say the name of items via voice command. Nowadays, voice search is considered one of the advanced techniques. So, we include it in your mobile app. 
CRM 
In your mobile app, the CRM system manages exchange activities that your business focuses on. With a larger amount of customer-centric data, the CRM functions better. The system helps in retaining customers for the long-term that increases your sales and profits.
CMS
When you build your app by us, a CMS manages the content and allows several contributors to develop, edit and post online. When you use the CMS system, you can effectively deal with the creation and edit of digital content. 
Multiple Payment
Our mobile app supports flexible payment methods. When your app allows different payment options (including PayPal, UPI, debit, and credit cards), your customers enjoy a hassle-free shopping experience irrespective of the total number of products to buy. 
Analytics and Dashboards
The real-time dashboards help to evaluate, track and report on important data instantly via interactive data visualizations. They help you in offering the most relevant functional reporting data. You can manage data consistently without any effort. 
Order Management Integration
The 'order management integration' feature in your app is capable of tracking orders, sales, and delivery. It permits users, processes, and partnerships that are necessary for the timely delivery of ordered products to customers.
Hire Our Online Furniture Shop Mobile App Developer to Meet Your Demand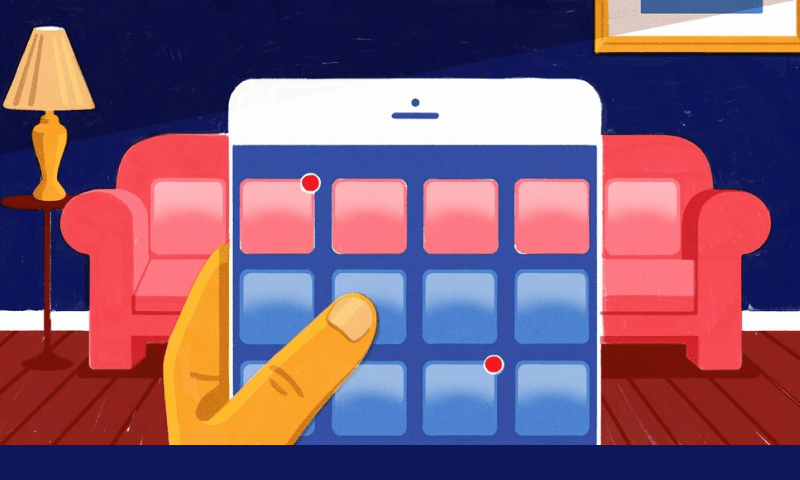 Are you looking for an all-inclusive online furniture shop mobile app development service at an affordable price? Hire an online furniture store mobile app developer from us with no second thought! 
With years of experience in the online furniture shop mobile app development industry, we have become acquainted with a lot of advanced technologies and skills that help us to build outstanding mobile app solutions exclusively for your business!