I hope you enjoy reading this blog post.
Would you like to get expert advice? Click Here
home / blog / Get The Best ROI By Launching PayPal Clone App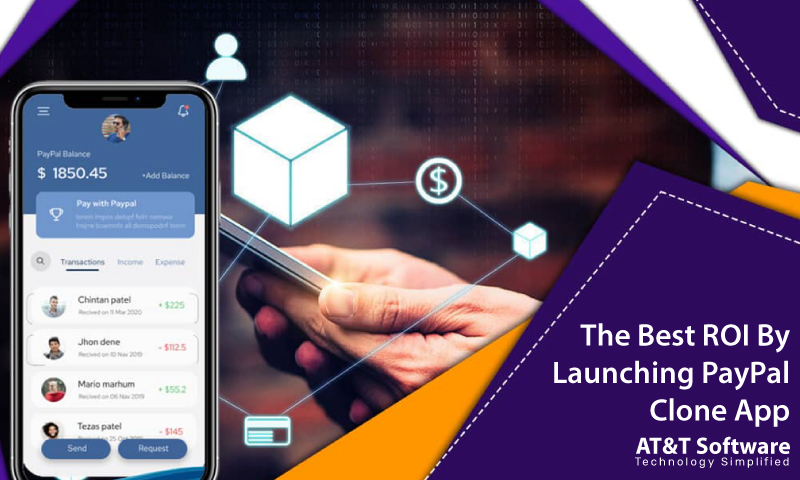 With our PayPal clone app, you can get your business firm off the ground. In addition, these fully prepared solutions are very scalable and configurable. Connect with us to produce the application as quickly as possible for maximum profit!
Get The App! Request Demo
How can you launch a payment app like PayPal Clone?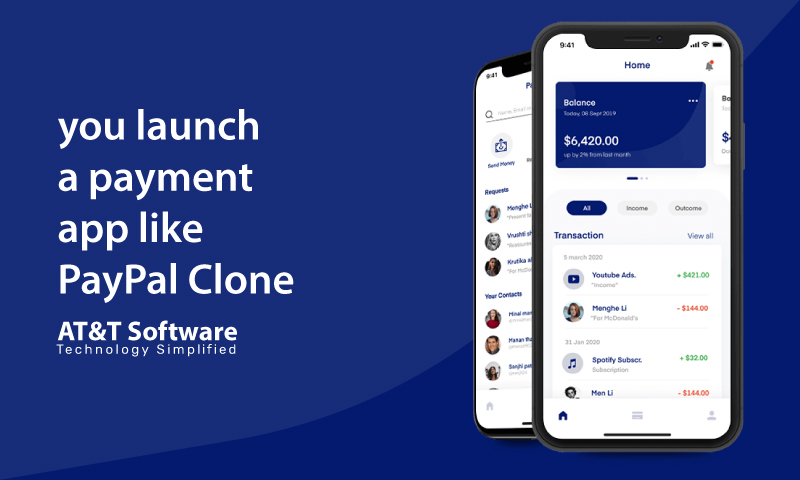 You can either create your own P2P payment software from the start or customize one of the ready-made PayPal clone apps on the market. While the earlier one requires a significant investment of both money and time, the latter is proven to save both.
AT&T Software provides fully configurable PayPal clone app scripts that may be tailored to your specific company requirements. These apps are available at reasonable prices and are quickly distributed on major app platforms.
Get in touch with AT&T Software's customer care team to learn further.
Arrange A Callback!
Email Us!
Connect With Us!
Simplified PayPal Clone App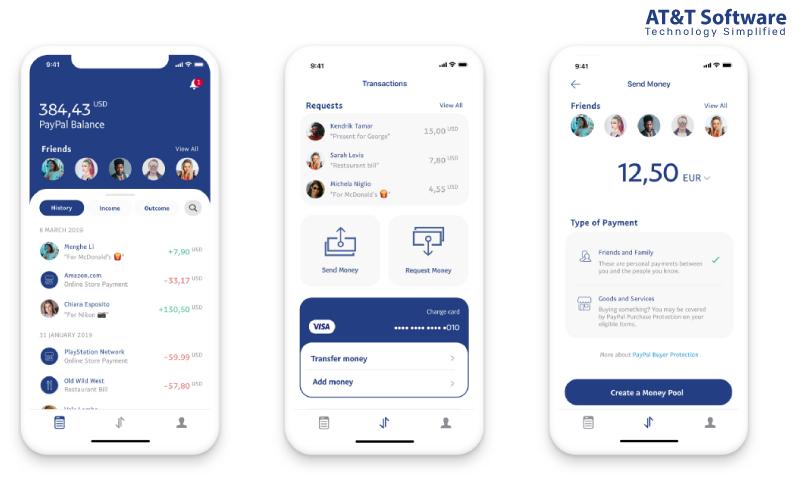 PayPal clone apps are FinTech services that make it simple for customers to make online payments. These apps make it simple for companies to take payments from clients who want to buy their products or use their services. Users can send money to credit/debit cards, e-wallets, bank accounts, and other places.
Several organizations and startups have established their own online payment processing programs, such as PayPal, to benefit the booming digital banking sector's prospects.
Our PayPal app clone is a ready-to-use solution that includes all necessary features and allows for smooth operation. In addition, we assist you in customizing and launching it rapidly so that you can have a competitive advantage.
Launch A Peer-to-Peer Online Payment App Like PayPal With AT&T Software's Paypal Clone Script!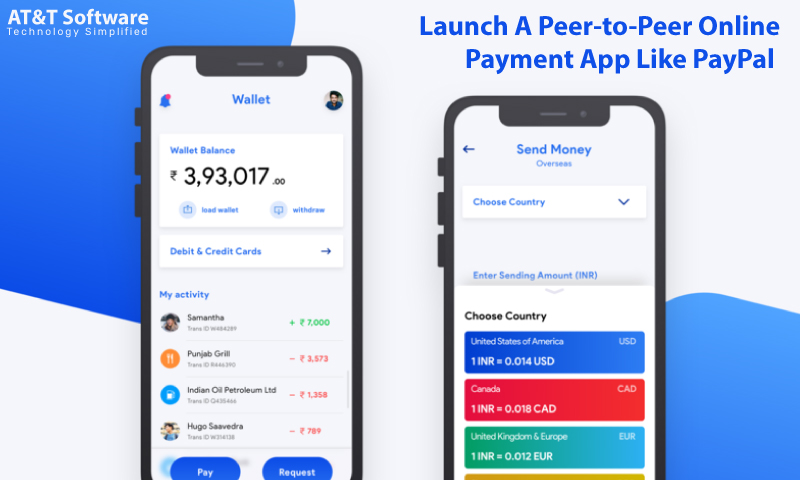 The mobile wallet payment gateways like PhonePe, PayTM, PayPal and others allow users to send money to anyone on the globe from anywhere in the world in almost no time!
We at AT&T Software are aware of the growing popularity of online payment apps and their influence on businesses. Our vast experience has helped us create ready-to-use PayPal clone scripts for both Android and iOS.
These are dependable, feature-rich, and expandable solutions.
By tailoring our white-label solutions in the quickest time possible, we assist entrepreneurs in launching safe online payment apps. Get in touch with us right away to begin developing a payment gateway like the PayPal app!
Connect With Us On WhatsApp!
Get The App Now!
Working Procedure of Our PayPal Clone Application: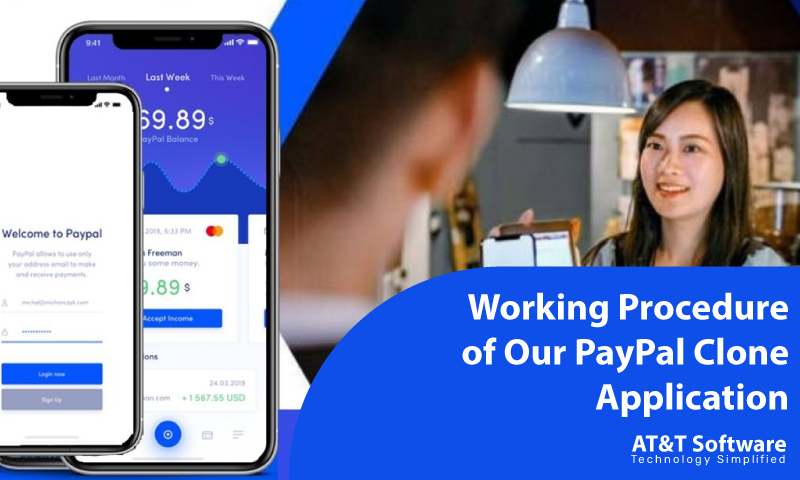 Customers can link their bank accounts to the PayPal clone applications or deposit funds into the in-app wallets. Once these steps are finished, they will be able to begin sending money to other customers or businesses via these payment gateway apps. These platforms are safe, dependable, and protected by cutting-edge technology.
Our App Development Services for Mobile Wallets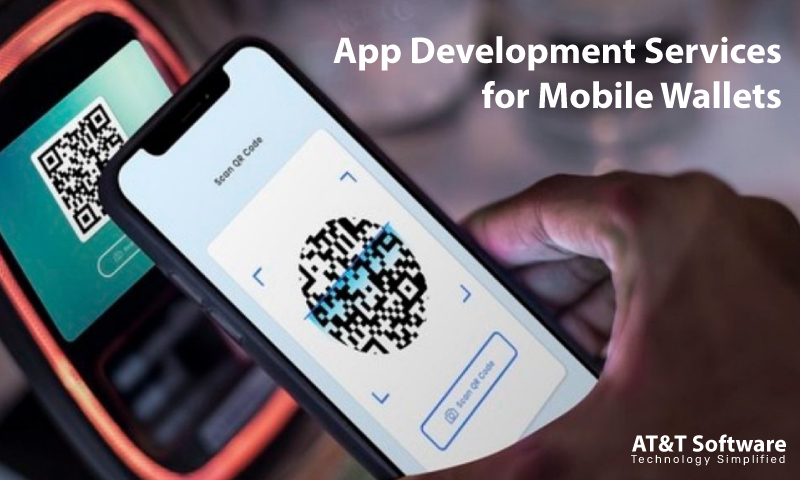 There are different kinds of app solutions available on the market that may be used for various purposes. It is mostly determined by the payment and processing modalities employed in money transactions. With our diverse mobile wallet application development solutions, we assist both users and companies in processing payments in the safest and most efficient manner possible.
Mobile wallets work with the help of mobile service providers, allowing users to send and receive money through their mobile service provider.
Mobile wallets that send out OTPs via SMS to use for banking or credit card payments.
Online payment-capable mobile wallets. Customers can send and receive payments directly through the transactions app.
Users can transact via linking to mobile service providers, financial companies, or custom applications, and the digital payment trends are changing. Contact our customer service staff to swiftly create the mobile wallet application of your choice!
Request Demo!
Our PayPal clone application's characteristics: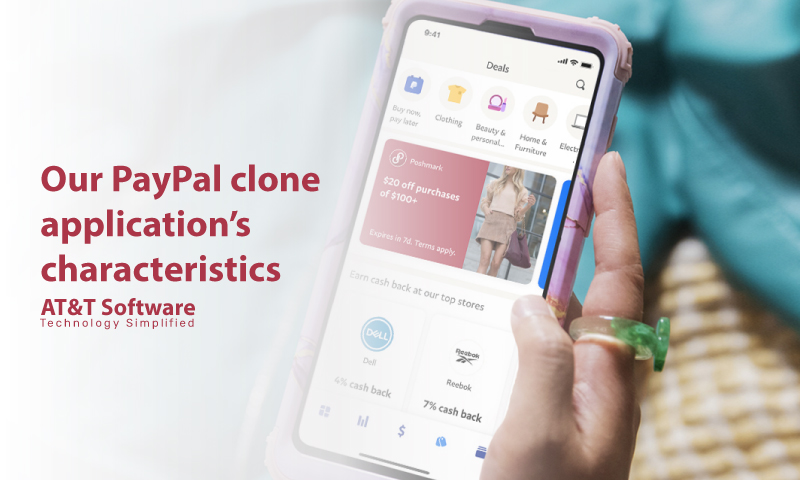 Creating an account
The software allows users to register with their mobile numbers or email addresses. After signing up, they can set up their account by giving the essential information and papers for authentication.
Authentication with many factors
Users can only access the application after validating their identity to guarantee account security. They can register using fingerprint/face recognition, OTP verification by SMS or mail, and other methods.
Make a payment
The PayPal clone user's main goal is to send money in real-time. Customers can pay an individual or a company to settle their bills.
Link accounts and cards
Connect your bank and debit cards with your PayPal clone app account. Users can connect their bank accounts to their profiles for quick money transfers. Their debit cards can also be added if necessary.
Wallet integration in the application
Customers can recharge their in-app wallets by transferring funds from their bank accounts or debit cards. They can then send money immediately to their connections without any fuss.
Super easy and quick purchases
Users can shop at a variety of stores and pay using your app. You can do this by forming partnerships with major business companies.
Make a payment request
Users can ask other individuals in their contacts to send money to them. They can do so using in-app chat, and the individuals on the receiving end will be informed.
Separate payments
The built-in split bill feature enables people to share their bill payment information with relatives and friends.
Share transaction history
The built-in social feed feature and the app enable people to share invoices of the amount paid to the concerned person.
Creating invoices
Customers will receive invoices with full information on their completed payments to their mobile numbers or emails for future reference.
Reader for QR codes
People can instantly scan QR codes and make a payment to the account details associated with them. Therefore, processing payments for businesses is quite valuable.
Contacts synchronisation
Customers can sync their contact list with the app to facilitate speedy money transfers. They simply need to tap on the contacts to whom they want to send money, and the payments will be processed without delay.
Track record of payments
Customers may see all of the payment data they have processed so far. The date, amount transmitted, and other information is available for the user's preference.
Options
Users can change their payment settings in the options section, such as primary account setup, preferable payment mode, and much more.
Pop-up alerts
In-app push notifications will alert users to future payments, transaction requests, app upgrades, and much more.
Encrypted communications
User data and payment information are encrypted using cutting-edge technology to avoid data theft. This ensures the app is hack-proof.
Schedule Your Date With Us!
Make A Customized PayPal Clone App!
Advantages of Using Our Paypal Clone For Your Company: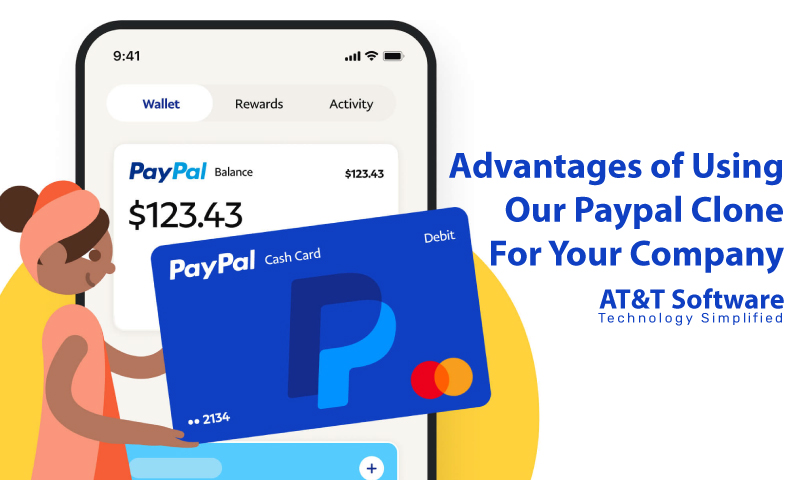 Appealing UI/UX
We ensure that our applications are developed with the most up-to-date tools and techniques to provide a user-friendly app experience that allows users to easily move through the application.
Easy to handle interface
Users can navigate our Paypal clone software with ease and efficiency. Our experts created Ul to allow for lightning-fast transactions without sacrificing security. The app's modern design and user-friendly interface will be a wonderful addition!
Cloud-based technology
With the use of cloud-based technologies, the safety and performance of transactions are greatly improved. We use the most up-to-date technology in our Paypal clone app to stay on the cutting edge of technology.
Save card credentials
Customers can always choose to save their card information to the app, such as the card number, name, expiration date, and other information. This way, they don't have to enter their credit card information every time they want to transfer money.
Dashboard for administrators
The application bundle provides a separate admin page where all business operations in the app are logged. In one handy spot, the administrator may monitor transaction information, user data, registered business groups, user queries, and much more.
Several payment alternatives
As a leading online transactions application development business, we specialize in designing mobile applications that are integrated with various payment systems, such as net banking, debit/credit cards, UPI, and so on, to allow for speedier money transfers.
Privacy protection
We place a high value on the security of our users. Therefore, we use a variety of security technologies to protect essential details like bank accounts and other sensitive information.
Auto currency exchange
Our Paypal clone app offers an auto-conversion tool that converts currencies according to the most recent conversion rates for quick and easy payments.
Multi-Lingual
With several different languages included in the software, users may choose their preferred language and begin making digital payments right away.
Cashless tomorrow
According to most analysts, our economy's future will be cashless. With our Paypal clone, you can be sure you are well prepared for the future.
Enhanced return rates
The Paypal clone app offers entrepreneurs the potential to earn more money with higher return rates than standard banking systems.
Acceptance
Even government entities and regulatory institutions are embracing digital platforms like Paypal with welcoming hands as adoption grows.
Arrange A Callback!
Talk To Our Expert Team!
Our PayPal Clone App Development Solutions' Monetization Techniques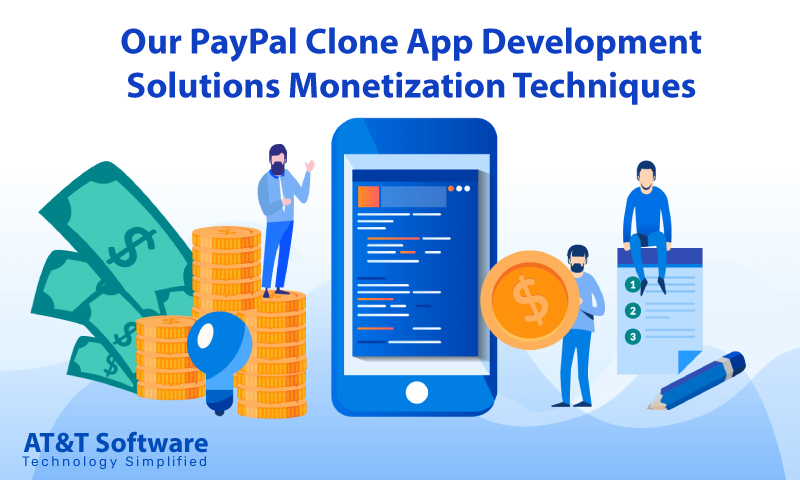 Earn money through your P2P online payments program, such as PayPal, in various ways, as mentioned below.
Transaction Fee for Credit Cards
While debit card transactions are free, credit card payments might easily be charged a transaction fee. Nevertheless, it will be a consistent source of money for your company. Furthermore, even if credit card payments fall, you will not suffer losses.
Fee for Quick Money Transfer
While regular money transfers take two to three days, consumers can complete their money transfers instantaneously by paying a transaction charge. It advantages both users and business owners because the former can transfer money more effectively, and the latter can make money on a regular basis.
Fee for Merchants
You can receive a percentage of the transaction money that is completed through your payment. As a commission, the gateway app is provided to merchant partners. It is one of the main reasons why apps like PayPal encourage clients to do business transactions on a massive scale.
Connect with AT&T Software right away to delve into the construction of a PayPal-like app and make revenue using any of the above tactics for big returns.
Get Your App Now!
Please Write A Mail To Us!
Our PayPal Clone App Development Solutions' Step By Step Strategy: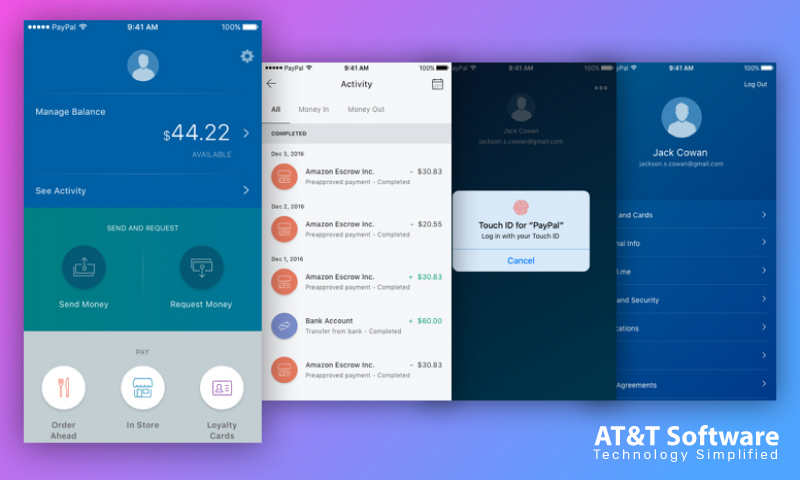 AT&T Software, we offer a step-by-step approach. That guarantees that our work is customer-focused and completed on time. Here is how we distribute our services.
Analyzing project specifications
Creating the development strategy
Designing front-end UI/UX
Development of the backend
A series of customer acceptance tests are conducted.
App distribution through app stores of Android and iOS.
Integrated Account: Cryptocurrency Support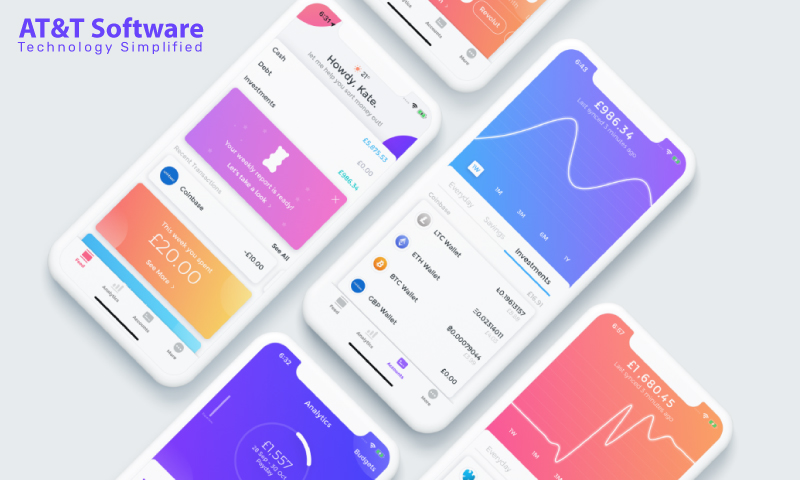 By using AT&T Software's high-quality P2P crypto encrypted wallet, customers can enable direct fund settlement. In addition, we provide dependable and secure wallets that can also be used for asset and fund management, and we integrate them at a low cost.
The Benefits of Cryptocurrency:
They are completely safe
They are open 24*7
It functions as an effective trading platform
They are both quick and easy to get to.
Cost Of App Like To Launch A Payment Gateway App Like PayPal: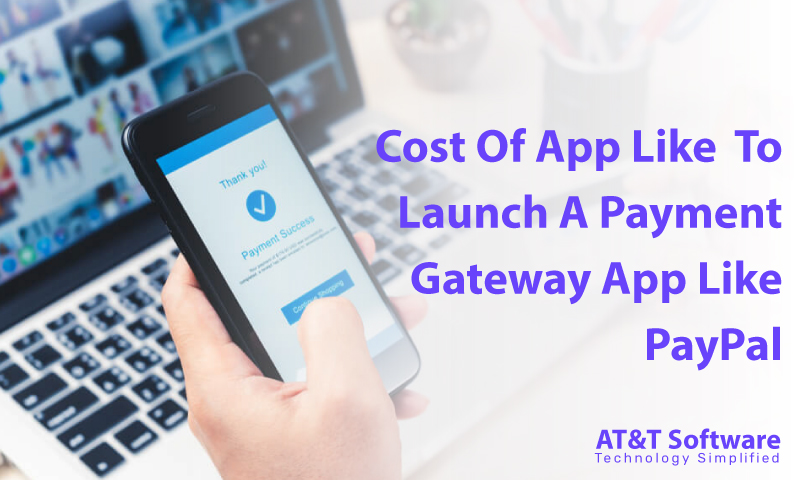 Several factors determine the development cost of a software application such as PayPal. The cost includes the feature set that is included. In addition, the technological stack used, the size of the project team, the time required, and many other factors are all taken into account.
Particularly, the business strategy and monetization tactics significantly impact development expenses. As a result, we collaborate with our clients to analyze their business needs and requirements and other demands to forecast the aspects listed above.
We calculate the development expenses based on our proposed project. We ensure that the information is completed within our client's budget while remaining cost-effective.
Get in touch with us today to develop a PayPal clone app now!