I hope you enjoy reading this blog post.
Would you like to get expert advice? Click Here
home / blog / Get Your Own DEX (Decentralized Exchange) With A IDEX Clone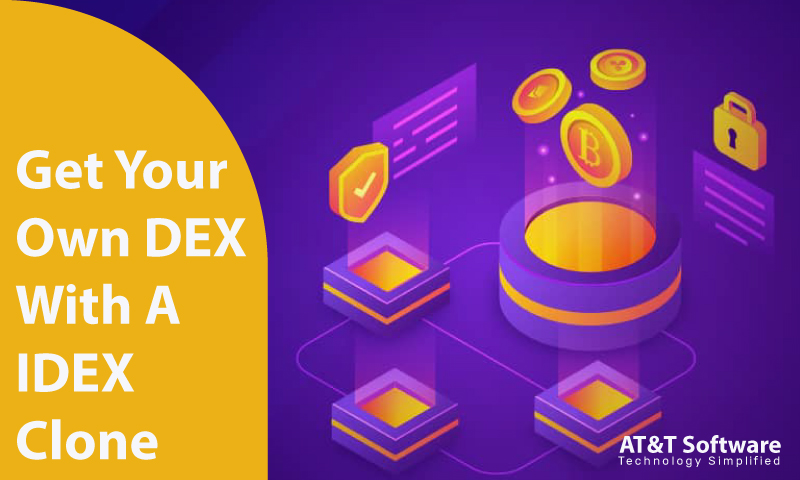 In the realm of blockchain, the phrase "crypto exchange" is not a new one. When it comes to cryptocurrency, exchanges are the most talked-about issue. It is a common fantasy in the cryptocurrency community to launch one's own trading platform, complete with the best trading tools. Several decentralized cryptocurrency exchanges, such as Bisq, IDEX, and others are present to serve the purpose of trading. These DEX platforms can be different from their competitors because they have unique trading features and security features.
DEX platforms have become increasingly popular among crypto traders and investors in this current market environment. Decentralized exchanges provide more privacy and security. Traditional crypto exchanges do not allow consumers to manage their digital assets. People who use DEX systems can keep all of their assets under their own control while also having a very high level of transaction anonymity.
If you are an individual, you can begin a decentralized crypto exchange. The wisest course of action would thus be to establish an IDEX Clone. IDEX clone scripts may be used to create a DEX platform similar to IDEX. You may learn everything you need to know about this clone script by reading this instructive article, which explains how to use it.
What is IDEX?
With IDEX, you can quickly and securely trade Ethereum and other Ethereum-based crypto tokens without relying on a central exchange. In addition, it supports stablecoins like WBTC, DAI, USDT, USDC, and TUSD, among others. This decentralized exchange is based in Panama and has been operating since then. Users may purchase 50+ Ethereum tokens with ETH and also exchange Ethereum using stablecoins on this site. IDEX also includes a real-time DEX order book so that the platform's users can see what's going on in terms of deals.
Idex's decentralization isn't only a focus but also incorporates high-end security and centralisation into a single platform. As an Ethereum-based decentralized exchange (DEX), it supports real-time trading and high transaction throughput. In addition to these characteristics, IDEX is the most sophisticated and popular Ethereum-based decentralized exchange in the crypto sphere. Trading features include limit and market orders, gas-free cancellations, staking, time in force, and more.
What Is A Pre-Built IDEX Clone Script?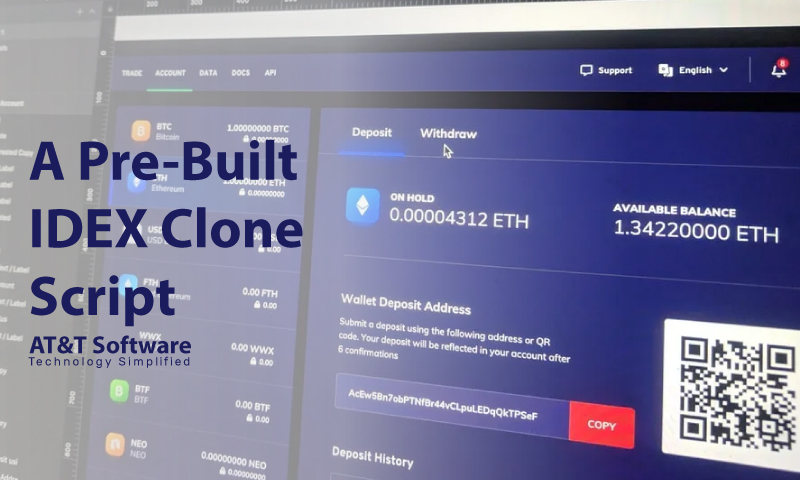 The pre-built IDEX Clone script has all of the current IDEX platform features and plug-ins. This IDEX clone software is based on the Ethereum decentralized network, much like the original IDEX platform. More than 30 prominent Ethereum tokens may be traded using our IDEX clone software.
We provide the world's most configurable, error-free, and highly secure IDEX Clone script. It is now possible to install our IDEX clone script since it has been conceived, built, and extensively tested. ATT Software's IDEX Clone script is the best and most trustworthy decentralized exchange script in the crypto world.
The Workings Of An IDEX Clone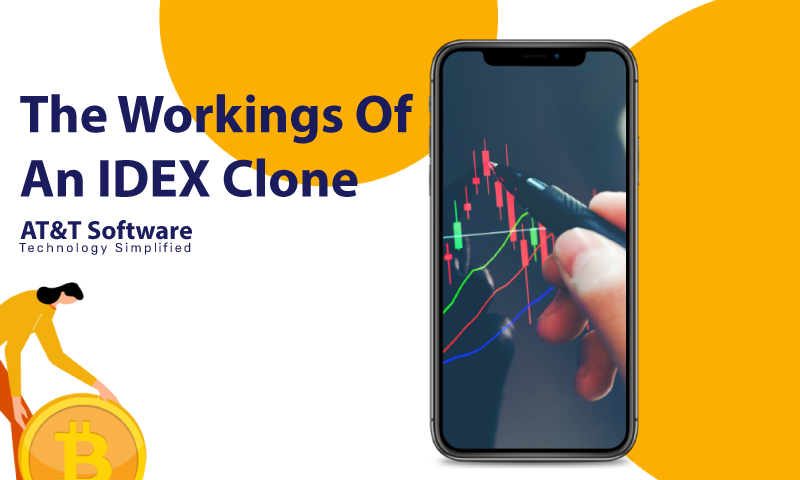 There's no difference in the way the IDEX script operates compared to the platform. However, if you follow these instructions, you'll learn more about how an IDEX clone script works in real-time.
The user or trader must first register on the IDEX clone and be validated by the KYC standards before they may trade.
For maintaining the Ethereum wallet, the user will get a private key from the service. It is preferable for the user to have an Ethereum wallet at their disposal already. Then, the user can easily connect it to the platform.
The user may access their assets by clicking the unlock wallet option available in their Ethereum wallet.
Users may check their balance by going to their profile page.
There are two sorts of orders that may be used in the IDEX clone: market order and a limit order. It is also possible to terminate orders at any moment without incurring a gas price from the service provider.
The smart contract will be available to users so that they can place orders to buy or sell on the marketplace
Upon finding the ideal buyer or seller, the user may complete the transaction by selecting one of the several payment options offered by the site.
As soon as the transaction is done, the buyer will get the number of Ethereum tokens or other cryptos that they need.
The user may see their trade history through the orders section of the IDEX clone script after the trading has been done.
This is how the real-time premium IDEX clone script from ATT Software works.
Key Features Of An IDEX Clone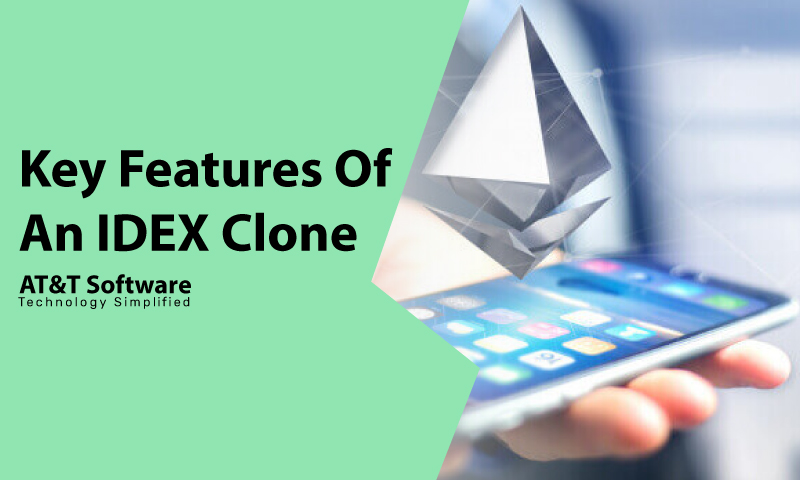 For a decentralized trading platform like IDEX to take off, it requires a number of key features. Every user first evaluates the trading capabilities accessible on the site before creating an account for crypto trading. Your trading features must thus be more effective for the end customer. Your platform's user base will grow as a result of this, attracting traders from all over the world. These are the key functionalities that our IDEX clone script makes available.
Live Trading Statistics in Graphical Representation
Multi-Language Support.
Limit, market, and stop order trading modes.
Multi-signature wallet.
Atomic Swap (off the chain and on-chain).
DEX Order Book
KYC/AML verification
Two-factor Authentication
Data Encryption
The Cryptocurrency Price Ticker API.
Staking
Rest API.
Advanced Content Management System
Security options such as fingerprint scanners, face recognition, and PIN security
Our premium IDEX clone script has these great crypto trading capabilities. As a result, it will enhance the trading experience for your customers. Because our IDEX clone script is so simple to use, even those with no prior experience in the industry may benefit from it.
What Makes Our IDEX Clone Script Stand Out?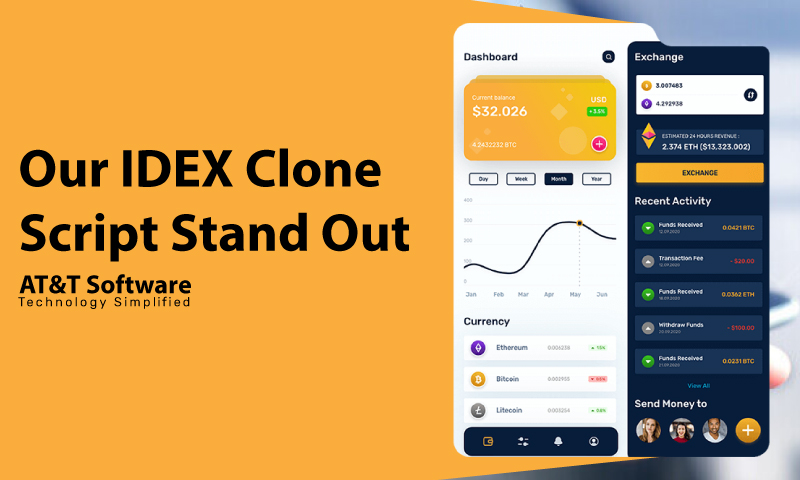 As we well know, IDEX is the fastest real-time Ethereum-based DEX platform and a prominent exchange in the crypto sector. The IDEX platform also has a significant number of trades and offers a regular exchange experience with the security of the blockchain. Faster trading across several marketplaces is made possible by this technology. Additionally, IDEX allows them to cancel orders immediately and without incurring any gas costs. Now, let's take a look at some of the most compelling reasons for building a DEX platform like IDEX.
IDEX is a hybridized, centralized, and decentralized system that manages all transactions for its users. The platform's responsibility is to broadcast to the Ethereum Blockchain after a user has placed an order. In addition, it provides real-time updates to the account balance and order book.
With the aid of the bug-free IDEX clone script, you may start an exchange like IDEX and start making money in a short period of time.
Your exchange may handle large volumes of trade since it is real-time.
Users will get their private keys, which you will have built with the highest level of security possible. Therefore, hacking is almost impossible when launching a new trading platform such as the IDEX Clone.
The process of conducting transactions is sped up, third parties may be eliminated, and our platform is more secure.
A platform like IDEX, which allows for anonymous trading, may be created by your users. Consequently, there is no need to divulge the user's identity while trading cryptos, making it a more pleasant experience for the user.
It has been designed with an advanced user interface to make trading on the IDEX platform as easy as possible for its users. Furthermore, allowing for continuous trading without waiting for other transactions is made possible by the IDEX's off-chain structure.
This is why a decentralized crypto exchange like IDEX is so important.
Getting Started With A IDEX Clone With Our Development Team
Even though you are using the IDEX clone script, the following procedures must be completed.
Come up with a novel company concept.
Come up with a company concept that distinguishes itself from the rest of the decentralized exchanges. Ideal and original. Do thorough market research before jumping into the decentralized crypto trading industry.
The second step is to decide on a destination country.
Choose the country where you want to launch your decentralized Ethereum exchange. With most of the countries regulating cryptos after the pandemic, you have ample choices for the same.
Ensure you understand the laws and jurisdictions of the country you're visiting.
Once you've decided on a nation in which to conduct your exchange, the next step is to learn about local legislation. Legal and compliance teams might be hired in this situation.
Search for IDEX clone software providers.
You should hire a team of engineers that can create an IDEX-like decentralized exchange for your company. Professional decentralized exchange software developers provide an IDEX-clone script for sale. A cryptocurrency exchange like IDEX may help you meet your business needs precisely.
Confirm that you have the necessary resources.
Many start-ups and individuals have struggled with future payments. For example, you'll need extra money for marketing if you start an exchange. If you don't have the money, you may have to pay for more features, and bug fixes. For this reason, it is vital to have a certain quantity of money available.
Utilize Feature Requests.
The IDEX Exchange Clone Script should include all the capabilities you need to trade. The following are some outstanding elements to keep in mind in addition to your own special set:
Various Ethereum tokens are supported here.
Support for several languages and multiple currencies.
A Graphical Representation of Live Trading Statistics
If you want to make your IDEX website clone script more appealing to crypto traders, you may include these features.
Check to see if any security features have been installed.
Make sure that your DEX platform has all of the necessary security measures in place before deploying it. For example, the IDEX clone script has a number of unique security measures.
Authentication Using Two Factors
Request ID for KYC/AML characteristics. '
Authentication through HTTPS
Taking preventative measures against a DDoS attack
Authentication via biometrics
Live beta testing may begin when all of these issues have been addressed.
Marketing is essential for the IDEX Clone
After beta testing is complete, your secure DEX platform, such as IDEX, may be launched. Having completed all of your work, it is now time to launch your decentralized exchange. If you're looking to promote your crypto exchange, there are a number of options available to you. Many successful marketing techniques have been described here.
Creating and Distributing Original Content
Joining Forums for Cryptocurrency
Email Bounty Campaigns
Search Engine Optimization (SEO), as well as Social Media Marketing (SSM),
Customer Support And Other Facilities
Once your exchange has been marketed, you'll see an increase in the number of customers that use it. If they have a problem, it is your obligation to help them out with their technical and customer service needs. Make sure that you have a dedicated team of professionals available around the clock to answer any questions you may have.
A safe, decentralized exchange like IDEX requires the following things to be taken into consideration.
When It Comes To IDEX Clone Scripts, Why Should You Choose ATT Software?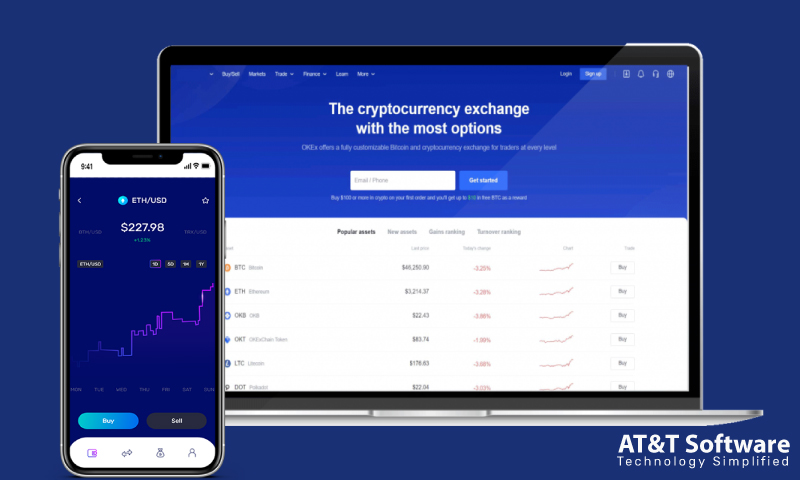 ATT Software is well-known in the cryptocurrency world. Our mission is to create safe and bug-free Decentralized Exchange Scripts with the most advanced security modules in the industry. Using our IDEX clone software, you may set up a safe, decentralized exchange similar to IDEX in a matter of days. Premium trading capabilities are included in the ATT Software's IDEX replica script, which is very customisable. So that you may tailor your trade modules to suit your business's requirements. To meet the deadlines set by our clients, we've assembled a team of professional and experienced developers. As a result, all of the key trading options are included in our premium IDEX clone script.
At a fraction of the cost of IDEX, you may build your own decentralized crypto trading platform. Your company will benefit most from using ATT Software if you link to it. To get started on your own DEX platform similar to IDEX, contact our team of specialists.