I hope you enjoy reading this blog post.
Would you like to get expert advice? Click Here
home / blog / GoFundMe Clone Development: Make Fundraising A Quick Affair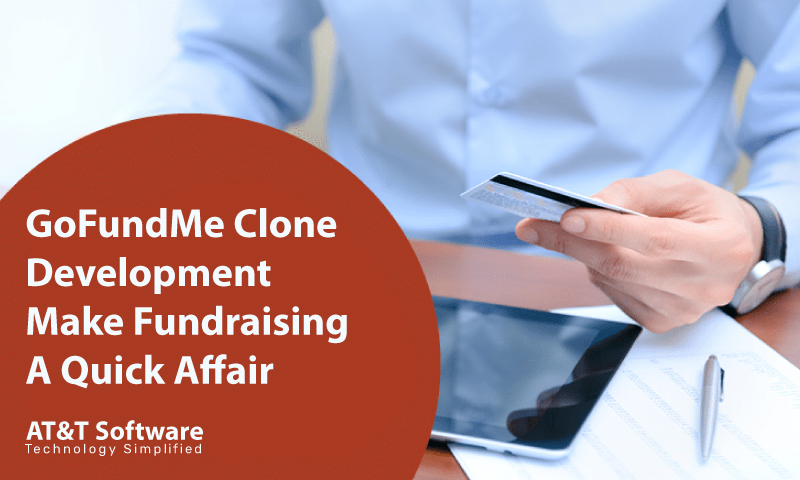 AT&T Software Offers High-Quality GoFundMe Clone Development At Affordable Rate To Help You With Your Fundraising Venture.
In this era of digitization, everything has become quite possible through online platforms. Setting up a business has become an easy affair now as colossal capital is required for setting up any business. To make any ventures get the requisite capital is no more a distant dream. So, if you want to launch a new fundraising venture, come to us. We will help you with a fully functional GoFundMe clone app.
Various fundraising platforms are now coming up to help small business entrepreneurs and others who are in need of instant cash. Become the most reliable fundraising platform to help raise capital for a cause. Let's help shape the crowdfunding business with the GoFundMe clone development.
Leading fundraising platforms like GoFundMe are ideal for raising capital online for personal or group projects. The advanced platform is unlike other crowdfunding services providers. The GoFundMe clone app is the one that allows numerous fundraisers to initiate the projects without any hassles.
As we all know, Crowdfunding starts the empowerment of social networks and others to give people the means to raise funds for social and medical causes. Even if the project doesn't meet the desired result, the fundraisers can keep the contribution presented.
Features of The GoFundMe Clone App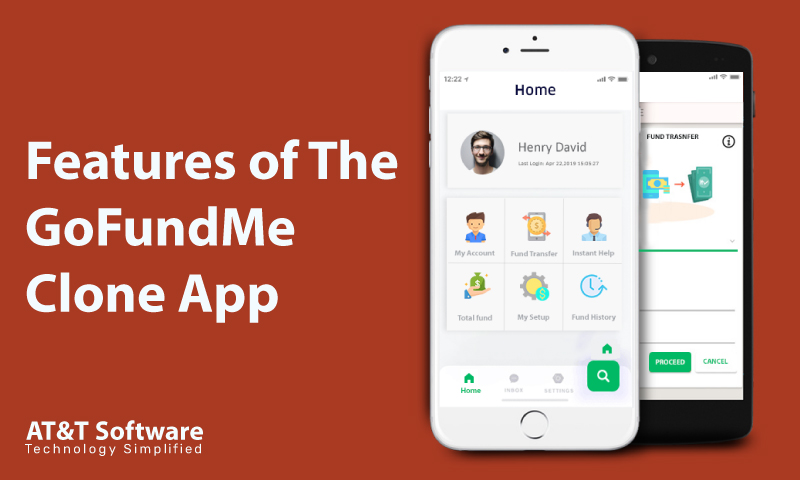 Our GoFundMe clone app offers a wide range of features to fundraisers and campaigners. They take exceptional care of each member of the group. So that no one faces any difficulties while in the funds. They keep track of the fraudulent activity that may hamper its reputation.
That is why. The GoFundMe clone app is now one of the leading fundraising applications worldwide. It has got acceptance people across the globe.
GoFundMe Clone Website Features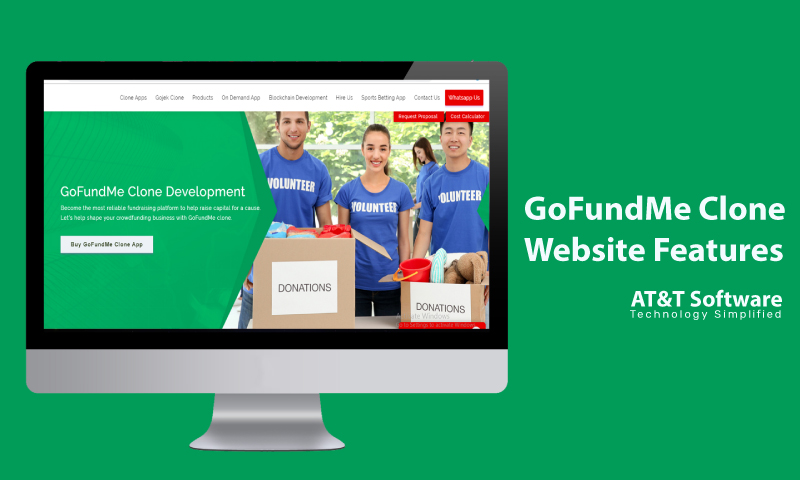 SEO Friendly URLs
The website will offer you a plethora of information ranging from all the latest SEO tools to ensure that it will remain on top of every search engine result. GoFundMe clone app is entirely SEO friendly, enabling its users quick and easy access without delay.
Unique Web Design
The website is unique in its structure and design. It has a straightforward and easy-to-use interface and a fantastic web design. Thus, helping worldwide customers with smooth and easy access to ensure maximum customer satisfaction. That is why it stands as one of the top-rated fundraising applications on the internet.
User Registration
The user registration process is also straightforward here. They can quickly register on the GoFundMe clone app by filling in some important details. You need to register the relevant information carefully, like Email id, mobile number, etc., and then sign up directly in it through social media accounts.
Secured Transactions
This GoFundMe clone website has a multidimensional purpose. Donors can go for multiple payment gateway options. They can choose the one which is available to them. Not only that, but donors are also ensured with full-fledged security to make their transactions seamlessly.
Payment Management
With the advent of influential websites, online payment transactions have become an effortless job. Donors can make their donations using multiple online payment methods that are available on the GoFundMe clone app.
For example, they can use credit card/debit cards, net banking, digital wallets, etc. Nowadays, people prefer to make online payments rather than cash because online transactions are more straightforward and hassle-free. And we provide all kinds of safe payment modes on the GoFundMe clone app.
Blog
This GoFundMe clone website also enables the users to post their vlogs or the relevant topics related to the fundraising cause and activity. Moreover, a mechanism allows the content to do a live post with the admin's approval. Thus, it can help increase this application's demand and popularity to boost its customer base and profit shares in the market.
GoFundMe Clone Mobile Features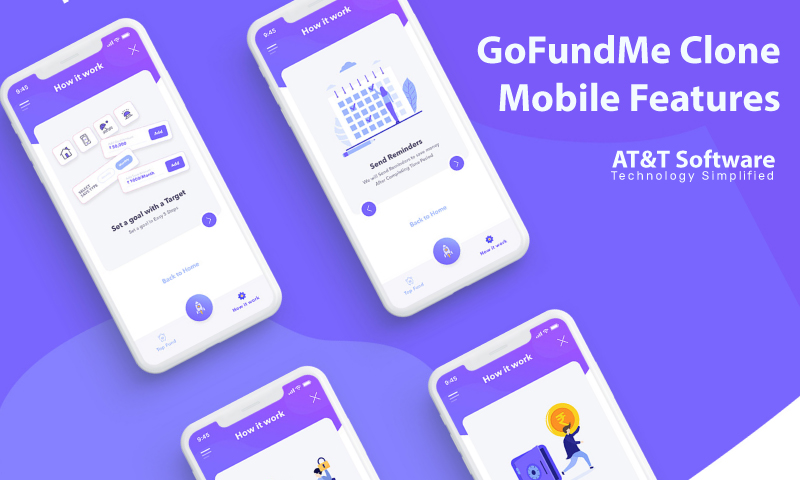 Multi-Language
We offer multiple language options in the GoFundMe clone app so that language can no longer be a barrier now. It is swift to reach the global campaigners with the help of multi-language options. Campaigners can choose other languages, including English, Mandarin, Spanish, etc., as per their knowledge.
Multi-Payment
We add a multi-payment option on the GoFundMe clone app. Multi payment options are very beneficial to the donors. They can even support another fundraising project by contributing to various payment options, including debit or credit cards, net banking, digital payment apps, etc.
Newsletters
Users can check out the various newsletter that entails all the latest news on live campaigns and other related information on the GoFundMe clone app. Thus, helping to keep us updated every time without any slightest difficulty.
Notification
Update users with the campaign-related information via the notification feature on the GoFundMe clone app. Users can instantly keep track of all the live events through – push notifications, email SMS, and others.
Fundraiser Category
The GoFundMe clone app offers its users a wide range of categories. Users can effortlessly browse through the numerous fundraising categories that include medical emergency education or any non-profit organization.
Social Media Login
Social media is a very relevant and noteworthy reference, where you can connect with the people worldwide sitting at home. Users can log in to the website or the GoFundMe clone app directly by logging in using their credentials into Facebook, Google, and others.
GoFundMe Clone App Admin Features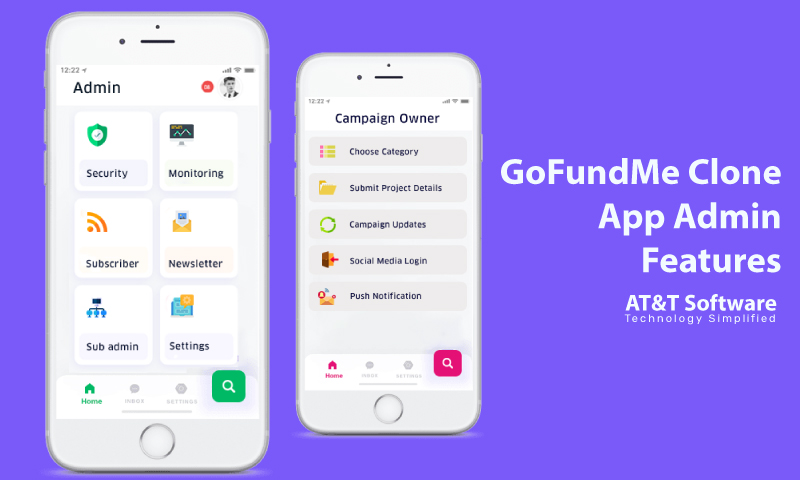 Highly secured
The admin panel of the GoFundMe clone app is vigilant and aware. They are monitoring round to clock to avoid any unforeseen situations. Strict security protocols ensure the users 100% security and protection.
Monitoring System
The admin panel feature in the GoFundMe clone app is very beneficial here. It allows complete end-to-end monitoring of the entire platform with excellent functionality with absolute ease.
Subscribers
The admin team has the full authority to scroll through the page on the GoFundMe clone app. They can immediately get to know about the total number of subscribers. They can check the fraudulent activity and take necessary steps wherever required to curb any such action. Thus, they can restrict those users from accessing the page according to privacy policy reasons.
Newsletter
Admin team can realize the relevant news on the various upcoming events and campaigns. Moreover, they help keep the users updated with the latest news and stories via the GoFundMe clone app.
Sub Admins
The admin can appoint multiple sub-admins to assist with the existing GoFundMe clone platform app. The sub- admins get their access at the discretion of the admin group.
Website Setting
The setting of the website can be updated and changed at any time on the GoFundMe clone app. Moreover, websites adjust to attract the customers' attention depending on the seasons and holidays. Additional pages on the website can also be infused as per the campaigners' choice and attract viewers.
How Does The GoFundMe Clone Application Work?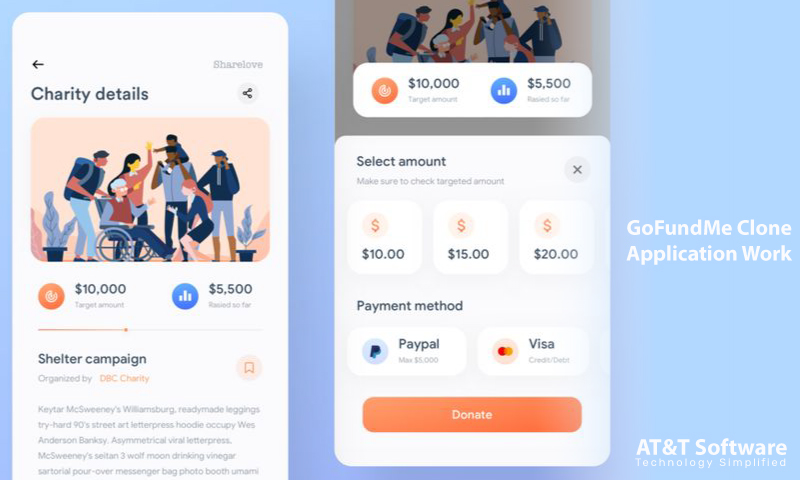 The GoFundMe clone app is a very innovative and robust application available. In this platform, the money required for fundraising is raised quickly and effortlessly. For events, causes and any personal requirements, and much more.
Campaigners will create fundraising to share their individual stories, videos, pictures, themes, and other relevant information about their family and friends on the GoFundMe clone app. Then those stories and incidents are shared on social media on Facebook, Twitter, email, etc.
Also, to ensure that the funds are donated securely, the GoFundMe clone app will be linked with the various secured and popular payment gateways. Donors can also use a different payment gateway to make the payments as per their availability and options, including the card payment net banking—digital wallets to make donations.
After successfully receiving the donations or funds via the GoFundMe clone app, the campaigners can post updates and share their regards and earnest gratitude with the donors. The fundraiser then uses the money for their desired cause or project.
Great fundraising campaigns include charity fundraising, personal campaigns, and others. The donations will be directly linked to the charitable institute nearby as per the company policy.
Various Other Ideas GoFundMe Clone App Offers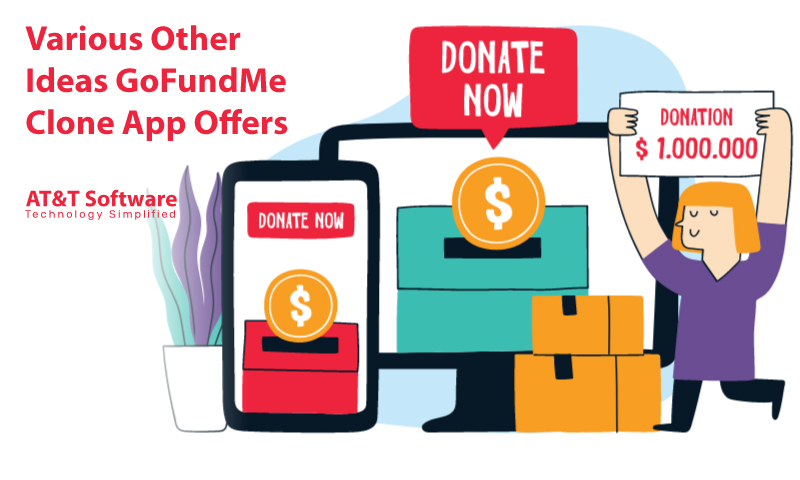 We are available 24hrs to discuss the project. You can also directly talk to the project manager about the nitty-gritty of the GoFundMe clone development project. Moreover, you can also incorporate some unique ideas into it. We will also help you with the visa process and other travel-related problems to ensure a smooth and seamless transaction. You can also call, chat, and talk to us if you are available on skype.
Conclusion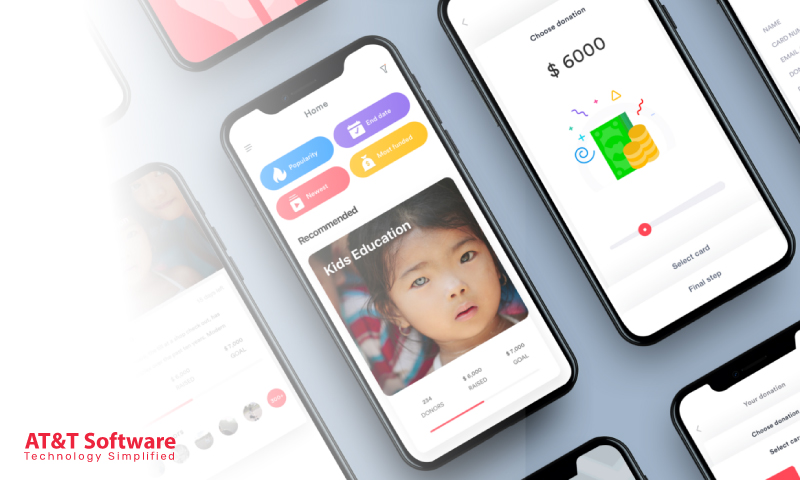 AT&T Software is a reputed name in the industry for offering high-quality GoFundMe clone app development services. We have a dedicated team of app developers who pay every attention to detail to develop the app just the way you want.
Get in touch with us today and let us discuss your crowdfunding app development requirements. We will offer you a rate quote for the same and also take you through the app development workflow. We will also give you a timeline for completing the app development process so that you can start monetizing the app platform at the earliest.