I hope you enjoy reading this blog post.
Would you like to get expert advice? Click Here
home / blog / GoGoVan Clone App Development: All You Need To Know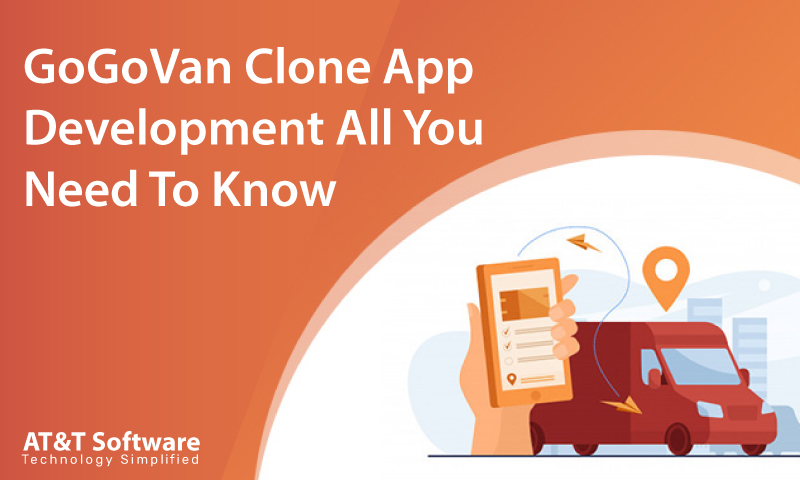 AT&T Software offers feature-rich GoGoVan clone app development services at an affordable price.
Currently, we live in an age where we understand the trends and changes in the trucking industry that directly affect everyone who benefits from its services. Get yourself evolved in the trucking business and build a kingdom of your own!
AT&T Software is open to offering a personalized GoGoVan clone app for you. Let us know your ideas, needs, and requirements, and we will customize an app for you accordingly. Grow your business productively with us.
Connect with us today and view our plans for the GoGoVan clone app development solution.
Buy now! Give Us A Call!
Our Offerings in The GoGoVan Clone App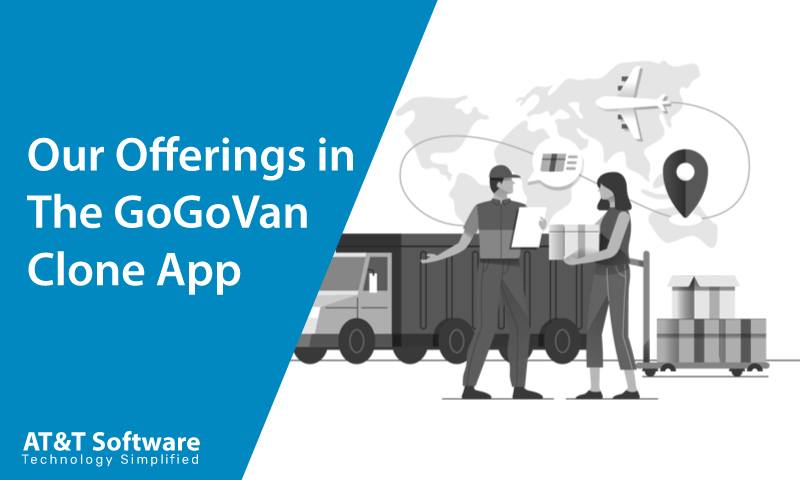 Our GoGoVan app clone development package is created for entrepreneurs that want to go to the top of the logistics industry as quickly as possible. Our bundle of app development services has carefully selected the most important elements of software development. We offer you the following in our GoGoVan clone app development package.
Android App for Customers
iOS App for Customers
Android App for Drivers
App for Drivers on iOS
Android App for Dispatcher
iOS App for Dispatcher
Web Panel for Admin
Official Social Website
Why GoGoVan Clone App?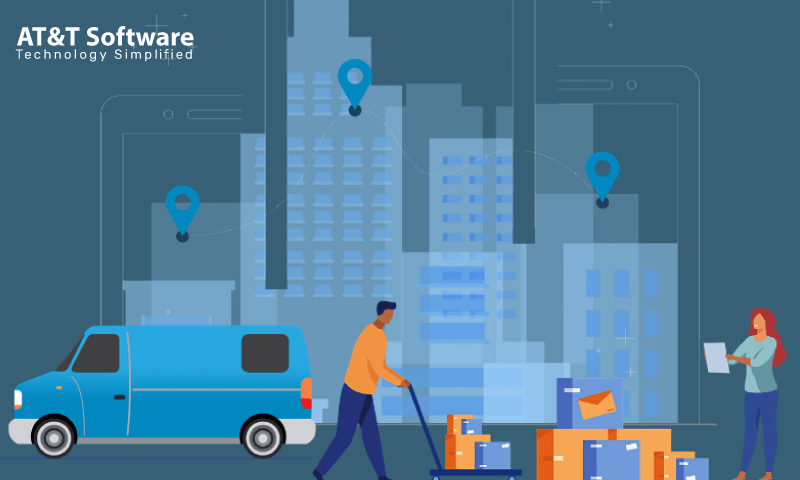 Develop your desired business kingdom with us. We offer a customized GoGoVan clone app according to your requirements. A GoGoVan like app can be beneficial because:
Bringing Truck Drivers Together
You can bring in all the truck operators of a particular area with the help of the GoGoVan clone app. This app will give you multiple shipments, providing shippers all under a single roof.
Connect Shippers With Drivers
Make your own trucking app by collaborating with AT&T Software and allowing shippers to get connected with the drivers for a smooth and effective logistic experience.
Delivery Service
Our GoGoVan clone app offers affordable logistic solutions of different sizes, delivering packages at an exact time.
Top Features of the GoGoVan Clone App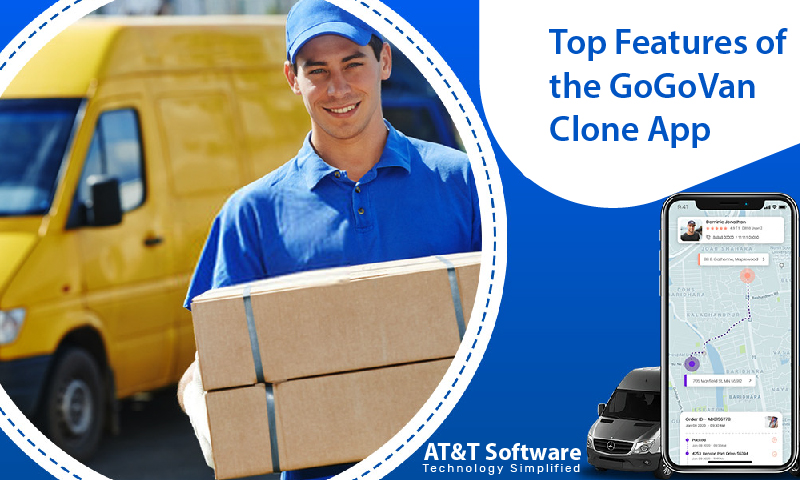 Our sophisticated GoGoVan clone app has the following features:
No-Hassle Truck Rental
With a single click on your smartphone, app users may book tiny trucks anywhere and at any moment.
Transparent Pricing
Users can enjoy the transparent rates on the GoGoVan clone app by putting in details like origin and destination location.
Real-Time Tracking
With the help of the GoGoVan clone app, customers can trace the movement of their items around the city. You can use it anytime and anywhere you want!
Safe And Dependable Trucks
A team of verified, trained, and experienced partners ensure superior safety. Users can check the partner's 'verified' badge on the GoGoVan clone app before booking their services.
Dashboard
The admins of our GoGoVan clone program have complete control over the app and its services.
Exclusive features of our GoGoVan Clone App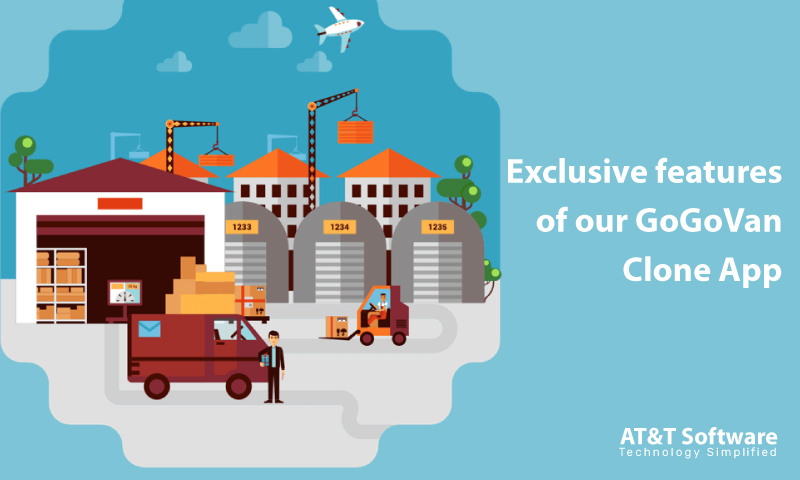 Features For GoGoVan Clone App Shipper
Easy registration
Users can sign up on the GoGoVan clone app easily and almost instantly in a few steps.
View Trucks
The user needs to set a particular location on the GoGoVan clone app as the pickup location first. Available trucks within the pickup radius will be shown to users.
Select a Carrier
Customers will be able to choose a vehicle with a load capacity that meets their shipping needs and accordingly book it via the GoGoVan clone app.
Choose a Location
Customers can specify the pickup and drop-off locations for their shipments in the GoGoVan clone app and then book a truck.
Enter Load Specifications
Shippers can add the shipment's weight and the number of goods in the GoGoVan clone app and then choose a truck that meets their shipping capacity and book it according to the customer's criteria.
Multiple Services
Users can choose various services at a time from one account too! If two shipments are to be sent in two different locations which are far apart from each other, then the user can book two shipment services to dispatch them.
Schedule Booking
If shipping service is needed later, then shippers can schedule a booking on the GoGoVan clone app for the fast arrival of trucks.
Fare
Once shippers choose a shipping service via the GoGoVan clone app, the fare will be estimated and shown to you. The fare depends on factors like distance, truck capacity, the weight of the goods, etc.
Payment Options
Shippers can make payments by cash or debit or credit card, UPI IDs, Wallet, etc. The GoGoVan clone app allows all modes of payments for using trucking services.
Tracking
Shippers can track the location of the trucks which they have booked on the GoGoVan clone app. This service can be done with GPS.
Shareable Link
Users can share the tracking link of the trucks with receivers or another third party for more security.
Instant Notification
Every time a new update is published or changes in fare occur, the app will notify users. This way, they can access the offer in no time!
Invoice for Shipment
When the delivery service is booked via the GoGoVan clone app platform, users obtain an invoice detailing the cost of the service.
History
Users can see the previous history of bookings on the GoGoVan clone app. With this, they can again repeat the same booking facility. That too, with a single click!
Support
Our ready-to-serve customer team is always available to resolve the customer's queries via the GoGoVan clone app support feature.
GoGoVan Clone App Features for Drivers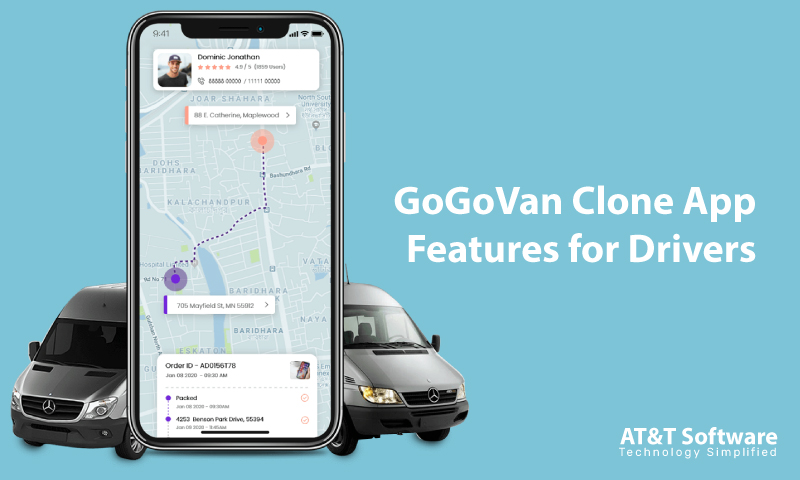 Quick Registration
Truck drivers can sign up in just a few steps and instantaneously on the GoGoVan clone app. This is how drivers may create an account using the app.
Identification
In order to be validated, drivers must upload a few papers in the driver's profile on the GoGoVan clone app.
Accept or Decline
Drivers have complete control over whether or not they accept the ride. If they do not intend to take an order, they can reject the customer's request right away from their panel on the GoGoVan clone app.
Specifics
If a driver accepts a service request, they will be given all logistical details, including the pickup location and contact information, right in the GoGoVan clone app.
Dashboard
The drivers will be able to see a summary of their earnings from the journey in this section of the GoGoVan clone app. This section also shows whether any users have offered the driver any advice.
Navigation
With the help of in-built GPS in the GoGoVan clone app, drivers will receive complete navigation instructions and will be able to effortlessly reach their destination.
History
The GoGoVan clone app will notify drivers whenever there is a new update or a fare modification. This way, customers may quickly take advantage of the offer and learn about the current state of something!
Ratings
Users can check the history of previous bookings in the order history section of the GoGoVan clone app. They can now make new reservations using the same system. And it's all accomplished with a single mouse click!
Support
Our well-prepared customer support team is always available to help drivers with their questions. They can reach out to our team in case of an emergency.
GoGoVan Clone App Features for Admins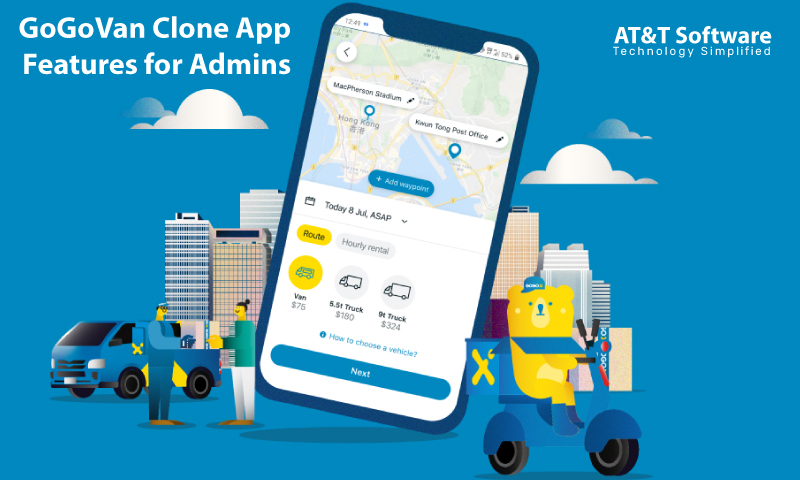 The GoGoVan clone app admins are solely responsible for determining the cost per kilometer, calculating the charge for items, and so on. They can also impose a cancellation fee, depending on the circumstances. Admins will be able to see all of the operations, total profits, and business operations in this segment of the dashboard. They also have the ability to edit or upgrade the GoGoVan clone app's functionality at any moment.
Here are the features for the admin panel of the GoGoVan clone app we develop:
Reports and Analytics
The reports and analytics section contains detailed business reports that the admins can analyze and accordingly make their business decisions.
Instant Notifications
Administrators can send notifications to drivers and users whenever a new update or fare modification is published. They will be able to take advantage of the offer and learn about the current state of something in no time!
Refunds
The GoGoVan clone app admins have the option of initiating a refund depending on the situation and clearing out disputes.
Offers
Admins can provide recommendations and generate promo codes for the users. Users will be notified immediately after such actions. This way, admins can attract many users at a time and increase the business's productivity.
GoGoVan Clone App Features for Dispatcher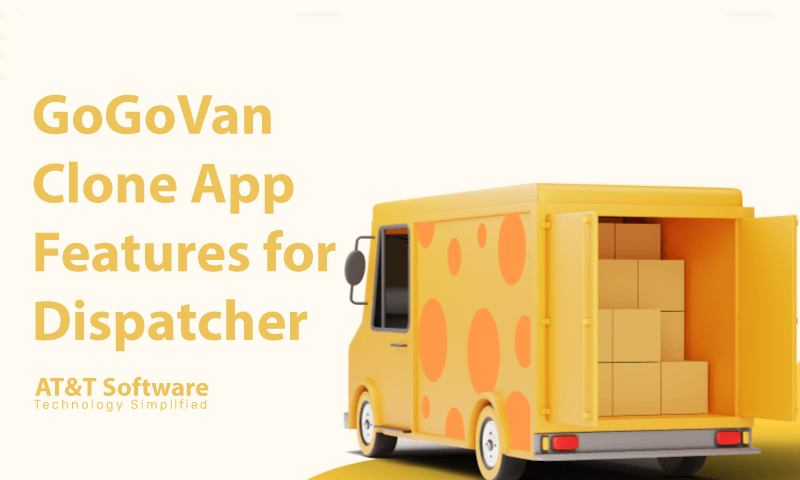 Simple Registration
Dispatchers can sign up for this GoGoVan clone app in a matter of minutes with only a few clicks!
Easy Identity Verification
Dispatchers can pass through the easy identity verification process on the GoGoVan clone app in a matter of seconds with only a few clicks!
Manage Truck Drivers
Validate driver documents, monitor driver activity, and keep an eye on processes when managing truck drivers right from a single dashboard on the GoGoVan clone app.
Reports
You can view how many trucks are deployed, the most regularly used product, and much more with complete statistical data with ease via the GoGoVan clone app.
Appoint Drivers
Dispatchers have the flexibility to assign drivers to service requests on a one-to-one basis and manage all operations via the GoGoVan clone app.
Track Trucks Location
View details about certified vehicles, including the condition of the truck, mileage, and more.
Notification
Handlers will be notified of any new warnings from the company's various operations.
Our Remarkable GoGoVan Clone Application For Truck Aggregation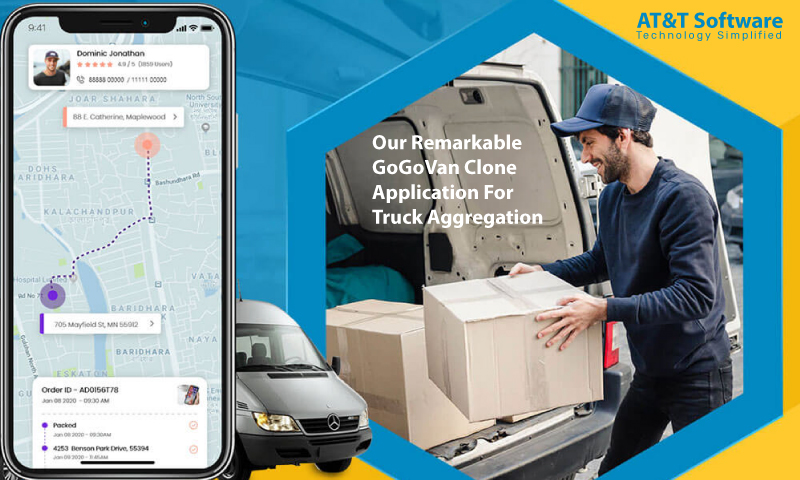 Managing the supply chain necessitates a series of time-consuming and complex procedures. It comprises gathering items, following correct routes, adhering to deadlines, and other duties.
Transport businesses' accuracy and dependability are improved by using an on-demand logistics solution. They keep the customer informed with GPS tracking and authentic updates. Because all operations and service statuses are transparent, clients make bookings services through smartphone apps.
Comprehensive customization, seamless user interfaces, simple payment methods, unsurpassed security, and much more are all available with our application development solution.
Connect With Us!
Top Benefits of the GoGoVan Clone App Development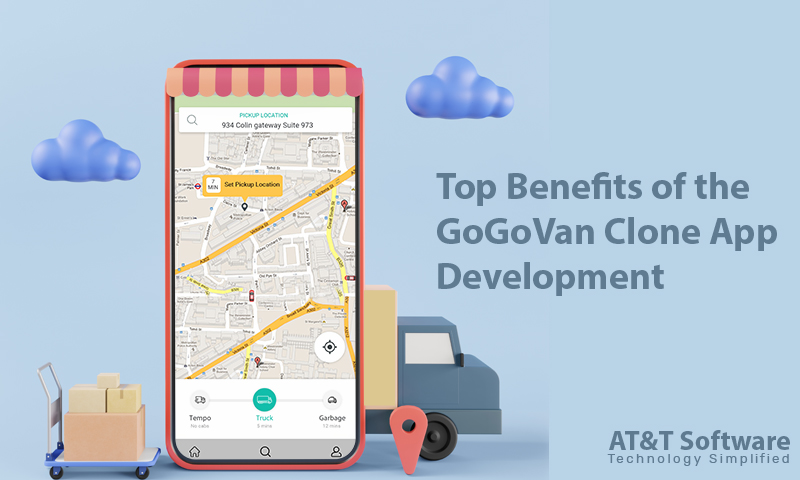 Customers looking for moving services would appreciate our thorough, cutting-edge on-demand carriers app. With a few swipes and clicks on their smart devices, they may access accurate and consistent logistical services. We develop robust procedures that keep customers informed on the whereabouts of their goods at all times.
Our GoGoVan clone app provides you with the essential functions that will allow you to conduct business efficiently via a mobile application.
We offer the following benefits with our GoGoVan clone app:
Fully Customized
We will completely customize the GoGoVan clone app according to your needs and requirements. Modify and rebrand the app to your liking. Among other things, you can update the styles logos and add/remove functionality.
Ready to Launch
We promise to offer you the service in minimal time. This way, you can save valuable time.
Payments
We offer easy-to-use but secure payment systems. Users can pay with credit cards, debit cards, mobile wallets, and UPI.
App for iOS and Android
Our GoGoVan clone app is compatible with both ios and Android systems. Users and drivers can use any one of these two to have smooth access to the app.
Help and Support
We take greater care of your business applications from start to finish, as well as after it is published to the public.
Get in touch with us! View Our Plans!
How To Start An App-Based Logistics Business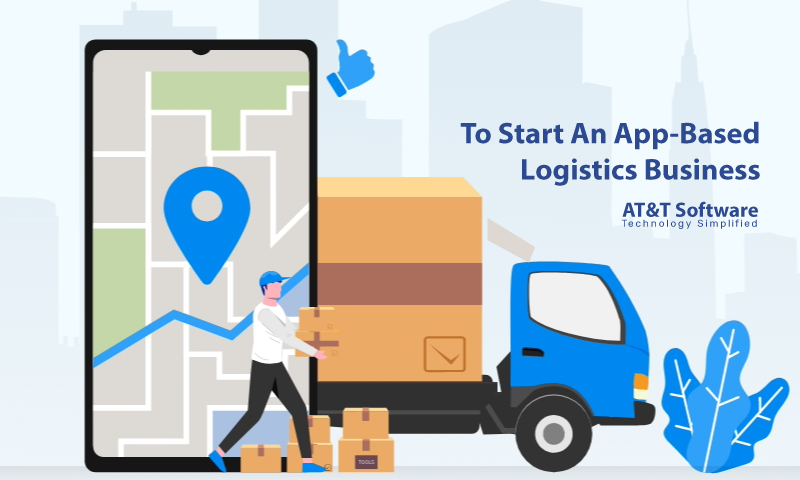 We have broken down the process of creating an attractive logistic app into five simple steps.
Reach Out
Getting in touch with us is the first step toward developing your GoGoVan clone app. After we have a better understanding of your requirements, we will try hard to bring your ideas to reality.
Demo Application
We will develop a prototype GoGoVan clone app for you after we talk. We'll start the development process once you're happy with it.
Design and Style
Make your GoGoVan clone app transport transportation stand out by adding themes, languages, and other eye-catchy features.
Customization
During the design phase of the project, you can alter or add logos, languages, and a variety of currencies to your product on the first day.
Testing
Before it is officially released in the market, the app must be tested. After that, you are done! We will distribute your GoGoVan clone app across a variety of platforms and devices you want it to be available on to reach out to a wide audience.
Schedule your date with us!
Cost Of Developing A Logistics App Like GoGoVan Clone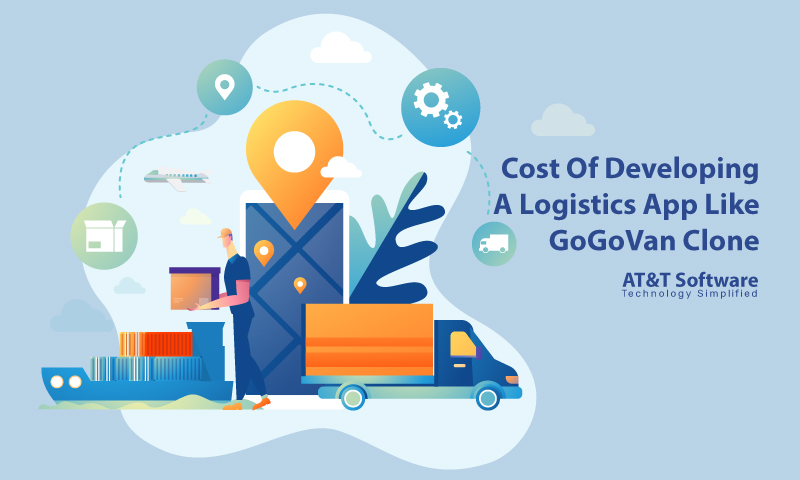 We provide a cost-effective plan for our GoGoVan clone app development service. Admin Panel, User, and Service Provider features are all included in our Porter Clone App Development bundle. Let's discuss the important aspects of the GoGoVan app that we will offer for ease of app users.
Features of the Admin Panel in GoGoVan Clone App
Sign in.
Forgot password.
Data on services statistics.
Monitor Ongoing/Scheduled Facilities. Using the dispatcher panel.
Request a reservation/schedule.
Provider management and user administration.
The dispatcher can be seen and controlled.
It is possible to examine and administer the fleet owner account manager.
Maintaining the locations of users and partners.
Sign out.
Features of the Users in GoGoVan Clone App
Accounts on email and social media
Sign in
Users can log in using their social media accounts or their email addresses.
Forgotten password
Services for single and multiple reservations
Cancellation of service
See the estimated fare for further information.
Scheduling services
User profile management
History of service control
Help and support
Shipment details share
Real-time monitoring
Calling Option
Sign out
Features of the Dispatchers in GoGoVan Clone App
Service provider's social media/email
Log in
Password for provider's social/email account forgotten
Accept or reject delivery services
Cancellation of Service
Real-time navigation
Calling modes: Online/Offline
Cost calculator for controlling service history
Control service history management of scheduled services
Examine the earnings of providers
Assistance and guidance
Share, rate, and comment (Provider)
Leave a comment
Log out
Why Should You Hire AT&T Software To Develop the GoGoVan Clone App?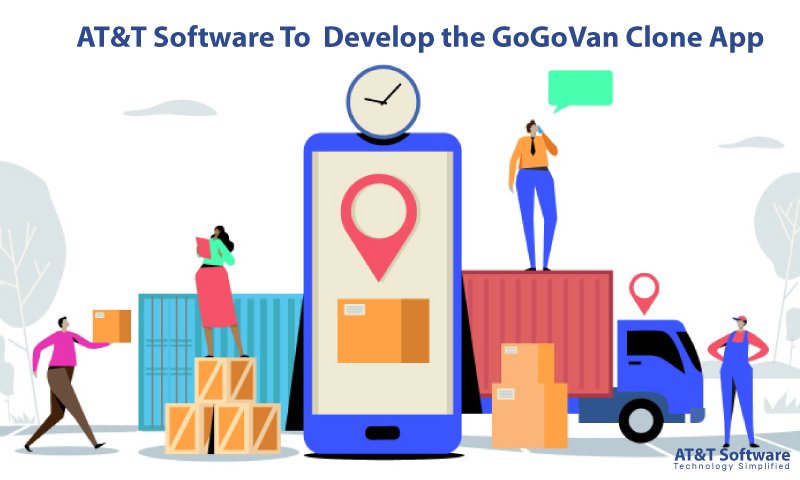 This is a reasonable question to ask. Our mobile application developers have over a ton of experience developing solutions that suit market needs, strengthen companies' brand identities, and promote rapid corporate growth and expansion.
We assist worldwide brands in designing and developing exceptional digital solutions that provide smooth user encounters across all modern devices and platforms.
Here is why you should hire us for GoGoVan clone app development:
App Design and Integration
We provide complete application design, integration, and business solutions. Whether it is a consumer app or a disruptive enterprise-class solution, the organization oversees the full mobile app development process, from inspiration and concept to implementation and continuous support.
Cross-Platform Applications
Use our considerable experience working with all key technologies to satisfy your customers with creative and feature-rich native iOS / Android, cross-platform, with our help.
Expertise
We have all of the knowledge and experience required to create full-fledged, secure, and scalable mobile apps. On the other hand, using cutting-edge technology, we assist organizations in establishing a presence on any modern gadget and platform.
Branding
Reach out to your customers and increase audience traffic to your app by creating an engaging branded application on a low-code mobile platform. To discover further about your users, automate your mobile app, engage customers with tailored push notifications, update your app on the fly and employ complete analytics.
Domain Experience
Our deep domain experience enables insurers to become AI-driven and machine learning-powered. Artificial intelligence in insurance is already being applied in a variety of ways, ranging from intelligent Chatbots that provide 24/7 customer care to a variety of machine learning technologies that improve mobile app development solutions.
Dedicated Support Team
If you like how it sounds in words, we would be pleased to turn your app's sophisticated concept into a realistic form. We also guarantee that we will create your app at a low cost. We have a dedicated support team dedicated to your needs. We will gladly assist you in overcoming any future technological barriers if you require any revisions or upgrades after the mobile application has been launched.
Conclusion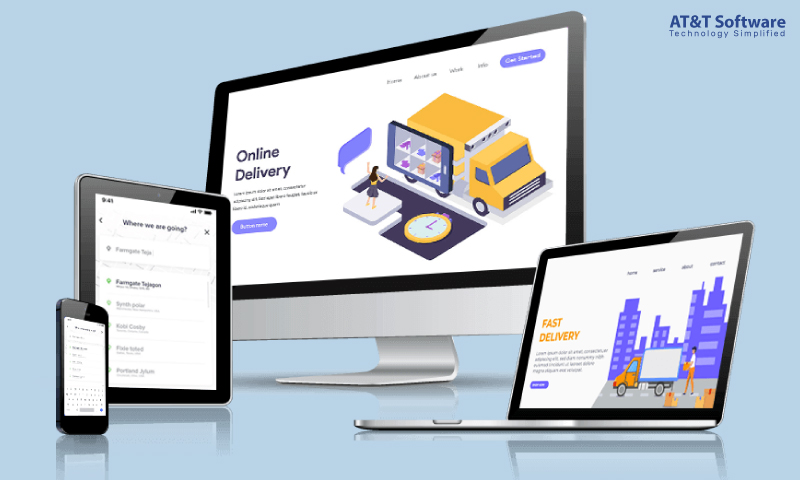 It does not get any better than AT&T Software when it comes to GoGoVan clone app development services and solutions. We are confident that our marketing service team will assist you in realizing your goals and reaching new heights in a short period of time.