I hope you enjoy reading this blog post.
Would you like to get expert advice? Click Here
home / blog / Need For MobiKwik Clone App Development In 2022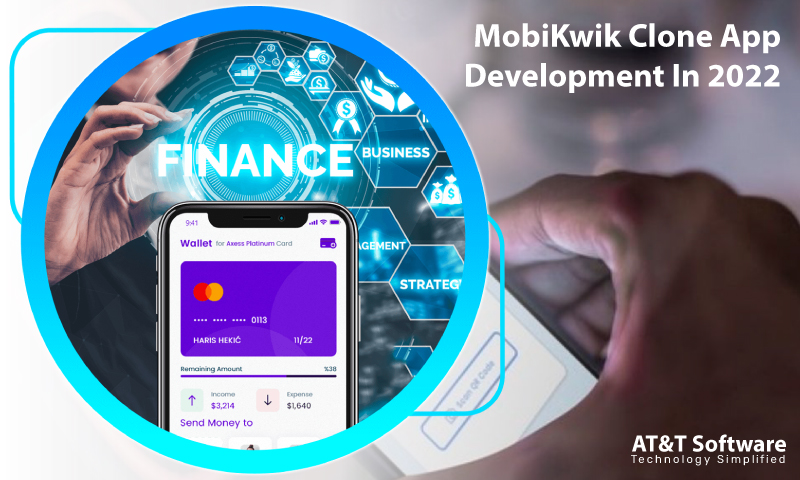 All of us know that the domain of digital technology has moved ahead so much that today even making online payments is not a big deal. For this reason, we thought of the MobiKwik clone development, which is one of a kind clone application built for your best usage. So today, not only can you make payments quickly, but it is also equally easy to recharge or even get done with updates.
The MobiKwik clone app ensures that one can provide a completely safe environment for online-based payment platforms, and the best thing is that it delivers what it promises. Over the years, this particular option has been given numerous updates and tons of great features for the best of usage.
We all know that digital advancements have made possible even the most impossible. One of the significant reasons that such a platform was integrated is that each client's domain could be served quickly. As a result, today, you do not need to stand in the long queues of banks to make sure that your money gets deposited, and neither do you need that recharge shop to get your phone or even the dth and data card; recharged at the earliest!
What You Get With Our Mobikwik Clone App Development Solutions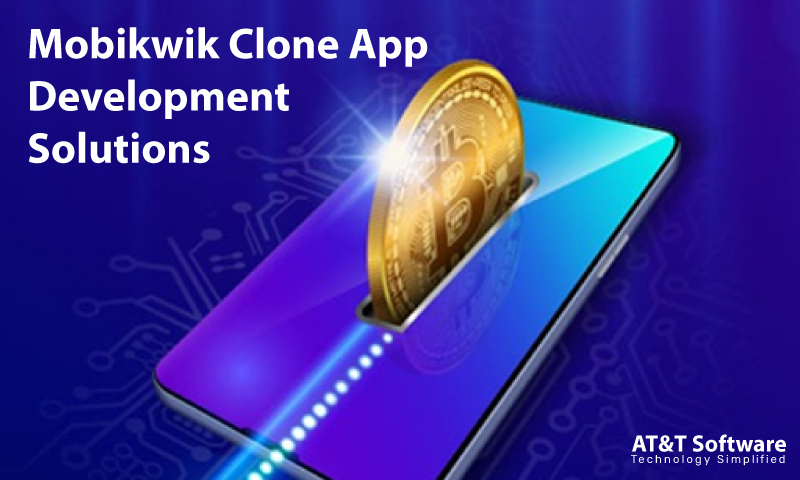 As one of the pioneering options for the MobiKwik clone app, tons of great options have been incorporated so that the application can be used across various domains. Some of the most important genres where the clone application can be integrated are:
Custom Mobile Wallet App Development
Mobile wallets are essential, and hence it is necessary to ensure that the mobile wallet app development is also very well structured. Therefore, we have tried to make sure that the wallet is built so that the customizations can be added as per your requirements, and when in need, you can also access the wallet and make use of it to make your payments.
Cryptocurrency Mobile Wallet Development
Cryptocurrency is currently one of the most recognized forms of digital currency, and slowly it is gaining impetus as well. Hence we have integrated the MobiKwik platform with the Cryptocurrency mobile wallet to be used as readily as any other mobile wallet. In addition, we incorporate forms like Bitcoin, which makes this wallet very comprehensive and easy to use.
Merchant Mobile Wallet Development
Are you someone who owns a business and wants to get hold of a highly functional mobile wallet that works for the best? Hence, our MobiKwik clone app development can help your app users enjoy the freedom of digital payments as well as mobile wallet transactions.
Prepaid Mobile Wallet App
The prepaid mobile wallet is very convenient, and it allows you to make ultimate use of the accessibility factor as well. Therefore, even the major service providers and enterprise owners can readily use the prepaid mobile wallet app to guarantee maximum efficiency.
Mobile Wallet Design
Our expert mobile app designers create the best UI/UX so that your mobile wallet app users can have an enriching experience. We also offer technical support so that your mobile wallet app functions at its best even when it is being used by millions of people.
Mobile Wallet Integration
Our professional mobile wallet developers also integrate third-party mobile wallets into your business app, which are trending in the industry. Such integration helps users use their preferred mode of online payments and enjoy convenience.
What Are The Services That Can Be Done With The Help of The MobiKwik Clone App?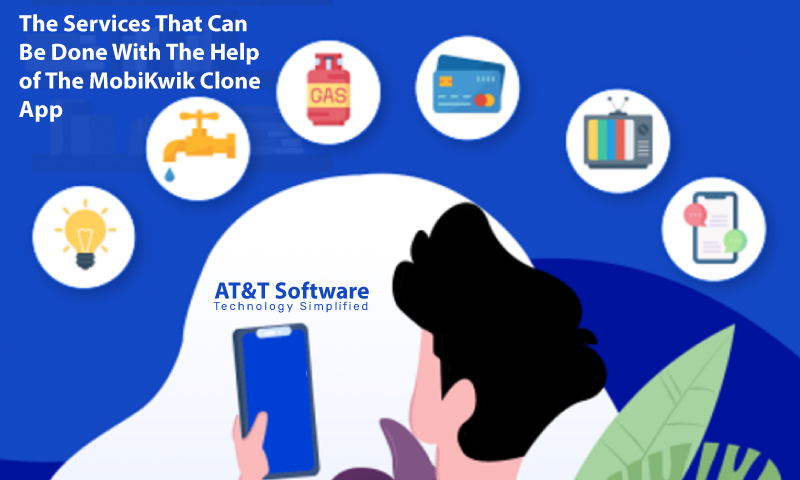 The MobiKwik clone app development was done to make things easier and make it a one-stop platform for all your requirements. Hence we have tried to incorporate various services, which can be done from one forum only. Some of the most common services that you can do with the help of our MobiKwik clone app are mentioned below:
Mobile Recharge
The MobiKwik clone app was built with the primary notion of making mobile recharge much more accessible, and hence we have tried to make it secure. As a result, the mobile recharge can be done very quickly, and it is spread across various service providers and the plan amount.
DTH Recharge
The DTH recharge requirements were earlier taken care of by the recharge shops only where you had to mention the recharge amount and the unique customer ID, and they would recharge your account. The best thing with the MobiKwik clone app is that it does not invite any added hassles, and you can make a DTH recharge in just a few seconds.
Travel Tickets
Long gone are those days when you needed a travel agent to get done with your tickets. The MobiKwik clone app is built so that you can book your tickets very quickly, and that applies to train, bus, and air tickets. You can also compare the fares for a more accessible reference through the MobiKwik clone app.
E-commerce
All of us know that e-commerce is one of the most promising domains, and here the integration of the MobiKwik clone app is critical. Hence we have this requirement as well, and all you need to do is choose the MobiKwik option and get done with your payment at the earliest. The e-commerce platforms are connected, allowing you to make seamless payments.
Get Credits
It is possible that sometimes you may not have that extra cash, and this is precisely where the function of the MobiKwik clone app becomes more critical than ever. Therefore, we have incorporated the credit feature as well, and it will ensure that it gets credited to your account very quickly.
Bank Feature
We have tried to get in touch with the banks and ensured that there is no pertinent problem when it comes to transferring the money from your bank to your MobiKwik clone app account. So you can do this very quickly without paying any extra charges at all.
What Are The Domains That Can Use MobiKwik As a Form Of Payment?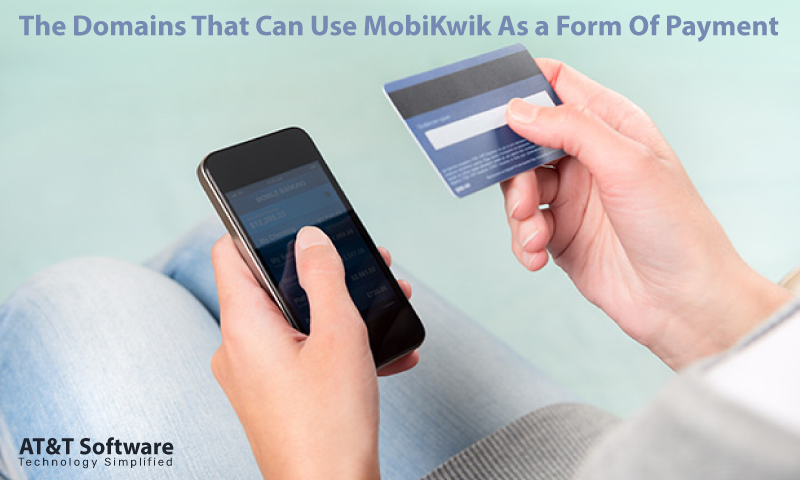 Such is the ease of using the MobiKwik clone app that you can use it to pay for numerous domains and that too very easily. Some of the genres which you can pay for with the help of the MobiKwik clone app are mentioned below:
Postpaid and Prepaid
Electricity
Broadband and Landline
LPG and Piped Gas
DTH OR Tv
Water
Insurance
Metro
Book tickets Rail/ Air and Bus
Property Tax and many more to come
How Do We Make The MobiKwik Clone App Robust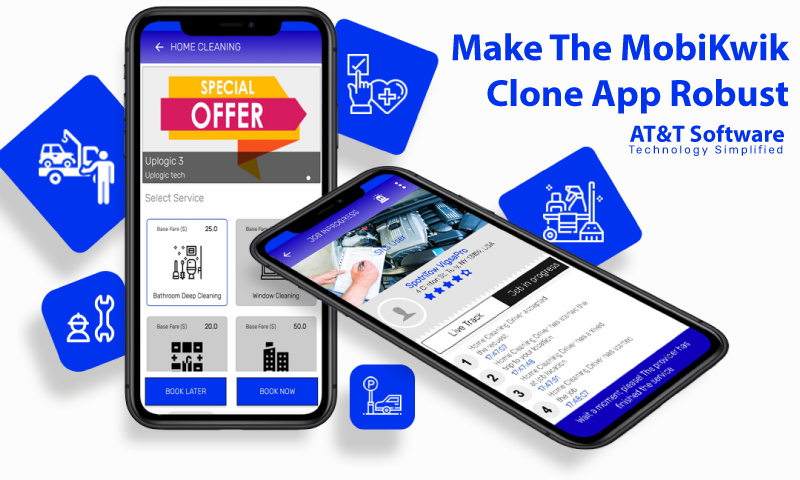 We at AT&T Software ensure top-end features in the MobiKwik clone app. We incorporate a variety of features in the app so that users can enjoy every feature while using the MobiKwik clone app.
Near Field Communication (NFC)
We offer high-grade payment security along with privacy on the MobiKwik clone app. We use NFC technology to ensure a secure transaction around a short-range.
Bluetooth and iBeacon
Our MobiKwik clone app helps app users not to manually swipe their Debit card or Credit Card and make a quick transaction between two Bluetooth or iBeacon devices.
QR Code
We have added a QR code scanner on the MobiKwik clone app to allow app users instantly make a payment. The swift and secure transaction helps in gaining the trust of app users and encourages them to use your digital payment transaction app even more.
Data Backup
The MobiKwik clone app backs up sensitive payment transactional data of each customer. App users can check their account balance, know their transaction history, and do much more on the MobiKwik clone app to keep their finances in place.
Transaction History
The MobiKwik clone app allows app users to track all their transactional history that gets stored in our database. Such a feature allows app users to know all their transactions in detail and also plan for their upcoming expenses.
Rewards and Referrals
You can conveniently run a rewards and referral program with the help of the MobiKwik clone app. You may initiate scratch cards benefits, allow them to redeem points for making each successful transaction, and also offer them reward points for each new referral to the MobiKwik clone app.
Top Features of Our MobiKwik Clone App
The intention was always to think about more than just a simple digital payment and wallet app. Hence some fantastic features make this application one of a kind. Some of the unique features are:
OTP
Most people often find it intimidating to use the online payment system because it is more prone to fraudulent activities. Hence, the unique opt system has been introduced to verify each of your payments, and there is no scope for any fraudulent activities.
Easy Login
We get it when you say that a complicated login process makes you feel tired, and hence we have incorporated the easy login system. You only need to put in very few details, and your customization can be created automatically.
Transfer Your Money
Before the advent of MobiKwik as an application or even a digital payment system, transferring money used to be a monumental task. However, the application has made this process much easier, but it is also very safe.
Share Transaction
Made a payment to someone and want to share the same with the help of social media channels? It is precisely why we have incorporated this option of sharing the transactions very quickly, and that too with the application itself.
Push Notifications
Many users often tend to miss the important updates mainly because not everyone accesses the application every day. Hence the push notification option has been incorporated so that it does not become a problem and you always stay updated about the latest information.
Recharge Your Mobile and Pay Bills
How cool is it that you can use one application and that too for both recharging your mobile and paying all the potent bills- be it electricity, gas, water, or even the dth top-up. The process is straightforward, and usually, tons of different sections are segregated to make it easier to use the application.
Chatbots
It is essential to make sure that the customer experience is retained under all circumstances, and hence we have incorporated the chatbots in particular. One of the primary reasons why we have included this specific feature is to ensure that you can address the clients and whatever their queries are at the moment. It also does not create a lot of burden on the professionals handling the client assistance domain.
Payment History
We often need to go back and check the payments that we have made. Hence the history option can be accessed very quickly, and you will get the amount and the merchant to whom you made the payment.
Compatibility
The clone application has been built so that it can be used very quickly across most platforms. Not only for Android, but the application is compatible with even iOS as well as for most desktops as well.
Steps That Can Help You Use The MobiKwik Application Very Easily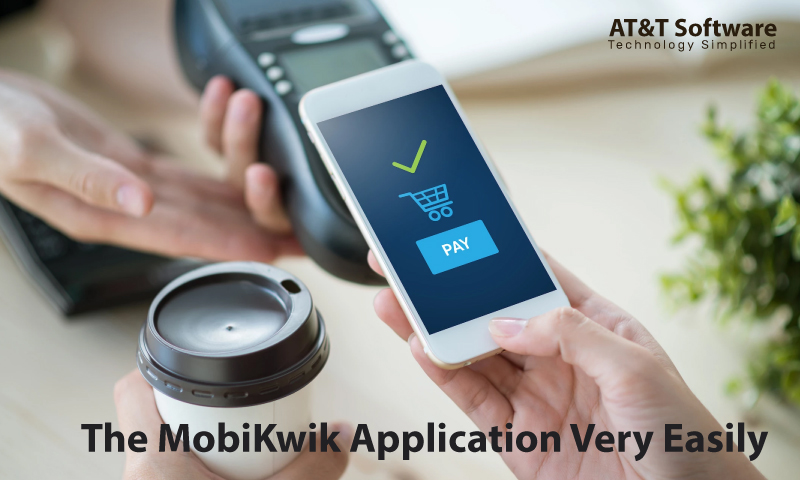 Contrary to the popular view, it is straightforward to install and even use the MobiKwik clone app. We have tried to explain the steps very simply and hope you do not have any problem creating your account or even making the payments.The steps are:
# Step 1
The first thing you need to do is create your very own MobiKwik account. It tends to encompass a straightforward login procedure with the most basic details. All you need to do is put in your name, address, mobile number, and other essential information. Once that has been put in, you can create an individual account that will help you administer the application very quickly.
# Step 2
Once you are done creating the profile, you will next be required to link your bank account. The linking is done so that you do not have to add your bank details consistently and can make the payment with the help of just one tap! In addition, you can add both your credit and debit cards to the wallet and keep them handy for easy reference.
# Step 3
After linking your bank account and creating your very own MobiKwik account, you can also use the same to navigate the available options. It could pinpoint the various types of recharges that you can do along with the service providers and the amount of the same. You can choose to select any of the options, which will ensure that you get the details in one go!
# Step 4
Such is the interface of the MobiKwik app clone that you can very easily use even to send money to others. All you need to do is have their unique Id or even the phone number linked with the account, which will allow you to make the payment very quickly. The ease of using the application is that all you need to do is enter the amount and the transfer details. Then, the money will be sent to the user at the earliest with a single tap!
# Step 5
Not only for recharge or transferring the money to others but this single platform can also be used to pay your unpaid bills. You can easily choose to pay the dth, electricity, water, and other vital accounts. The process is straightforward, and you do not need to wait anymore in long queues to make the payment easily.
# Step 6
Not only by entering the phone number or the client details, but you can also make the payment very quickly. There is a unique QR Code that you can scan, which is also very easy to do. There is a separate section for scanning the QR code, and all you need to do is open the scanner and place it in front of the code. It will not take more than a second, and the merchant's name will be displayed very quickly.
# Step 7
It often happens that we do not know what the updates are or whether a payment was successful because it is not possible to access the applications every day. Hence when we conceptualized the application, it was one of our paramount prerogatives to incorporate the push notification. The push notification option will ensure that the updates are sent in a tab form in front of the notification bar, and you can stay updated as well quickly.
Why Should You Choose AT&T Software to Develop MobiKwik Clone App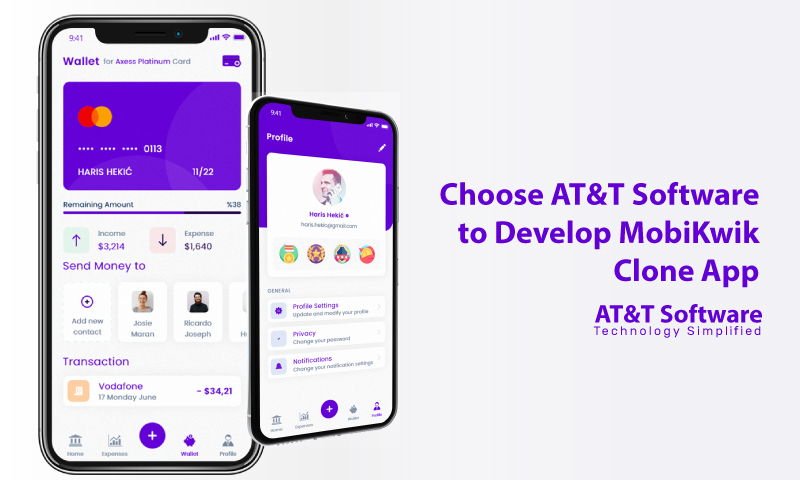 AT&T Software is one of the most well-known clone app development agencies. We have served clients from all around the world, and we are proud of the work we have done for them in the past many years. We created fully functional MobiKwik clone apps and other prepaid mobile wallet apps with unique features to help app users make the most of their transactional payment activities.
Our clients have benefited from our assistance in improving workflow efficiency and optimizing their payment wallet software and benefit from a high degree of monetization model. So, we suggest you speak to our representatives to discuss your MobiKwik clone app development project and get to know the specialized features we are going to add to the app, and help your app users enjoy the best UI/UX.
Here is what you will get when you hire AT&T Software for your MobiKwik clone app development project.
Professional Approach
AT&T Software is all about offering a professional touch in every project we take up. We take each project seriously and make every effort to see it through to completion. Our dedicated team of MobiKwik clone app developers will review your project needs, assess every area of it, and then recommend a suitable solution for efficiently running your online store.
High-Quality Work
We have a committed staff of MobiKwik clone app developers who work nonstop to produce high-quality results. Each web development project is crucial to us, and we use a detailed development process to ensure that there are no errors. We also put each project through a series of quality checks to ensure that the final product is completely reliable.
Quick Service Delivery
We understand how critical it is to complete tasks on time. We create a timeline for you at the start of the project, taking into account all of the features you want us to include, and then work to complete it on time. Whether you require a single online store or a multisite, we guarantee that the project will be completed on time.
Affordable Rates
AT&T Software is a preferred mobile app development agency for offering years of professional services to clients globally. For all app development tasks, we offer market-competitive rates. We want to establish a long-term connection with you and provide you with high-quality services that are affordable. Hire one of our developers to see how we can turn your wallet app into a fully functional app.
Post-Sales Support
Our assistance does not cease with the completion of the project. We go a step further. We handle everything from website maintenance to integrating new features and functionality to allow you to focus on running your online store effectively and growing your business.
The Bottom Line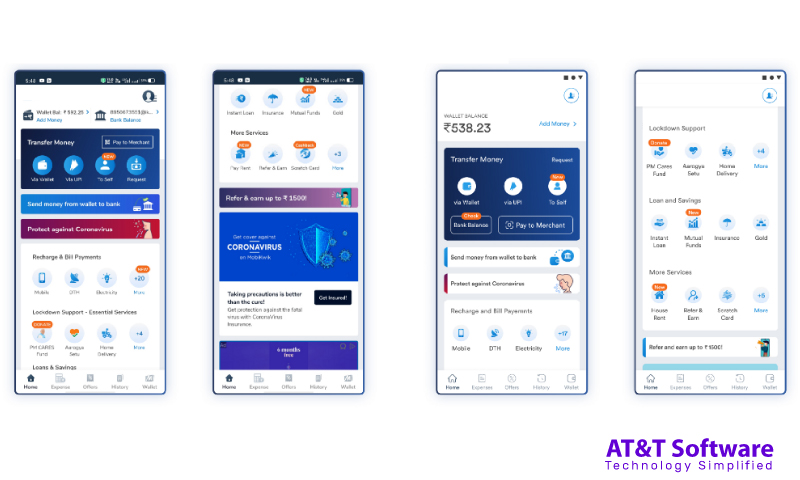 As one of the significant digital wallet apps like MobiKwik, it is one of our tremendous notions to ensure that the clone is more well updated and can incorporate tons of features. The MobiKwik clone development is one of our pioneer projects, and hence we have tried to make the experience well developed for all. You need to install the application and start using the account right away.
Get in touch with the AT&T Software support team today to hire MobiKwik clone app developers. Discuss your requirements for a new MobiKwik clone app development project, and our experienced app developers will offer you the most suitable solution for a super-functional MobiKwik clone app.
Contact us today to open up new possibilities for a high monetization model via a prepaid mobile wallet app.