I hope you enjoy reading this blog post.
Would you like to get expert advice? Click Here
home / blog / Nextdoor Clone App Development: Top Features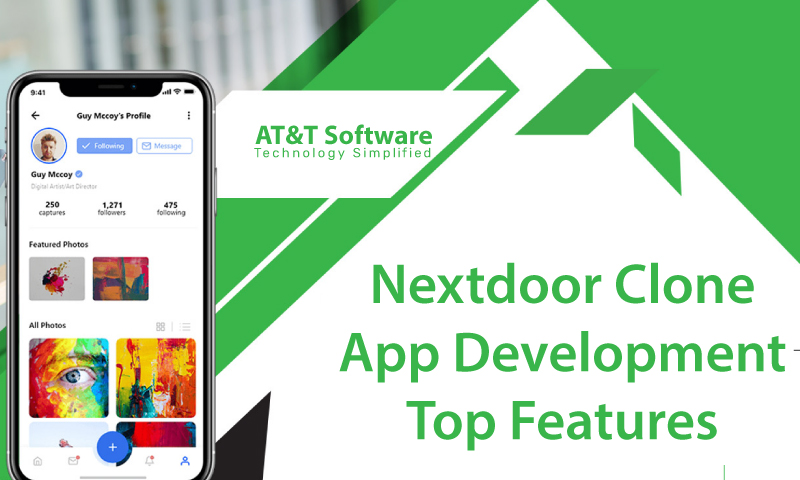 AT&T Software offers top-quality Nextdoor clone app development services at an affordable rate.
Our Nextdoor clone app is the community app for the ultra-modern neighborhood. With our cutting-edge Nextdoor clone, you can become the number one player in the local area vertical. Extremely scalable and fully customizable from start to finish. Get going right now!
Connect with us!
Nextdoor Clone App
Launch a neighborhood-based community app development for socializing and finding on-demand service providers!
If you ask anyone in Gen X and Gen Z generations why their neighborhoods are so disjointed today, they will tell you it is because of the internet.
What if the same technology could be used to reintroduce and sell the links that bind communities together? Is it possible to create a virtual hangout space for the people who live next door? That is what apps are for.
Nextdoor Clone, for example, has done exceptionally well. The demand for social network apps for neighbors has reached an all-time high, with over 2 million families using them.
Our Nextdoor clone development services, AT&T Software, equips entrepreneurs looking to monetize this lucrative niche. The finest of what the original has to offer has been bestowed upon it. Our Nextdoor-style application is jam-packed with exciting features and a solid backend. Don't limit yourself to a particular area; the multilingual support makes it simple to take your solution global. So, what are you waiting for? At an unbelievable price, get our Nextdoor clone!
Call Us Today To Discuss Your Nextdoor Clone Development Requirements. Schedule Your Date With Us!
What Is the Nextdoor Clone App, and How Does It Work?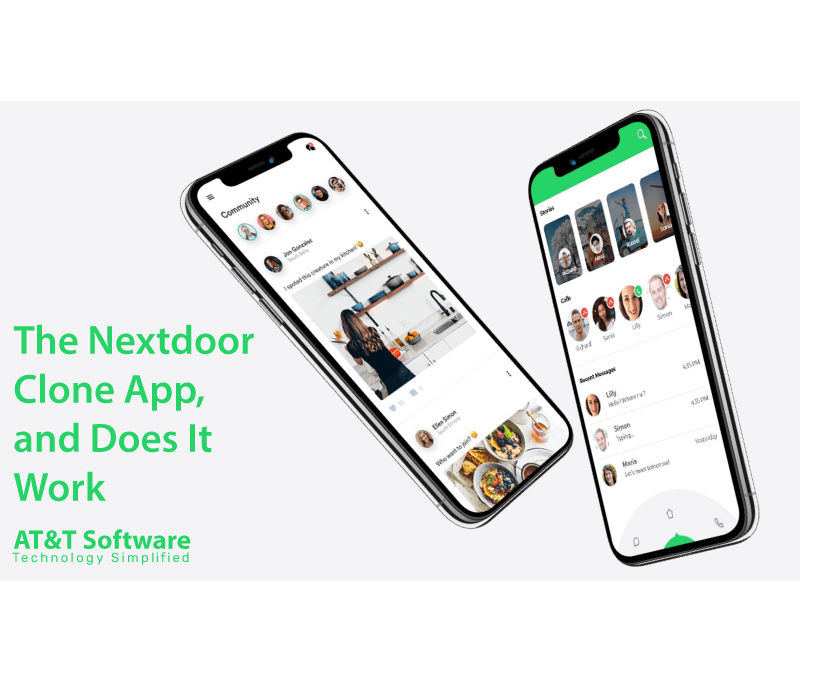 Our Nextdoor Clone is a neighborhood community app solution that allows you to conquer everything in the local community app area, including captivatingly designed Ul, expertly programmed functionality, beautifully filled features, and more. Because the Nextdoor clone app is 100 percent customizable, it can be rebuilt from the ground up to meet your company's needs for a social community app.
The large scalability factor in the Nextdoor clone app accommodates millions of concurrent users with ease and provides a powerful performance. Not to mention the white-labeling feature, which allows entrepreneurs to enter the industry with their own logo, UX design, and brand name. You can't go wrong with AT&T Software on your side. Himalayan heights are perfectly scaled in your niche!
Request A Demo! Call us today!
Who Can Benefit From Our Nextdoor Clone Development Services?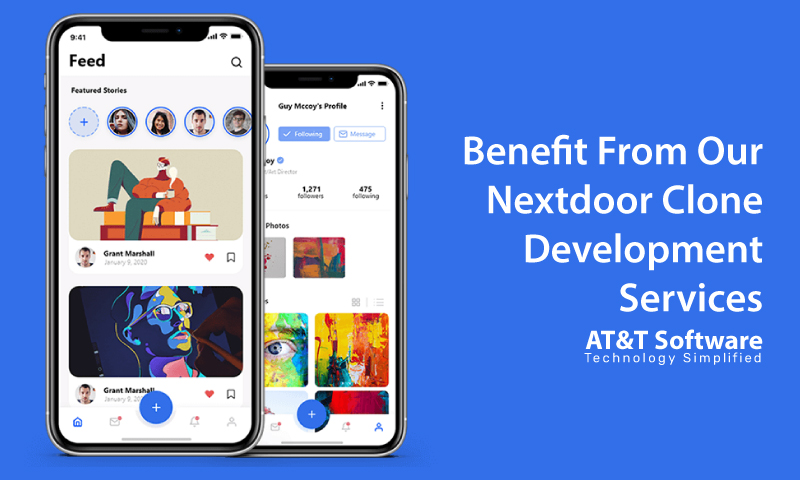 There are many who can benefit from Nextdoor clone app development. Customers and local businesses can use the Nextdoor clone app for a variety of purposes.At several levels, investigate the relaxed compatibility of our on-demand neighborhood networking app platform.
Inhabitants
Residents of a certain neighborhood could break free from traditional constraints and interact with their neighbors by learning their names through internet chatting via the Nextdoor clone app.
Businesses in the Community
By knowing the names of fellow neighbors through internet chatting on the Nextdoor clone app, a specific neighborhood might transcend the bounds of traditional shackles and interact with them.
Businesses in the neighborhood can entice the most loyal consumer group through a Nextdoor clone app. Those who live in the same neighborhood can surely make an unprecedented commerce boom.
Non-profit organizations
Express your dedication to donating funds to notable charitable groups in your area that work for diverse issues to improve community well-being via the Nextdoor clone app.
Public organizations
Pronounced because public institutions may now communicate the most critical, precise information in real-time, localized governance is now a possibility. Courtesy of the Nextdoor clone app.
Global Brands
By tailoring products and services to specific needs, global brands can populate their business strategy through the Nextdoor clone app. This is a wonderful method to break into this untapped market!
Utility of a Nextdoor clone app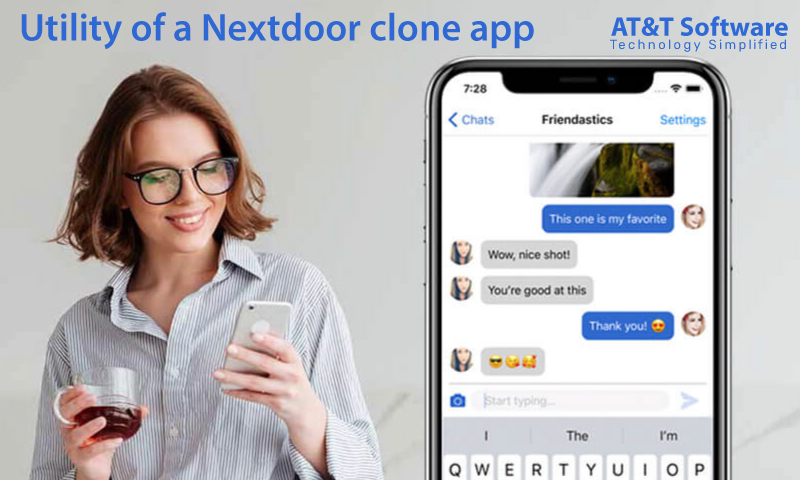 Users of a Nextdoor clone app have the opportunity to explore a variety of services.
Rent a house or apartment
Make friends with their neighbors
Plan events for the community
Get suggestions from others
Post alerts
Services
Businesses can do the following using a Nextdoor clone app
They should expand their operations.
Place advertising and promos that are specific to your area.
Take advantage of the community's goodwill and reputation.
Participate in community selling.
Introduce products that are adapted to the needs of the people.
Characteristics Of Our Nextdoor-style Local Community App Development Solution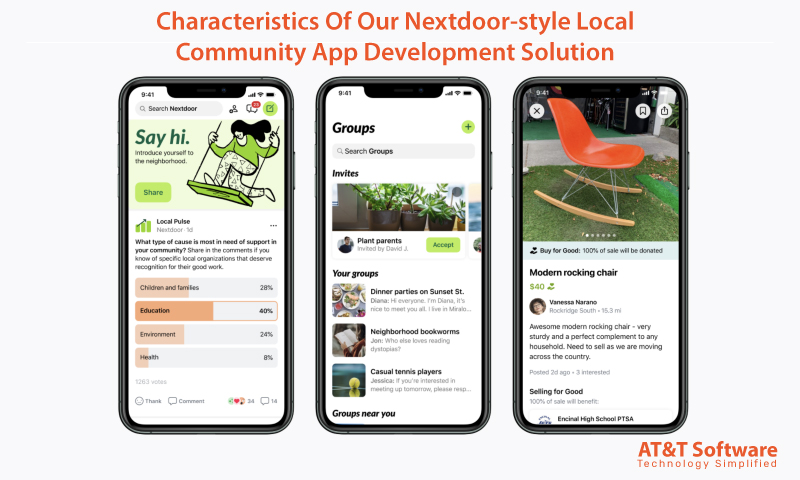 Notifications for Special Events
Allow your users to create localized events in their area and deliver customized alerts to everyone in the neighborhood through the Nextdoor clone app.
Services for the Home
Users of the Nextdoor clone app may find handymen for babysitting, pet grooming, catering, and much more, resulting in a plethora of domestic help opportunities.
Purchase Products
Allow various enterprises to have their day in the sun by allowing them to launch and sell a variety of products and services through the Nextdoor clone app.
Messages Received Immediately
Improve community connectivity by allowing users to communicate with their neighbors over a secure internal communication system on the Nextdoor clone app.
Suggestions
Enhance the platform's pristine character by allowing users to propose available products/services in the area to the residents.
Sections
The Nextdoor clone app provides authentication and allows them to form smaller groups or sections, as well as a slew of other features like multimedia sharing, blocking/adding users, and more.
Local Offers
Local business owners can plan, devise, and implement numerous advertising initiatives within their community on the Nextdoor clone app, resulting in increased reach and conversion.
Endorsement deals in the Neighborhood
Local company owners who want to promote their services can take advantage of the sponsorship opportunity and have their listings listed first.
Get Your Nextdoor Clone App Now!
Work Strategies of Our Nextdoor Clone App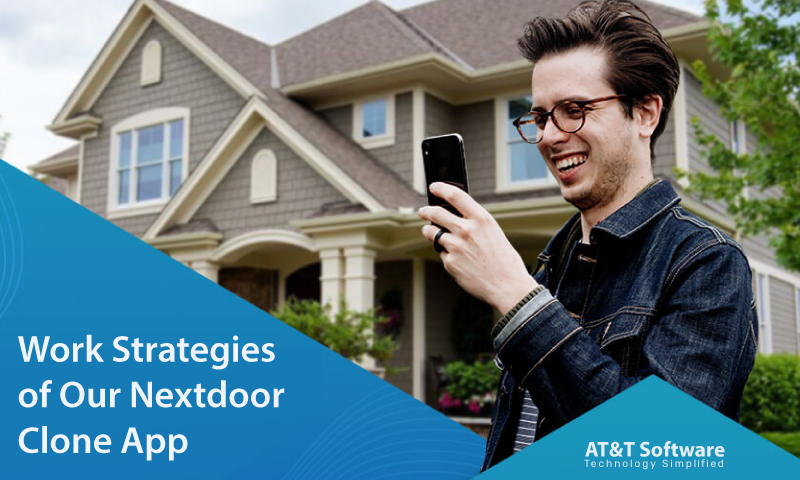 Our app has distinct features for users as well as for business owners.
For Nextdoor Clone App Users
1. Download and Registration
The Nextdoor clone app needs to be downloaded on smartphones first. After that, customers will be able to register themselves with this app just with a few simple clicks and a valid email ID, mobile number, or social media credentials.
2. Authentication of Identity
Users can easily verify their identity and make use of services by uploading necessary papers. Our Nextdoor clone app has a lot of cool features.
3. Find Your Surrounding Area
The next step after downloading the Nextdoor clone app is to narrow down the area with the use of an advanced search tool.
4. Feeding Your Neighborhood
The feed of the Nextdoor clone app is updated in real-time with a variety of events, listings, and changes.
5. On-Demand Services Can Be Booked
The Nextdoor clone app allows users to book a wide range of on-demand services without hesitation.
6. Request for Suggestions
Users can express their opinions and offer suggestions on any of the platform's goods or services.
7. Deals in Your Neighborhood
In-app push alerts provide users with the most up-to-date information on local bargains.
For Entrepreneurs Or Nextdoor Clone App Owners
1. Registration of Business Owners
Entrepreneur registration is required for aspiring business owners who want to list their company on the Nextdoor clone app.
2. Registration of a Company
Business owners can confirm their registration on the Nextdoor clone app after choosing a business category and filling out the required fields.
3. Profile to Share
Individuals in the business world might post their profiles on other social media platforms in order to acquire appropriate user suggestions.
4. Create a Deals in Your Area Ad
Business owners can develop up to 120-character text/multimedia ads and publish them to generate more leads.
Nextdoor became popular after Facebook began working on its own version of a Nextdoor clone. Big internet giants like Facebook will not enter a sector unless it is incredibly lucrative and has a massive user expectation. The prospect of Facebook invading the neighborhood community silo has lit a fire under Silicon Valley and is a no-brainer conclusion.
Nextdoor is one of the quickest networks on a worldwide scale, and forecasts by social media veterans that apps like Nextdoor will overrun Facebook and Instagram appear to be gaining traction. Localized connectedness controls the business plans of tech titans, and it may also disclose a critical piece of knowledge to budding entrepreneurs – raiding into the communal neighborhood market will prove enormously profitable and unwaveringly future-proof.
The Advantages of a Networking Neighborhood App Solution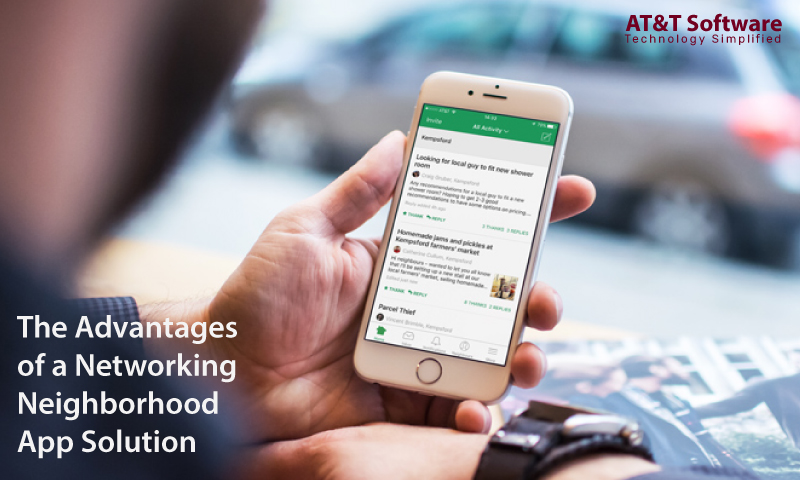 Relevant Audience Organic Targeting
Reaching your intended audience with the most comprehensible content is a magical skill that even social media experts have failed to perfect. Not any longer! A Nextdoor-like neighborhood website restricts users by location, improving the likelihood of adverts for companies reaching the proper audience significantly. The greater the promotion, the greater the reach!
Awareness for Word-Of-Mouth Reach
Recommendations are the foundation of local social media sites like the Nextdoor clone app, and word of mouth about businesses spreads like wildfire. Users may keep the buzz going by sharing on numerous networks, and traders can monetize these tailored recommendations to the best extent possible. The inclusion of a collection of catalog and ad production tools is the icing on the cake.
Persistent User Engagement
A networking site app like Nextdoor clone app for neighbors bases its value proposition on local connection and commitment, instilling higher regard for the platform. With well-defined registration restrictions in place, the likelihood of spamming and being scammed is nearly nil, resulting in an empathic increase in user retention metrics.
What Can You Expect From Our Nextdoor Clone App?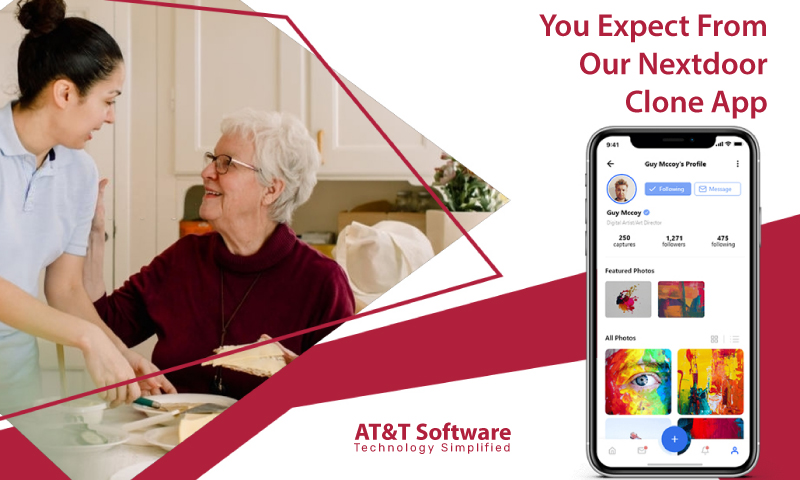 AT&T Software's sole aim is to provide businesses with a dazzling array of technological pearls that tap into every accessible revenue stream. Customers will be delighted, and business owners will be able to use their dexterity if you launch a Nextdoor clone app.
Here is what we offer in our Nextdoor clone app solutions.
Android App For Users
iOS App For Users
Panel of Local Business Vendors
Panel of Local Agency Vendors
Admin Portal
Detailed Description of Neighborhood Clone App Characteristics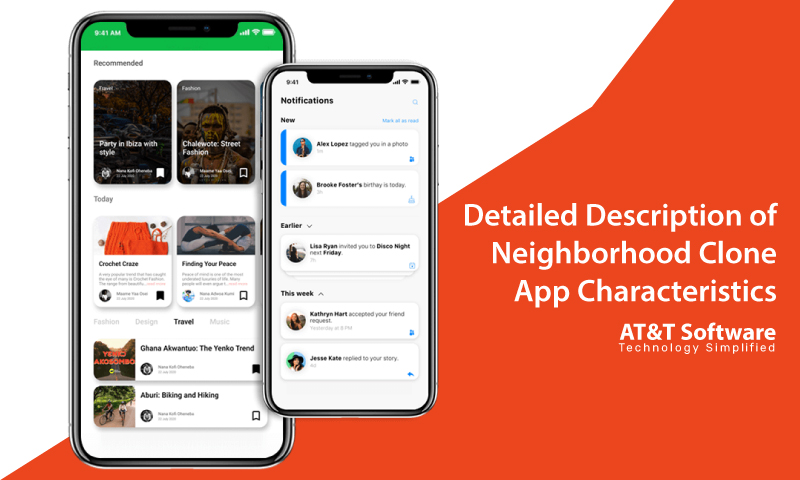 Customer Panel on Nextdoor Clone App Features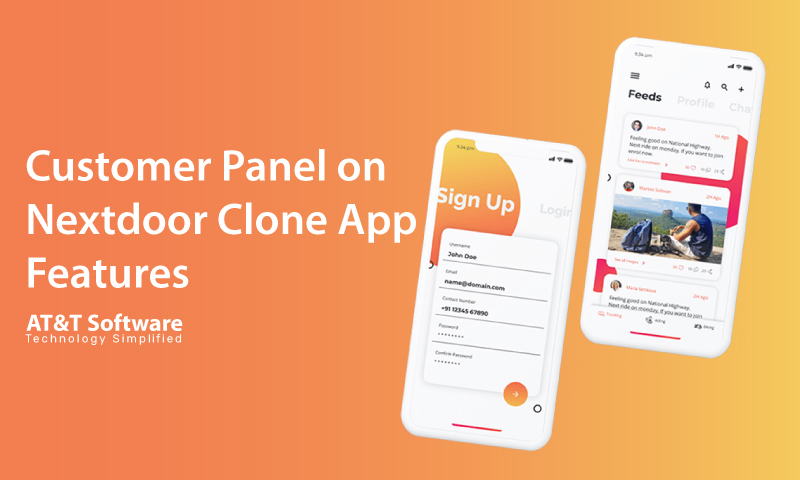 Signup
Allow your users to submit their phone number, email address, or social network credentials to enter into the Nextdoor clone app social neighbor platform.
Verify
Users can easily upload and verify critical documents as confirmation of location identification on the Nextdoor clone app. Only verified profiles can be created this way.
Search
Users can sort through the platform's many profiles using the advanced search bar capability on the Nextdoor clone app, which includes extensive filtering tools.
Notifications on Social Platforms
Keep your users engaged in your scale of things by informing them of the most recent events in the Nextdoor clone app. suggestions and updates in the shape of in-app push notifications.
Chat Within The App
Maintain the platform's streamlined connectivity by allowing users to interact with one another in addition to transferring text, PDF, and multimedia content.
Make/Join Events
Users can rub their hands with each other as they easily construct events by stating the required details. Event invites can also be given via the chat feature of the In the Nextdoor clone app.
Create Groups
Users can form close-knit communities that are further filtered down from the hues of the neighborhood through the In the Nextdoor clone app – designed to promote a sense of community among the platform's occupants!
Users' Suggestions
Users can provide helpful hints about many factors convergent on the In the Nextdoor clone app. They can offer advice on safety as well as information on crime rates.
Services Available On-Demand
Users can access a wide range of service territories, including on-demand electricians, electricians, multi-utility repairmen, milk delivery, and so on.
Recommendations / Opinions
Users have the ability to recommend a product/service placed on the site as well as submit honest evaluations and ratings on its quality.
Entrepreneur Panel on Nextdoor Clone App Features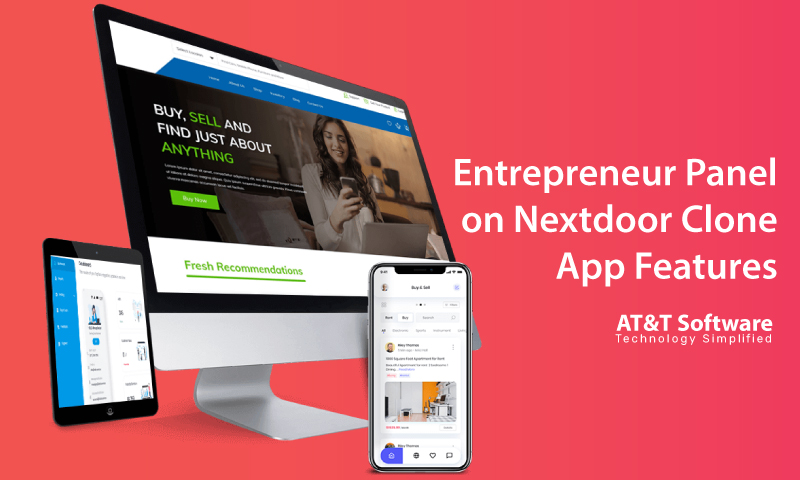 Quick Registration
Once the business owner has created their regular account on the In the Nextdoor clone app, they can enroll their offering by picking the broad category and allied essential details.
Profile Preferences
Business owners may easily customize their profile features such as a photo, a brief bio, contact information, an item description, and more on the In the Nextdoor clone app.
React to Comments
Business owners can demonstrate their level of activity on the platform by responding to neighbor comments and personal messages as soon as possible.
Make a Local Deals Ad
The Nextdoor clone gives business suppliers the opportunity to construct product deals with specifications that do not exceed the admin-approved word count.
Fix Duration
Local merchants are allowed to change the length of time that the local offer is shown on the In the Nextdoor clone app. They can choose from a minimum of 7 days to a maximum of 30 days.
Statistics and Metrics
Business owners can educate themselves by having access to critical information such as local deals, visitors, Ideal local clicks, saves, the number of organic views, and far more.
Admin Entrepreneur Panel on Nextdoor Clone App Features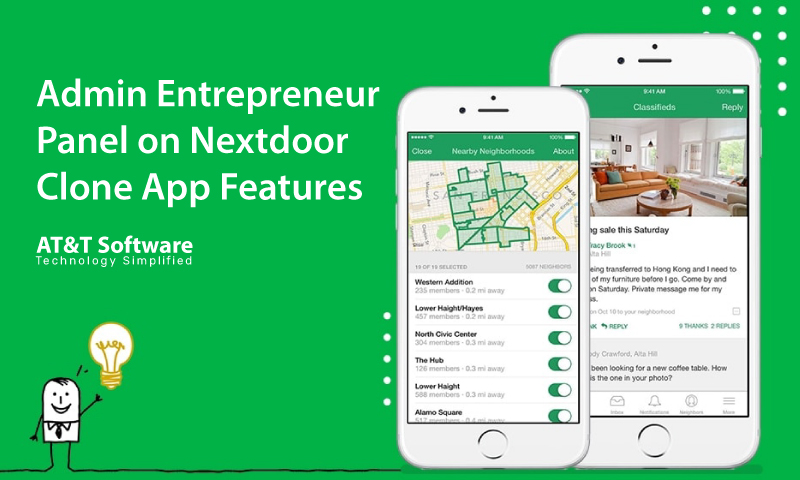 Dashboard in One Place
A bird's-eye perspective of the complete regional social media platform. The admin can track and record all of the user's/business vendor's activities on the In the Nextdoor clone app.
User Administration
Admins can check, block, edit, and delete members in accordance with the rules of the neighborhood community service.
Management of Posts
The admin can confidently keep and retrieve the entire suite of articles written by the user community.
Advanced Statistics
The insights gained from the integration of analytical tools are presented in visually appealing reports with precise precision. Sailing forward in the face of opposition has never been easier!
Advanced functions of Nextdoor Clone App Features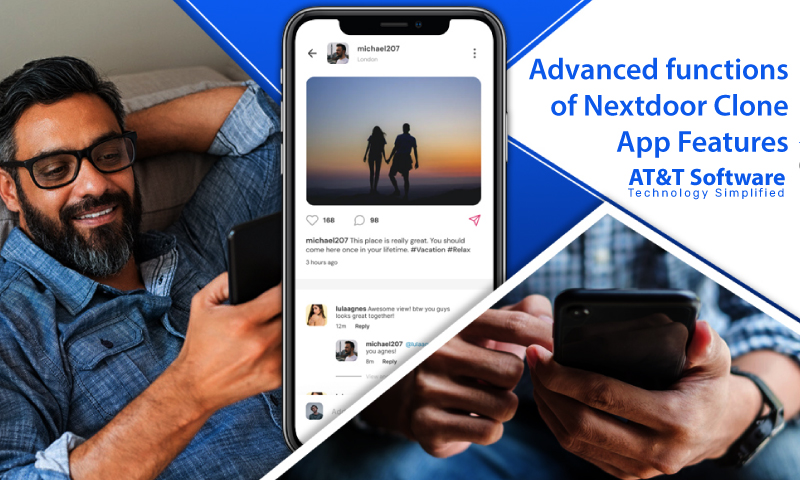 AR Filter
The Nextdoor clone is integrated with a slew of fascinating filters that can be utilized while uploading multimedia content, mimicking the best entertainment apps.
Photo-Editing
A social media platform is just a synthesis of your gallery and email. As a result, quick editing capabilities such as cropping, rotating, blurring, text insertion, collage, and so on are made available.
Turn off Reply
Users can increase their privacy by turning off the reply feature on their posts. Alternatively, they can enable/disable leaving answers selectively.
Mute Users
Users who are no longer involved in the posts of specific profiles can silence them temporarily or permanently. There is also the option to block other users.
With a feature-rich Nextdoor clone app development solution, stake your position in this lucrative silo.
So, Let's Begin Now!
AT&T Software's Nextdoor Clone Adds Security Features to Help Local Businesses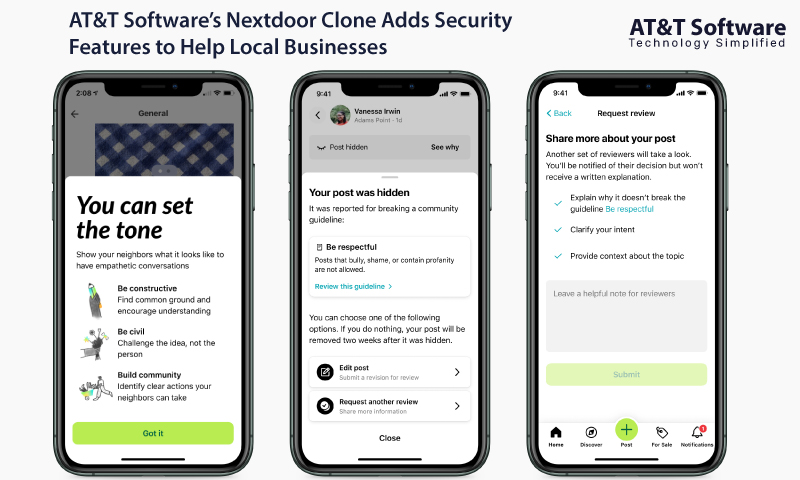 The COVID wind has visibly uprooted a profusion of economic businesses, and the respect and resilience provided by the immediate neighborhood are in greater demand than ever. That is why we have enhanced the Nextdoor clone with innovative support features that assist businesses in establishing their presence and maintaining their revenue flow.
Gift Voucher Links
Local retailers can establish and post a link that enables the purchase of gift cards in order to revitalize their business operations. Customers can express their commitment and loyalty in this manner, despite the fact that the company is temporarily closed owing to the epidemic.
Links to Takeaways and Delivery Services
Food delivery services and eateries have the opportunity to channelize their companies by informing customers about self-pickups, cashless deliveries, digital payment methods, and much more.
Campaigns for Crowdfunding
Local merchants in the neighborhood may be able to revive their failing companies by infusing them with much-needed capital, thanks to the crowdfunding functionality of the Nextdoor clone. For additional reference, a detailed history of crowdfunding transactions is accessible.
Increased Sales with Visibility of Postings
Users' news feeds will now include business content, which is a fantastic improvement from a business standpoint. With a slew of supporting information such as operating hours, services are accessible by appointment only, and so much more.
Our White-Label Nextdoor Clone App's Business Model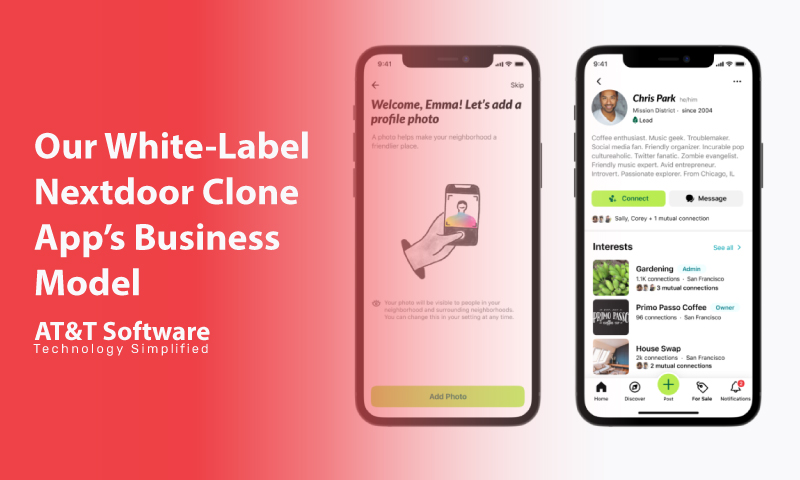 Promoting the benefits of social networking has never been easier.
Sponsorships for advertisements
For a fee, a cornucopia of ad-supported – blogs, posts, multimedia, and so on is displayed and spread across the community platform. A fantastic option for rocketing up the income index!
Local Offers
Businesses might be charged for producing and implementing CTA adverts in agreement with their objectives and target demographic, taking a cue from the strategies of giant digital platforms.
Sponsorships in the Neighborhood
Local home service providers and real estate brokers can publicize their listings and service issues by using a social neighborhood connectivity app such as Nextdoor clone. A winning scenario for all parties concerned!
The Most Important Factors in Achieving Success With a Neighborhood Social Network Similar to The Nextdoor App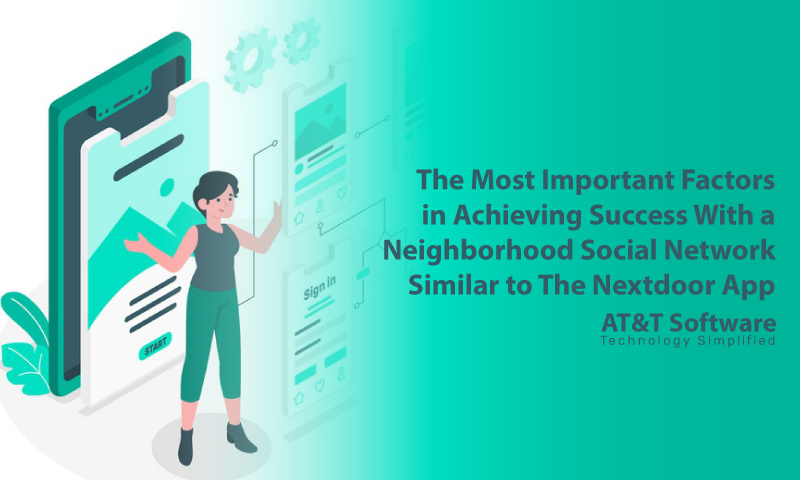 Suggestions
The platform's business fertility grows in direct proportion to the number of overall referrals. This figure reflects the app's social approval and serves as a handy measure of the level of promotional capability provided by your service.
Neighbors
The terms "users" and "neighbors" are used equally and are directly proportionate to the scale of your platform's social presence. Our collection of in-app promotion and CRM solutions assists you in rapidly expanding your user base.
Communities
Business owners that want to funnel a global customer base should keep an eye on the figures in their neighborhood, as a growing trend indicates business growth. Platform managers can also refocus marketing efforts to incorporate additional communities and settings within the In the Nextdoor clone app.
Request A Callback!
The Way We Develop Nextdoor Clone App: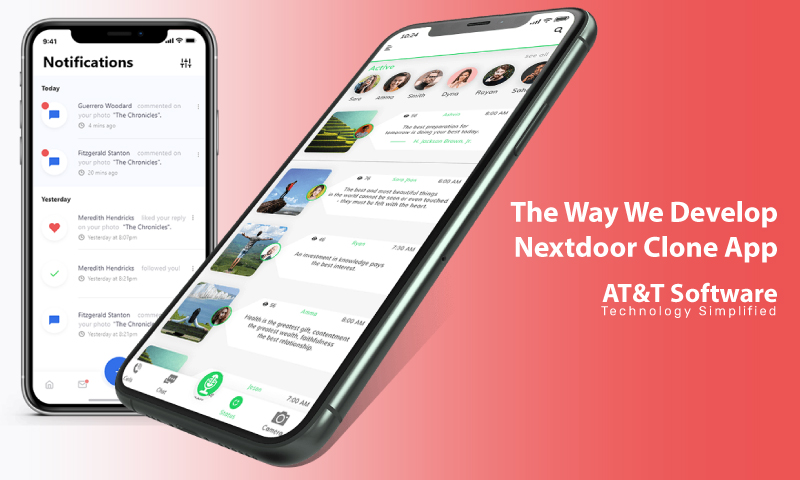 Item and Agency Definition
We believe in overall business development and can expertly outline your product's outlook, current demand, and aspirations. The end product is a well-rounded business concept!
Analysis of Requirements
The broad vision of your business needs, expectations, and app ideas is meticulously sieved and examined with multidimensional competency to build a full-fledged calendar with exact milestones and deadlines.
Design
To give you a sense of what to expect, we provide a complete product concept, complete with features and functionality.
Product Outlook
We build every single app interface using internationally removed design practices, combining the best of our creative expertise. A logical UX design is a guarantee!
Contract for Development and Backlog
Our backend design team will create a detailed backlog strategy for you. The NDA agreement is executed once accepted, and the procedure is elevated to a whole different level.
Sprint Preparation
To maximize development efficiency, we stack a sequence of activities and allocate them to the nearest sprint event. The word for it is spectacular!
Final Development
Every single feature and capability has been meticulously designed and is ably supplemented by cutting-edge technology used by our coding experts.
Releasing and Checking
The app is submitted to the most demanding quality evaluation techniques to ensure that there are no bugs, flaws, or vulnerabilities. In addition, we are in charge of submitting the app to the Google Play Store and the Apple App Store.
Talk To Our Experts!
Call AT&T Software Now!