I hope you enjoy reading this blog post.
Would you like to get expert advice? Click Here
home / blog / Offer Robust Digital Payment Solutions with Airtel Pay Clone App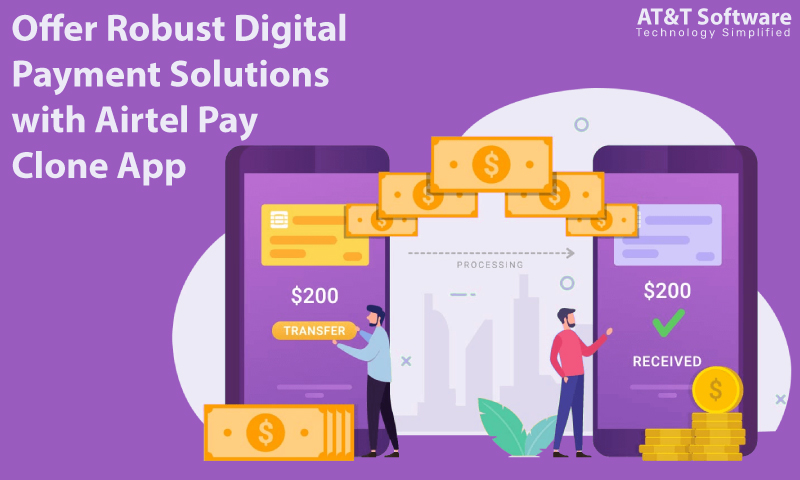 AT&T Software Offers Airtel Clone App Development Services At Affordable Pricing. Make Your Mobile Wallet Business Super Hit With Our Airtel Clone App Solutions.
AT&T Software's Airtel Pay clone is an all-in-one solution for all of your digital wallet needs. With our cutting-edge Airtel Pay clone script, you may enter the ever-growing mobile wallet market and make a huge profit. Allow your app users to pay bills, subscribe to new services, and send money to anybody, anywhere, at any time.
Our Airtel Pay clone app is now available at a competitive price. Contact Us today to discuss your Airtel Pay clone app development solution.
Request A Demo!
Create an International Digital Wallet App Similar to Airtel Pay Now
Consider entering a $1 trillion industry that serves over 2 billion people around the world. Isn't it mind-blowing? With its beautiful intricacies – ultrafast transactions at enormous security – the mobile wallet sector has overthrown the means of traditional modes of transaction. Starting a digital wallet app that can pay bills, recharge plans, and conduct P2P transactions is arguably the most fail-proof enterprise in the twenty-first century.
Prepare to make huge profits with the Airtel Pay clone app because we at AT&T Software have combined our technological ability with trade creativity to develop a gorgeous mobile wallet solution, the Airtel pay clone app. It's your silver sword for capturing entrepreneurial glory, dripping with outstanding features and flaunting an attractive UI.
The Airtel Pay clone is vibrant in every meaning of the word, and it works on all major mobile platforms, including Android, iOS, and cross-platform. To start this treasure of a mobile wallet application right away, simply press the button!
Enhanced security options
User interface simplified
Integration of multiple payment options
Support for several languages
Payment monitoring and transaction details
Quick updates and reports
Our Airtel Pay Clone's Most Distinctive Features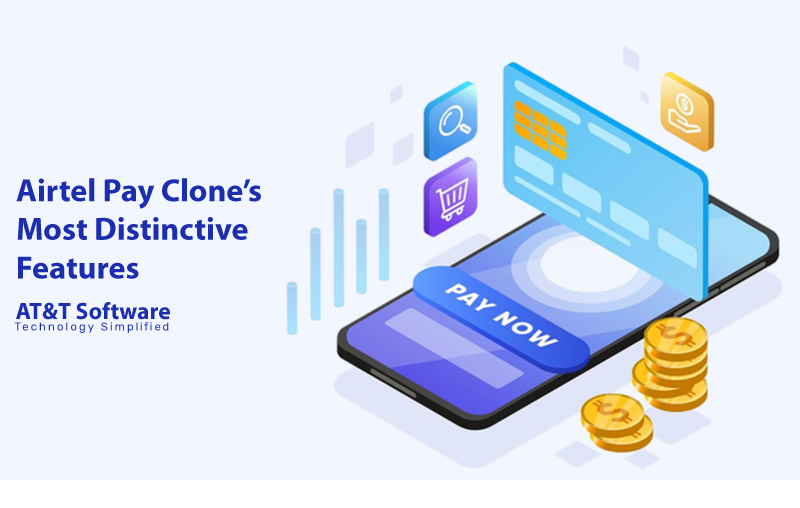 Payment of Bills
Allow your Airtel Pay clone app users to pay critical bills from the convenience of your own home, such as your energy bill, water bill, property tax, gas bill, traffic fines, and so on. There will be no more clumsy lines!
Syncing of Bank Accounts
Thanks to the ability to integrate any number of bank profiles into the Airtel Pay clone app mobile wallet, transferring money from one account to another is now a breeze.
Balance (Add/Check)
Customers can contribute money to their digital wallet with a click on the Airtel Pay clone app and can view the whole history of transactions, in addition to account balance, to expedite payments.
Send or Receive Money
The Airtel Pay clone allows people to send and receive money without the requirement for challans or invoices, shattering traditional limitations.
Invitations
Reward your Airtel Pay clone app customers with a variety of incentives, such as cash, redeemable points, and so on, for referring their friends and pals to use the mobile wallet application.
Push up notifications
Constructive efforts for increased customer engagement are being accelerated since promotional activities such as offers, discounts, and exclusive sale days can be quickly notified to users via push notifications on the Airtel Pay clone app.
Superb Protection
By using radical security assurance methods like penetration testing, black box, and so on, threats and risks are knocked out of the park and are almost non-existent in the Airtel Pay clone app.
Support in Multiple Languages
The Airtel Pay clone is designed for global reception; as a result, we have structured it to accommodate the majority of the world's most spoken languages, enthralling both regional and international customers.
Do you want to create a comprehensive eWallet application?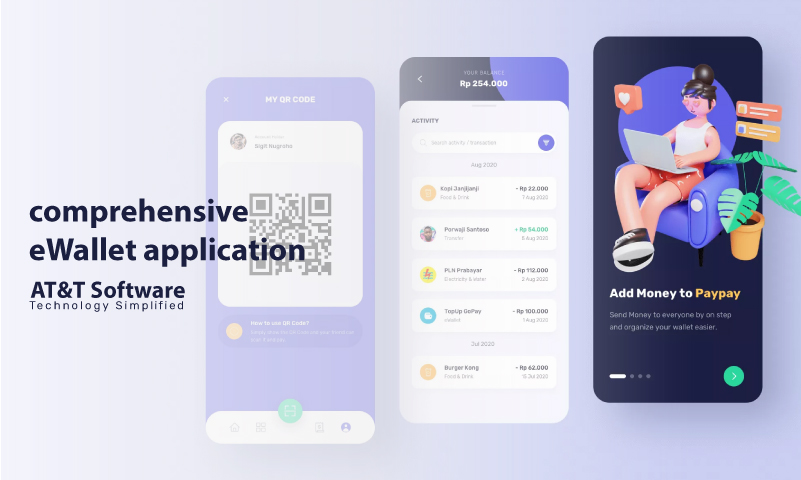 AT&T Software can assist you in attracting a large user base with professional Airtel Pay clone app development services. Amass a slew of people with a highly safe digital wallet tool that is scalable in real-time. Our Airtel Pay clone app can handle a wide range of digital payment needs.
We offer you the following features in the Airtel Pay clone app.
Peer-to-Peer (P2P) Transfer
Through our Airtel Pay clone app, you may transfer money from one wallet to another without having to go through the cumbersome process of using a bank.
Withdrawal of funds
Not only can friends send money from their digital wallet to their bank account, allowing them to withdraw cash quickly and easily.
Payments of bills
Bill Payment/Recharge By pressing a few buttons on your Airtel Pay clone app, you can easily reload your cell plan and pay expenses like water, DTH, broadband, and power bills.
Purchasing Tickets
By purchasing hotel reservations, flight/train/bus tickets, and other travel essentials using the intuitively unified Airtel Pay clone app, you may infuse an overtone of soothing comfort.
Microfinance
Digitize the complete functionality of a physical bank by providing highly valued financial services, such as loans and EMI programs to your Airtel Pay clone app users.
Banking for Agencies
Allow a plethora of banks to expand their digital media operations by designating your Airtel Pay Clone app as a prime payment option, allowing the banks to go completely branchless.
International Activities
By adopting national as well as universal, transcontinental digital payment choices with the Airtel Pay clone, you may transcend operational boundaries.
Promotions
Maintain a consistent client retention rate graph by developing outstanding offers, coupons, and cashback that reflect the market trend on the Airtel Pay Clone app.
Exchange of Cryptocurrency
Provide your company with a crypto exchange platform from a company that has been in operation for over a decade. Through your offering, the platform can link global customers and sellers.
Connect With Us Today, Request A Callback!
Advanced Features Of Our Airtel Pay Clone App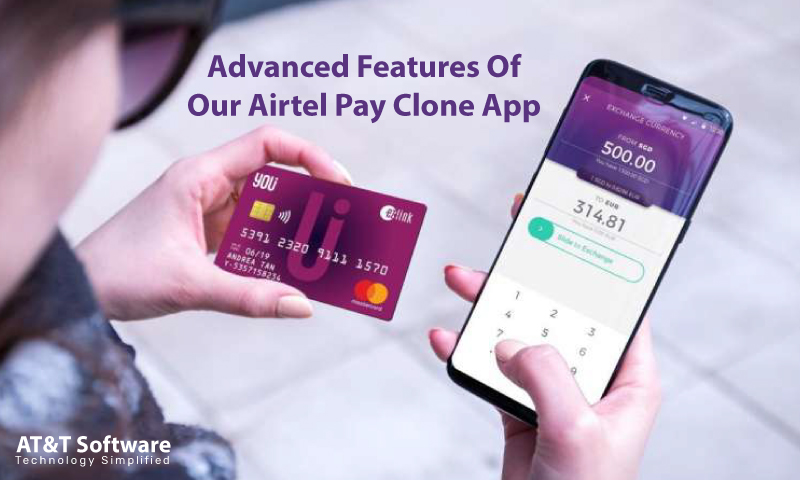 Our mobile wallet development solutions ooze easy accessibility and comfort with the mentioned features:
Communication using Near-Field Technology (NFC)
Profit from the growing popularity of non-contact payment methods on the Airtel Pay Clone app with our NFC-powered approach, which allows for highly safe, lightning-fast transactions over a short distance.
Bluetooth and iBeacon
By arranging transactions in the twinkling of an eye, Bluetooth-backed wireless technology expands the transaction infrastructure. A much-desired functionality that your Airtel Pay Clone app uses can enjoy!
QR (Quick Response) Code
Significant offline payments appear to be conceivable by incorporating an intelligent QR code reader on the Airtel Pay Clone app, as the entire user base is allocated individualized QR codes.
Quick online payment
Exclusive applications for payments can be produced utilizing unique development methodologies by superimposing the inherent agility and resilience of the digital world.
Everyone Can Benefit From Our Personalized Mobile Wallet Development Services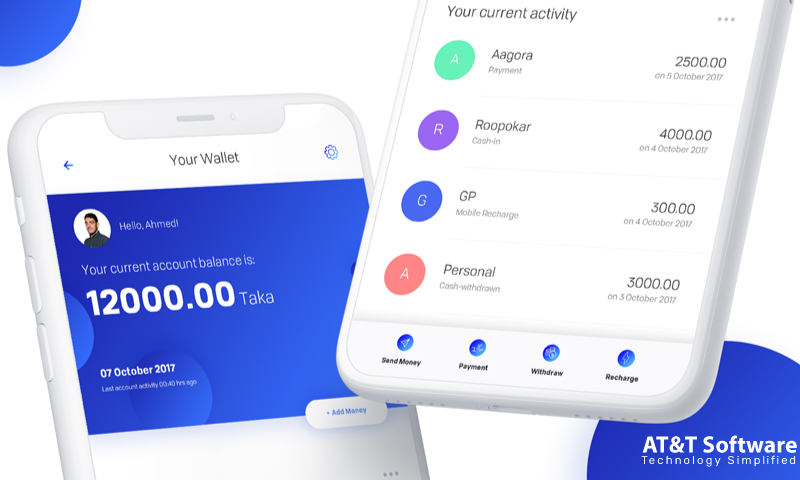 Development of a Mobile Wallet App
As mobile wallet app development professionals, we provide you with a best-in-class digital wallet designed to assure widespread acceptance among global consumers. Integrated with cutting-edge technologies such as NFC, QR, iBeacon, offline transaction mode, and so on. A resounding success!
Development of a Custom Mobile Wallet App
Reconstruct your exact Airtel Pay clone app idea in its entirety with brand new features and functionality. This is made possible by incorporating a staggering amount of customization within the main program, which adds to your armory as a sure-shot yet unique solution.
Development of a Cryptocurrency Mobile Wallet
By dispelling the mystique around the groundbreaking blockchain technology, we accelerate it to create astoundingly safe cryptocurrency wallets that revitalize the proper storing and selling of the most popular cryptocurrencies other than Bitcoin.
Development of Merchant Mobile Wallets
Obsessed with the idea of streamlining the financial silo of business, we created a highly helpful merchant wallet app infused with features such as an automated tax calculator, ACH interface, cloud storage of economic data, massive transactions, and so on.
Design of a Mobile Payment App
Any element or functionality of an app is preceded by an exquisite user interface capable of entrancing the complete range of user silos, and our experienced in-house designers expertly harness their creativity to construct many iterations of arresting UI.
Smartphone Prepaid Wallet
Development of the Airtel Pay Clone app by combining the trade offer with a generally appealing prepaid mobile wallet, service providers and other critical stakeholders in the telecommunications niche can expand their market.
Integration of Mobile Wallets
By incorporating the inventiveness of third-party payment solutions such as Google Pay, Apple Pay, PayPal, and others into businesses of all sizes, we encourage remarkable growth by making the so-called tiresome payment process impossibly simple.
Our Airtel Pay Clone's Process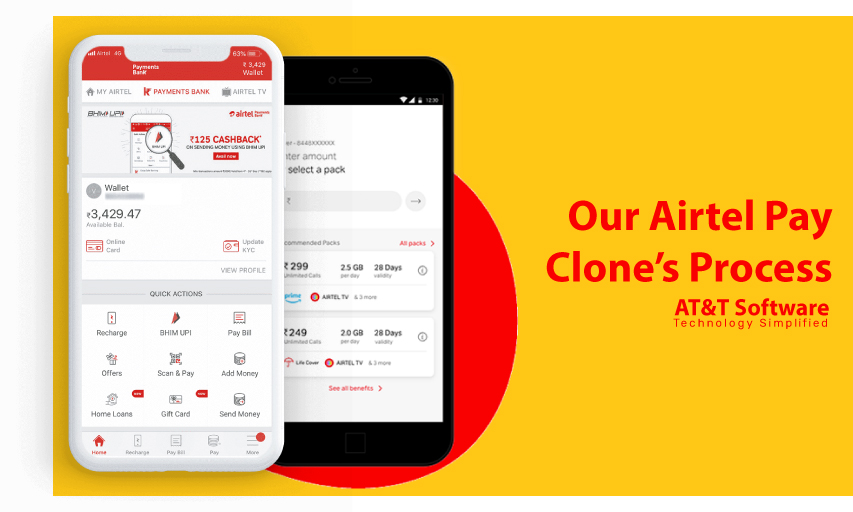 Registration
Customers can sign up for the mobile wallet software by entering their mobile numbers and email addresses or even using their social network credentials.
KYC Authorization
Users are asked to upload specific documents on the Airtel Pay clone app in order to comply with local KYC verification standards and enjoy using the app for all kinds of digital transactions.
Connect a Bank Account
Customers can link their bank accounts to the Airtel Pay clone app via SMS verification. It is a very simple way to integrate their bank account with the digital payment app, and users can enjoy the features.
Add Money
Users can move funds from their bank account to their payment system and vice versa via the Airtel Pay clone app, allowing them transactional freedom.
Peer-to-Peer Transfer
Users can send money to anyone via the Airtel Pay clone app by giving basic information such as a mobile number or bank account number.
Pay the bill
The customer can use the digital payment option on the Airtel Pay clone app to pay for all types of utility bills and recharges.
Purchase a Ticket
Users may easily book plane, rail, and bus tickets and receive an invoice of the payment through the Airtel Pay clone app.
Confirmation
Customers are given confirmation messages with transaction data after each payment on the Airtel Pay clone app.
View Our Plans Today! Request A Demo! Talk To Our Expert Team!
Complete Feature List Of AT&T Software's Airtel Pay Clone App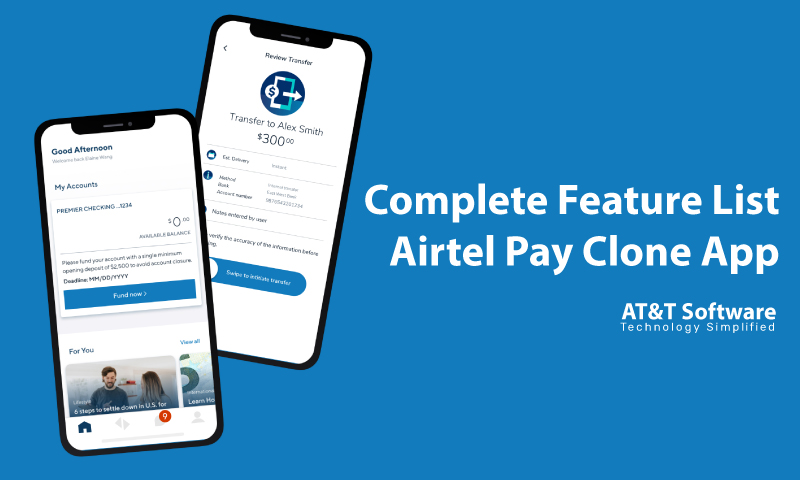 User App: Airtel Pay Clone app
1. Quick Registration
Users can quickly log in to their mobile wallet by using their login credentials or social media account connections.
2. Linking Bank Accounts
KYC confirmed customers on the Airtel Pay clone app can link their mobile wallets to multiple credit/debit cards and bank accounts to enable seamless payments.
3. Add Money
Users are authorized to add money to their mobile wallet and also view their account's current balance in order to conduct instant transactions.
4. Peer-to-Peer Transfer
Users may send money to any account with the click of a button, and all they need to do is input their phone number or unique identifier number, or bank account number on the Airtel Pay clone app.
5. Status of Payment
Users are constantly updated on the status of their transactions by email, SMS, and push notifications on the Airtel Pay clone app to increase client trust.
6. Recharge and Bills
Productivity is formed as a plethora of necessary payments that are part and parcel of daily living, such as power bills, water bills, broadband bills, and mobile recharge bills that may be paid quickly.
8. Offers and Discounts
Users have the right to take advantage of the most recent deals, discounts, exclusive sale days, and other promotional activities designed by service providers via the Airtel Pay clone app.
9. Referrals & Rewards
Users are lavishly compensated with redeemable points and, on occasion, cash deposits in their accounts for each successful referral of a new customer into the mobile wallet software.
10. History of Payment
The payment system history is easily accessible to users, who can view a complete record of previous transactions, including timestamps and other details.
11. Splitting Bills
Customers do not need to exit the Airtel Pay clone app to split invoices because it can be done within the app. It is a much-desired social feature to allow app users a lot of convenience in managing their digital transactions.
Agent App: Airtel Pay Clone app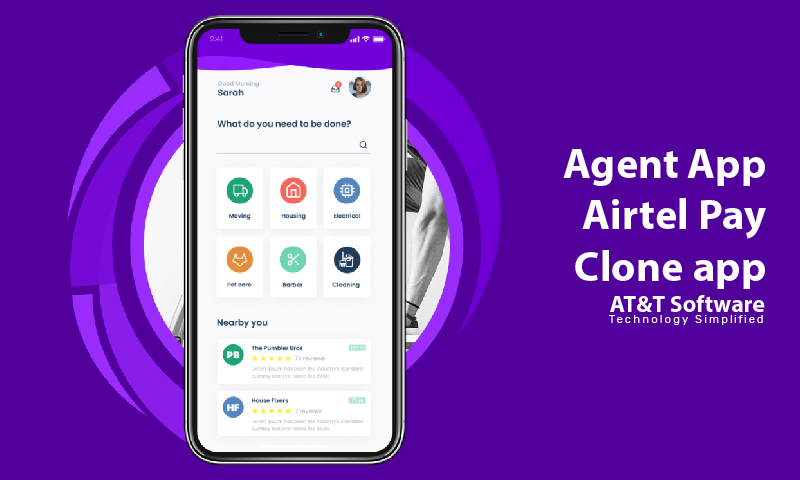 An agent's profile
Activities have the potential to create and change their profile details on the Airtel Pay clone app, including their personal and contact information. They can also modify them if necessary.
Utilities
Agents can utilize the payment gateway app to collect money from customers for recharges or online purchases.
Payment Receive
Agents can get bill payments from their customers by enrolling their mobile numbers with the site.
Administrators App: Airtel Pay Clone app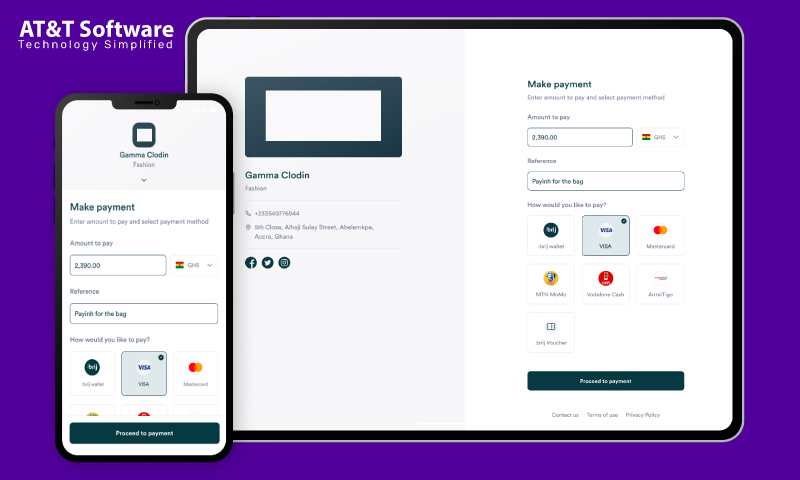 Treatment of the client
The administrator of the platform has access to all user profiles on the Airtel Pay clone app. These profiles can be added or removed as needed.
Coupon and discount
Based on the user's transaction history on the Airtel Pay clone app, the administrator can offer customers coupons and discounts.
Payment processing gateway
People from different walks of life can use the digital wallet because it can be linked to a range of payment methods.
Reports on analysis
The Airtel Pay clone app's functionality and associated data are examined to generate a comprehensive report that provides insights on how to efficiently manage the app.
Special Add On Features of The Airtel Pay Clone app
Refer and earn money
Members of the Airtel Pay clone app can receive reward points by successfully recommending the app to their friends and family.
In-app Camera
The Airtel Pay clone app comes with a camera that can be used to detect QR codes for quick payment processing.
Supporting all platforms
Customers can utilize the Airtel Pay clone app as a web app, a mobile app, or a fresh new platform, and they can access it from a range of devices.
Advertisement administration
The administrator of the Airtel Pay clone app can allow promotional advertisements to show on ad banners, allowing them to earn a substantial amount of money from third-party companies.
Using fingerprints for authentication
Clients can add their fingerprints to the Airtel Pay clone app as an extra degree of protection to open the app. They are, however, forbidding others from using the application.
Backups are performed automatically
An auto-backup feature on the Airtel Pay clone app that stores all data and retrieves it when needed can be implemented in the program.
Why Hire AT&T Software For Airtel Pay clone app Development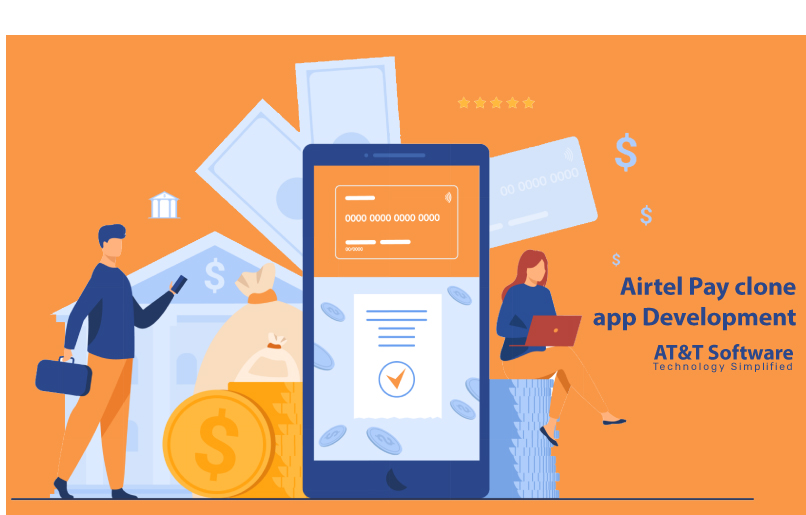 AT&T Software is a well-known clone app creation company. We have worked with clients from all over the world and are proud of the work we have accomplished for them over the years. We developed a fully functional Airtel Pay clone app and other prepaid mobile wallet applications with unique features to assist app users in making the most of their transactional payment operations.
Our clients have benefited from our support in streamlining their workflows and optimizing their payment wallet software, resulting in a high degree of monetization. Therefore, we recommend that you chat with one of our representatives to discuss your Airtel Pay clone app development project and learn about the particular features we will incorporate into the app to ensure that your app users have the best UI/UX possible.
Here is what you will get by hiring AT&T Software for Airtel Pay clone app development.
Professional Approach
AT&T Software is committed to providing a professional touch to each project we undertake. Each project is taken seriously, and every effort is made to see it through to completion. Our professional team of Airtel Pay clone app developers will analyze your project's requirements, evaluate each component, and then offer a solution for smoothly operating your online business.
High-Quality Work
We have a dedicated team of Airtel Pay clone app developers who work around the clock to ensure that we deliver high-quality outcomes. Each web development project is critical to us, and we follow a meticulous development approach to eliminate errors. Additionally, we do a set of quality tests on each project to ensure that the final product is entirely reliable.
Quick Service Delivery
We recognize the crucial nature of completing jobs on time. We begin by creating a timeline for you, taking into account all of the features you wish to add, and then work to complete the project on time. We ensure that whether you require a single online store or a multisite, your project will be completed on time.
Affordable Rates
AT&T Software is a preferred mobile application development company with years of experience providing professional services to clients worldwide. We offer market-competitive rates on all app development projects. We wish to build a long-term relationship with you and provide you with inexpensive, high-quality services. Hire Airtel clone app developers to see how we can transform your wallet app idea into a fully functional digital payment app.
Post-Sales Support
Our work does not end when the mobile application development project is completed. We take this a step further. We take care of everything from app maintenance to integrating new features and functionality so that you can concentrate on running your digital wallet business effectively and growing your business.
The Bottom Line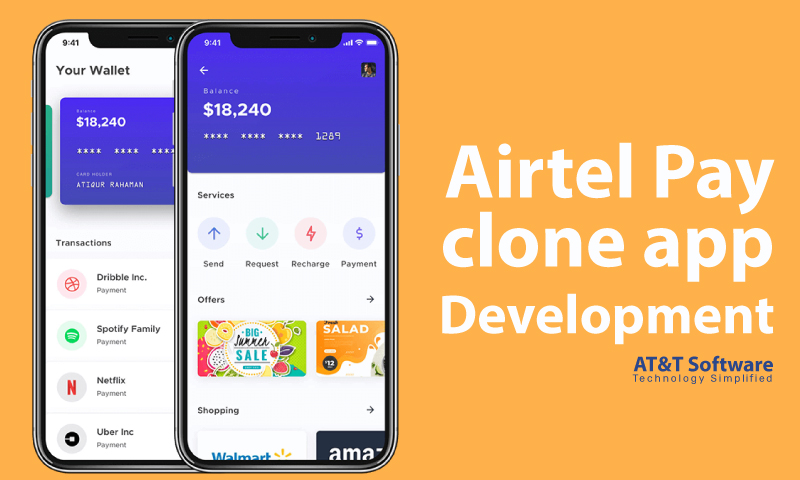 As one of the leading digital wallet apps similar to Airtel Pay, it is one of our brilliant ideas to ensure that the clone is more up-to-date and capable of including a plethora of features. As the development of the Airtel Pay clone is one of our pioneering efforts, we have made every effort to ensure that the experience is enjoyable for everyone. You must immediately install the application and begin using the account.
Contact the AT&T Software support staff today to learn more about hiring Airtel Pay clone app developers. Discuss your needs for a new Airtel Pay clone app development project with our professional app developers, and they will provide the most appropriate solution for creating a highly functional Airtel Pay clone app.
Contact us today to discuss your requirements for a prepaid mobile wallet app development project.