I hope you enjoy reading this blog post.
Would you like to get expert advice? Click Here
home / blog / Shopify vs WordPress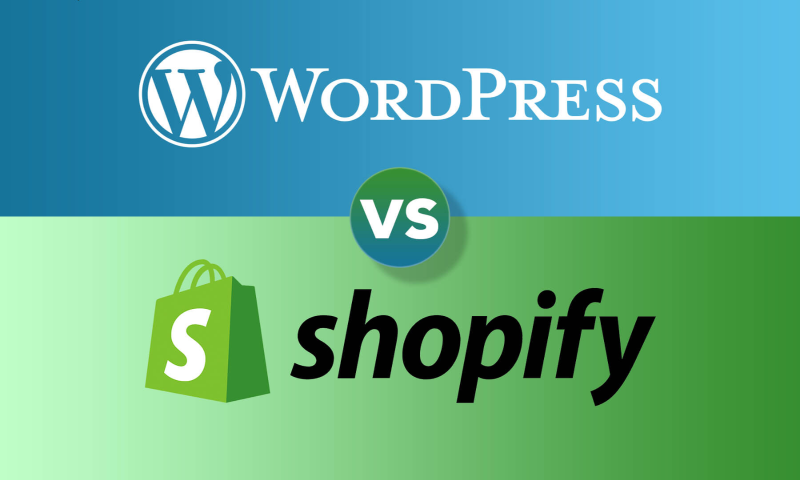 The advent of website builders such as Shopify and WordPress has made e-commerce development easier than before. 
Shopify is a dedicated platform that helps you to build an online store quickly. It hosts your website and offers all the necessary tools to launch and run your online retail store easily and achieve your business goals.
WordPress is an open-source platform, and you need to host and install plugins like WooCommerce to use the e-commerce tools and develop an online retail store.
Both Shopify and WordPress cater to different requirements. So, keep reading to learn about the Shopify vs WordPress comparison. This would help you to make the right choice before you develop an online retail store and meet your business requirements in the most suitable way.
Shopify vs WordPress – What are the Key Differences Between Them?
Shopify is mainly a "website builder". Now, you may wonder about – what is a website builder? A website builder is an online tool that helps entrepreneurs with no or limited knowledge to build their e-commerce websites. Then you need to pay a reasonable fee every month to keep your website live and run your business successfully on the online platform.
As Shopify is built mainly for e-commerce, you can use it to build your e-store. Shopify allows you to build different (and new) pages by using the inbuilt online editor. You can use the local language integration option to sell your products in different locations, regions, or countries. Shopify allows you to customize your online retail store and create a unique website to run your business.
WordPress is available in two categories – WordPress.com and WordPress.org. The former is a blogging platform that works like a website builder and allows you to easily build your eCommerce website. WordPress.org is a self-hosted software and is much more technically advanced.
With WordPress.org, you can build just about any kind of website, including online stores. This post focuses on the Shopify vs WordPress.org comparison.
WordPress.org plays a significant role in the development of approximately one-third of websites on the internet. And many reputable businesses and individuals use Shopify to fuel their online stores.
SShopify is a great choice to help people start their e-commerce websites. So, you get all the required tools ready. On the contrary, WordPress is not meant for e-commerce, but it contains some excellent plugins that you can install to sell products online. To transform your WordPress website into an online store, use WooCommerce.
To build an online store with Shopify, create an account, select a theme, add products, and you are done. WordPress takes a little more time. You need to look for hosting, install themes and plugins to start and customize your e-commerce website.
Shopify vs WordPress – Which is a Better Option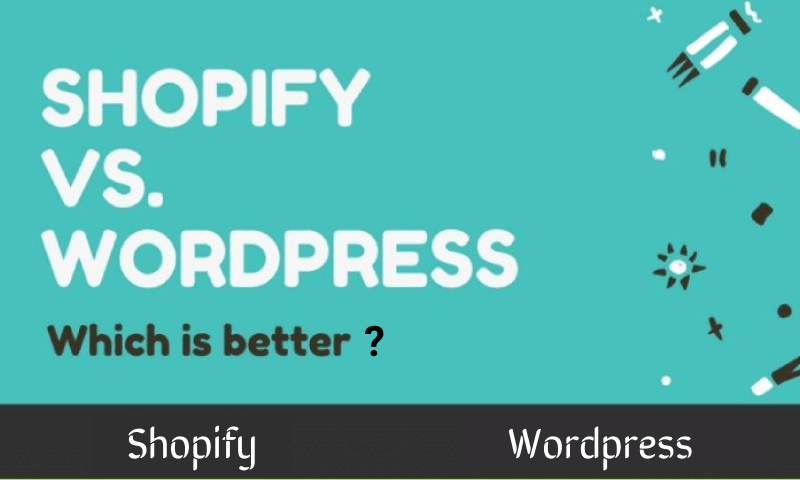 Shopify is a famous e-commerce website builder that is designed exclusively to help people build their online stores. WordPress requires a plugin like WooCommerce to build an eCommerce website and sell products online but gives you full flexibility over your online store. It's a robust platform if you have certain technical expertise.
If you are not a coding expert, you can use Shopify to build e-commerce websites. It is perfect for beginners who want quick results. However, WordPress consumes more of your time and effort to build an online store.
You should know coding to leverage the customization features. Thus, WordPress is perfect for technologically skilled sellers. It is free, but you need to pay for hosting, plugins, and premium features that you want to use in your online store. So, WordPress gives you the freedom to control your costs. Shopify has three major plans for you to select that start from $29 per month.
Go for Shopify if you have the less technical knowledge and want to build your online store. You can easily track your budget from – hosting, security to the utilization of all features included in a monthly cost. So, choose Shopify if you have little coding knowledge or can afford to pay developers for their assistance.
Choose WordPress if you have some coding knowledge or the budget to pay for developers' assistance. You get full control over your website customization and diverse theme and plugin options. But you need to pay a lot to build an excellent online store.
The option you choose between Shopify and WooCommerce should depend on your expertise and budget. Shopify can always be a good platform for your e-commerce websites. You get every required thing to be a successful online store owner using the user-friendly and all-inclusive dashboard.
 You have everything you need to be successful and grow, all packed into one easy-to-use dashboard.
 So, if you are about to build an online store, you can easily choose between Shopify vs WordPress.