I hope you enjoy reading this blog post.
Would you like to get expert advice? Click Here
home / blog / Why Do You Need To Invest In SHAREit Clone Development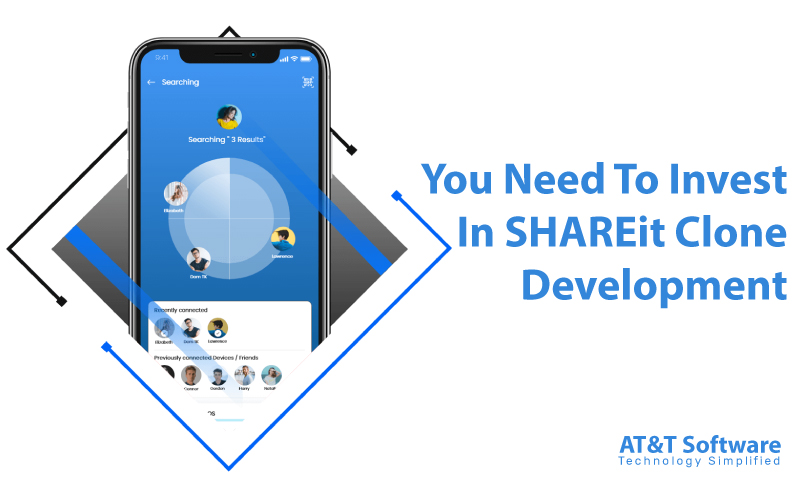 AT&T Software offers best-in-class SHAREit clone development solutions at affordable price.
When it comes to sharing files between Android or iOS platforms, it often happens to us that it becomes very difficult to find the right platform. We also see that the file transfer tends to take a lot of time, and the quality is often at risk. Because of this, we suggest you go forth with an app that guarantees you a quick transfer and will also ensure that the quality of the file is protected.
Share is one such platform that has made this transfer very easy and, most importantly, ensures that you do not have to go through any added hassles. However, it is now time to make the shift more profound and come about with an application that helps you have the best experience in this field.
The SHAREit clone was propounded with the idea to make this experience more profound and come about with an option that can help you with the very best. You can now choose to transfer all your files in just an instant, and all you need to do is have the ear or experience with the easy transfer.
AT&T Software, we have tried to make the file transfer hassle-free and all you need to do is have a basic idea about what needs to be done and how the app can be used. Our team of experts has made sure that you can come forth and use the file transfer app without any problems and do not need to become too tech-savvy for the same.
What Is The SHAREit Clone App All About?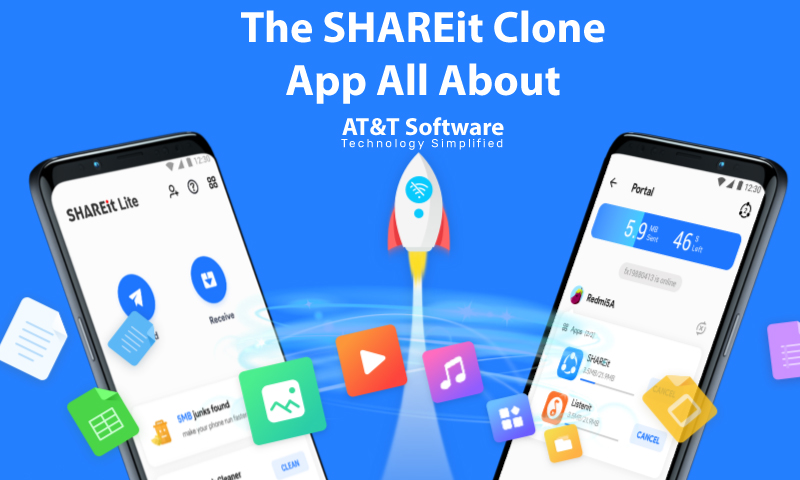 One of the major functions of the SHAREit clone app is that it helps you to transfer files very easily and that too by just tapping on a few buttons. The experience before this was riddled with confusion where you needed to have a paired Bluetooth connection to send or receive the files. There was even a persistent problem with the iOS platforms because they were not compatible with Bluetooth.
To send files with the app's help, all you need to do is have it installed on both the senders and receiver's end. Once the basic login process has been completed, you can move forward and make the transfer once both the phones are connected. Here, unlike the other systems, the mechanism involved is not based on cables of data; instead, the Transmission File Protocol is relied upon.
The files are usually broken down into small chunks, which helps in making the file transfer more swift and gentle. The transfer is usually done in small segregations, and once all the minute bits have been incorporated, they can be combined into a whole and then ultimately transferred. On completion of the process, consequently, the phones can be disconnected. It will close the usage of the application and ensure that no other file transmission happens eventually.
Features of the SHAREit Clone App: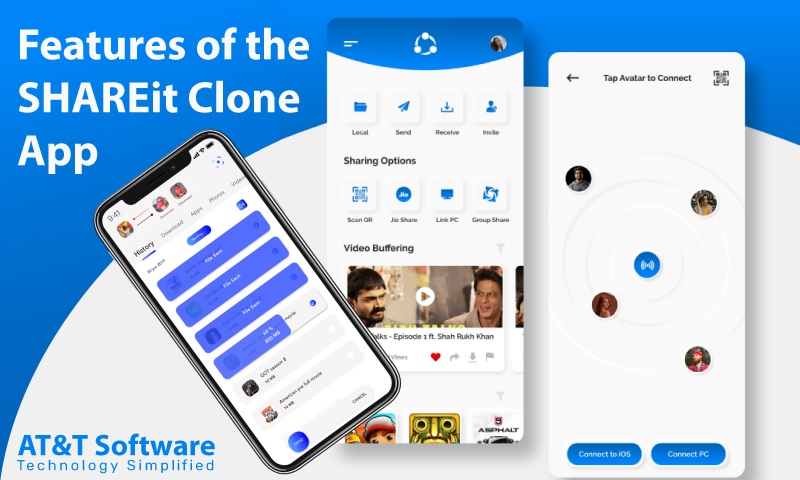 We have tried to make the SHAREit clone more structured than we can, and hence numerous features have been incorporated to make the process more efficient. We like to make the app one of a kind, and hence tons of amazing features have been incorporated so that users have a gala experience and do not have anything to complain about. Some of the most amazing features which have been incorporated and make the app unique and different from others are:
Upload Files:
To make the process easier and time-efficient, we have tried to incorporate the upload file option. It ensures that the file is uploaded to the app and then segregated and stored under the various tags to become accessible without any last-moment problems. You can also choose to add tags eventually so that it becomes very easy to find as well.
Search For Files:
It often happens that it becomes very difficult to pinpoint the file you are looking for among numerous options. To make the process easier, we have added a customized search option, and all you need to do is type the file's name and then eventually tap on the enter option. It will help you take out the file immediately.
File Encryption:
It is possible that once you have uploaded the file, it can be a little problematic with the safety of the file, keeping in mind the fraudulent activities that the online domain is riddled with. Hence, we have introduced the concept of end-to-end encryption, which ensures that all the files you have uploaded are kept safe and secured.
Share The Location:
It often becomes important to share the location as it will lend you a better perspective. It helps you understand where the other user is situated, and it will help them make the file transfer a more secure and safe environment.
Instant Transfer:
The transfer of files often takes a lot of time, and hence the process becomes ridiculed with a lot of complexities. However, the app that we have developed makes this transfer easier and completely hassle-free. You can easily choose to transfer multiple files at one go, which will not become much of a problem.
View The Documents:
Once you have uploaded or sent or received a file, you can also choose to view the documents very easily. The app is built so that it can support a plethora of document formats like Word, PDF, and PPT.
Overall Activity:
Lastly, you can also choose to have a detailed insight into your activity. You can also choose to segregate the data into a particular period and consequently choose to access the activity falling between that domain. The overall activity option keeps all your performance under tabs and is very important.
What Are The Benefits Of Using the SHAREit Clone App?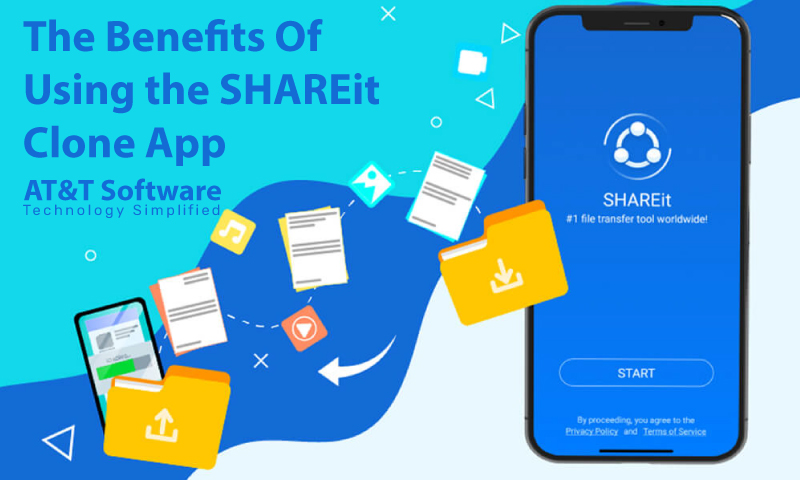 The SHAREit clone app is one of a kind, and when you sign up for the app, you automatically get benefits with many perks. The app is easy to use, but you automatically get benefits with great options that help you move forth and have a gala experience. Some of the major benefits that get accorded to you automatically are:
Quick File Transfer:
One of the major benefits of using the SHAREit clone app is that you automatically get guaranteed an easy and swift file transfer process. The major problem with Bluetooth is that the file transfer process can get a bit difficult, and consequently, it can hamper the quality of the transfer as well. It is also a problem when the pairing needs to be done with Android and iOS platforms because the latter does not have a working Bluetooth, and hence it will become impossible to go forth with the pairing process.
Support File Types:
Another potent problem with transferring files via social media or Bluetooth is that it does not support all the file types. However, that is not the case with SHAREit because you can use tons of file formats, and that too very conveniently. Be it file types like PDF, word document, or even PPT, and you can very easily choose to make the transfer at the earliest. It is a problem that is often noted across all the platforms, irrespective of whether it is an android or iOS platform.
Offline Access:
You might think that you would need to have online access only to either transfer the file or even access them when it comes to an app. However, the major benefit of the app is that it is not the case, and you can even choose to access the file if you do not have a stable online connection. It is not mandatory to have internet access, and you will be able to make swift file transfers without any added hassles.
Integrated Video Player:
One of the major perks of using the app is that you can access the integrated video player. There is an option to view all the videos stored in the file, and that too in HD format. It does not mean that you have to watch the videos in a deplorable condition. Instead, you can choose to stream the videos in HD quality, which is very easy.
Trending Songs:
You can even choose to access the songs which are displayed. You can also use the discover option, which allows you to listen to any song you want very easily.
Wallpapers:
There are tons of wallpapers that you can use very easily and with just one tap. There are also personalized options for you to choose from, which can make your experience customized. You can even choose to view the wallpapers in a GIF format.
Great User Experience:
The app ensures that you can guarantee a great user experience. Hence we have tried to design an experience that is the best of the lot and can hence be quite appreciative. It is very important to make sure that you are guaranteed an environment that is easy to use and glitch-free. The user experience is one of a kind, and hence you get the best options for your gala experience.
Conclusion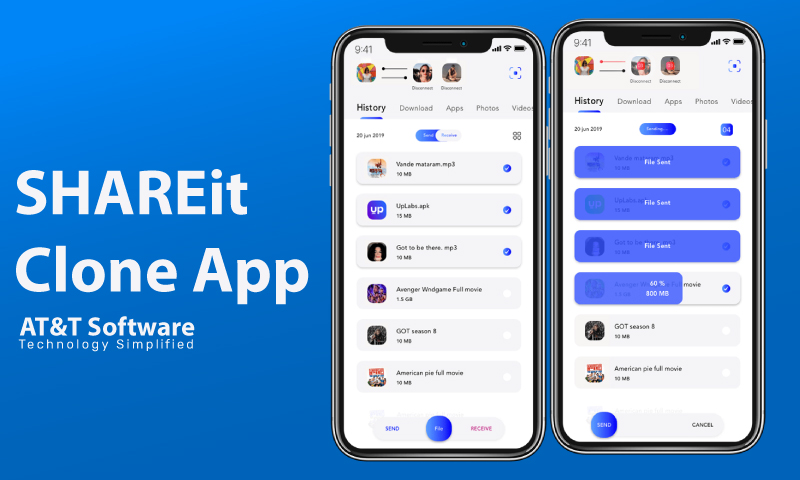 At AT&T Software, we have tried to make the SHAREit clone app one of its kind and hence the best to offer to clients. All you need to do is download the application and learn how to use it so that there are no problems whatsoever.