I hope you enjoy reading this blog post.
Would you like to get expert advice? Click Here
home / blog / Why Go for Super App Development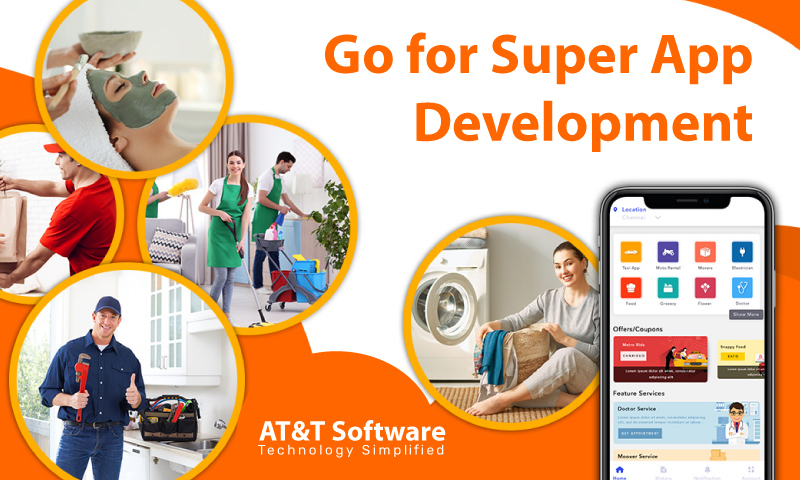 AT&T Software offers super app development solutions to make your enterprise business profitable.
If you are looking for a super app development service, you are at the right place. AT&T Software offers premium quality super app development solutions at affordable pricing and also helps you to monetize your platform for maximum revenue generation.
Stretch multiple on-demand services through a single stand-alone application and make its mark on the flourishing on-demand economy by integrating all essential business characteristics for smooth functionality. Use the super app for businesses in the following categories.
Food Delivery
Grocery Delivery
Home Service Booking
Taxi Booking
Request Demo! Contact us today!
Implement A Multi-Service On-Demand Super App Such as Gojek & Grab With On-Demand Super App Development!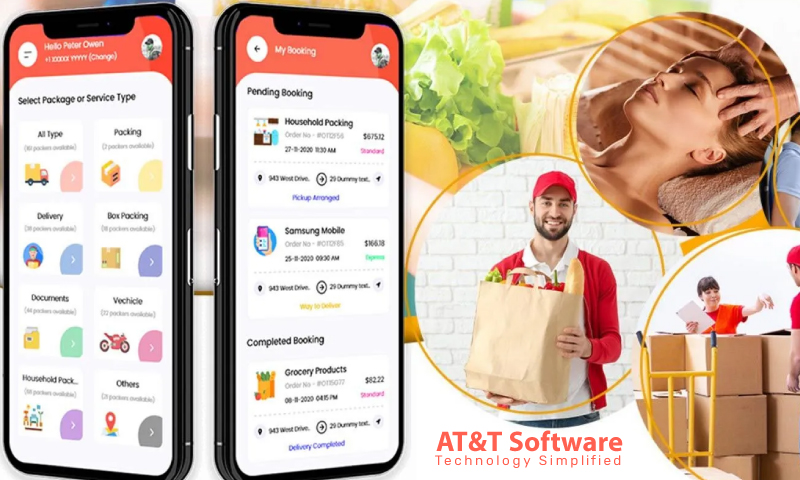 With the growing popularity and use of on-demand app solutions, now is the ideal time to introduce a super app like Gojek or Grab, which allows you to extend 60 different on-demand services. People can use a single app to sign up for your assistance. Getting rid of the need to swap between multiple apps.
Everyone is working hard to be a part of this thriving economy, from small businesses to large corporations. The only way to differentiate yourself from the competition is to provide services with unique selling points. To that end, we have developed super apps that provide streamlined home services and deliveries. Enter this profitable business segment to drive your revenue engine seamlessly!
Buy a Super App Clone Now! View Our Packages!
The Super App Clone Solutions Created By AT&T Software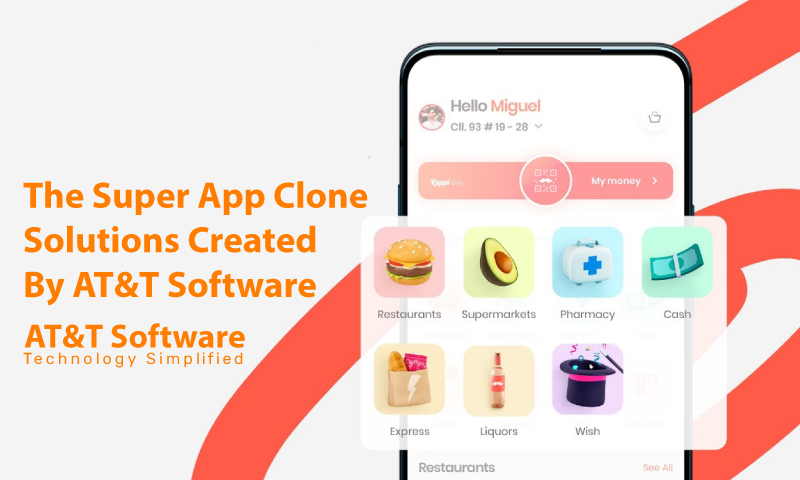 Super Apps are all the rage these days. To stay in the race, every app, regardless of niche, is working on building itself into a super app. AT&T Software has created clones of some of the world's most popular awesome apps. Check them out and get in touch with us if you want to build a super app like one of them.
Gojek Clone App
Our Gojek Clone App is a white-label version of Gojek, an Indonesian app that combines multiple on-demand operations into a single app. On-demand taxi-hailing is one of the services offered. In addition, food delivery, housekeeping, maintenance, online payments, streaming video, and other services are available. So it's more of a one-app solution for all of a user's needs.
Get It Now!
Grab Clone App
Grab Clone is a ready-to-use super app that provides various on-demand services similar to the Asia-based super app Grab. The Grab app, formerly known as Grab Taxi, started as a taxi-hailing app, recognizing the need for and rise of on-demand services.
Grab has evolved into a super app, providing services such as taxi trailing, food delivery, cashless payment, and much more. Be like Grab and do not limit yourself to just one service. Expand and provide everything your users require in a single tap.
WeChat Clone App
WeChat started as an instant chat app on the internet. But it has evolved over time. WeChat has evolved into a platform that is more than just texting or social media platforms. It is now a way of life for many people, and our Wechat clone was created with the same goal in mind: to provide a way of life for your users rather than just an app.
Your customers will be able to chat and make calls using WeChat Clone. Make online payments and keep up with the latest news. Hire on-demand services while also having a good time playing games.
Get The App Now!
Hugo Clone App
Hugo is the newest addition to the superfamily of apps. It is an El Salvador-based platform that has recently added many new features ranging from the entertainment world to the service industry. Our Hugo Clone App is a fully customizable clone of the Hugo app. Hugo cash, event ticketing insurance, grocery delivery, and other features are included. Customize this Hugo Clone App for your company and become the Hugo of your nation.
Get The App Now!
Yandex Go Clone App
Yandex Go is a super app for the urban lifestyle based in Russia. Yandex Go is an application that enables taxi-hailing, courier services, and online payments, among other things. YandexGo is unique in that it uses regional languages to provide on-demand service. Our YandexGo clone app is a flexible solution for your on-demand cab and courier service.
Get The App Now!
What Is The Definition Of A Super App Solution?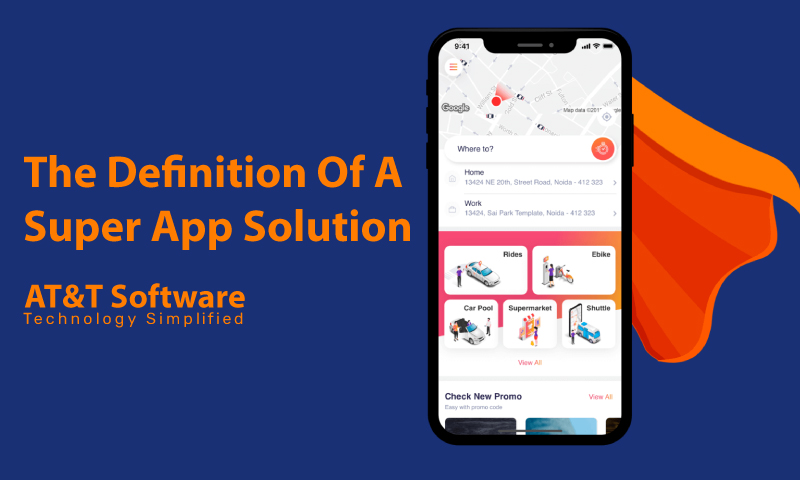 App Development for Multi-Services
Super apps are stand-alone applications that allow customers to choose and use any on-demand service without any hassle. For example, they can use the app to book a cab, order meals, schedule grocery shipments, book beauty services, and even make payments using its online payment service.
In simple terms, it is an all-in-one solution that meets the needs and requirements of the customer from beginning to end. Third-party businesses can sign up to offer their services through the app. People will no longer need to look for other services and will be able to rely on the app for all of their on-demand service needs.
Launch a one-stop platform with 60+ on-demand facilities that cover all industries.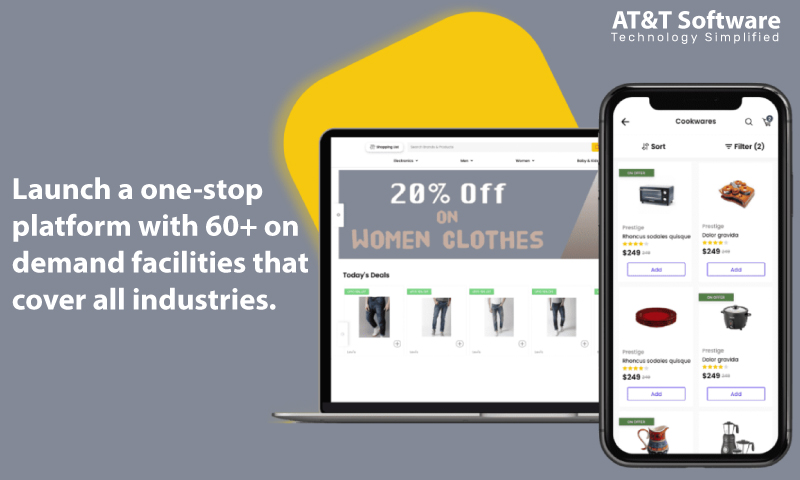 Including as many on-demand services as possible in a single super app is a great way to attract a large user base quickly. It is convenient for people to have access to all services. Without installing additional applications, you can get started right away. You can make a lot of money as a business owner if you are paid commissions for each and every on-demand service you offer through your app. The powerful admin dashboard also allows you to monitor and manage all retail operations effectively.
Schedule Your Date With Us! Connect With Us!
We Offer Premium On-Demand Facilities With Super Development Solutions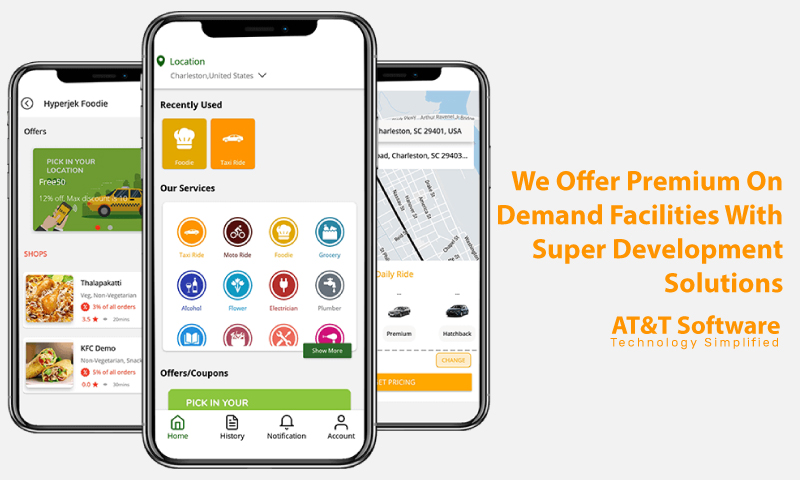 Sixty topmost services are available only in one app. As a result, thousands of hours have been saved.
Our Super Clone App Offers The Followings: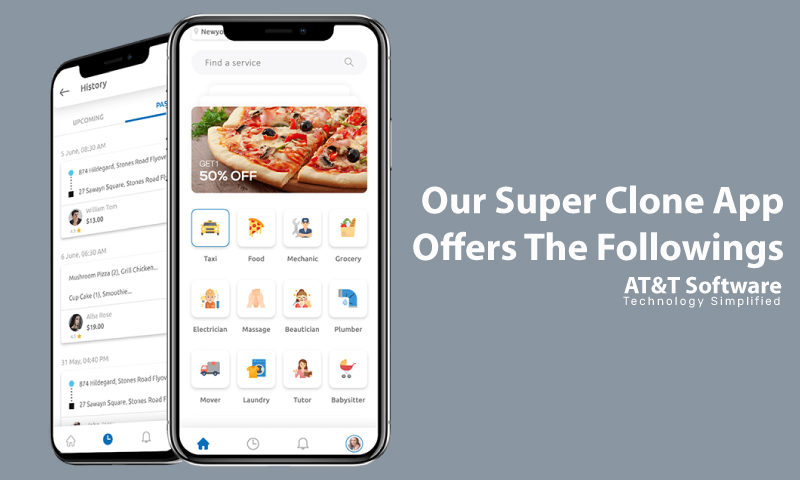 Delivery Services
Grocery Delivery
Food Delivery
Alcohol Delivery
Packaged Water Delivery
Bouquet Delivery
Stationary Delivery
Courier Delivery
Medication Delivery
Ride And Rental Services
Cab Ride
Bike Ride
Car Rental
Bike Rental
Additional On-Demand Services
Physician
Beautician
Repairman
Electrician
Woodworker
Hairdresser
Babysitter
Security guard
Personal Trainer
Automobile Mechanic
AC Repair
Educators
Vehicle Wash
Motor carrier Firm
Service/Maintenance of Vehicles
Controlling pests
Animal Welfare
Pet Managing
Veterinary
Gardening
House Cleaning
Body Massage
Maids/Butlers
Do you want to provide more on-demand services?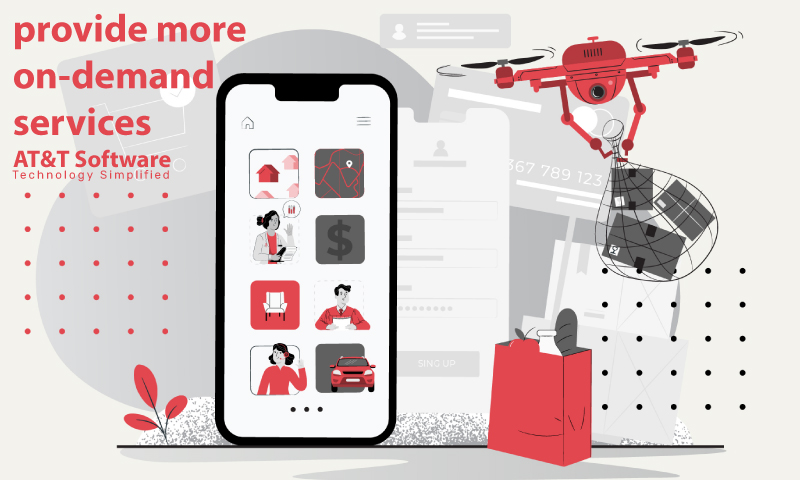 The Demand Super App Development Solution allows you to add 60+ on-demand services, expanding your business into new areas.
Get The App Now! Talk To Our Expert Team!
In the midst of the COVID-19 pandemic, many businesses are opting for on-demand super app development and monetizing their platforms. The world is coming to a halt as a result of COVID-19, and people looking for ways to fill all of their hands during the lockdown have paved the way for a rapid expansion of super apps that provide secure on-demand facilities. Moreover, with Uber's purchase of Postmates, it is clear that even the established companies want to be a part of the world's super app culture.
Take advantage of this once-in-a-lifetime chance to break into the global super app market. Connect with us to build a super app that can withstand a pandemic or other situation.
Get Your App Now! Request A Demo!
The Importance of Developing A Super App Solution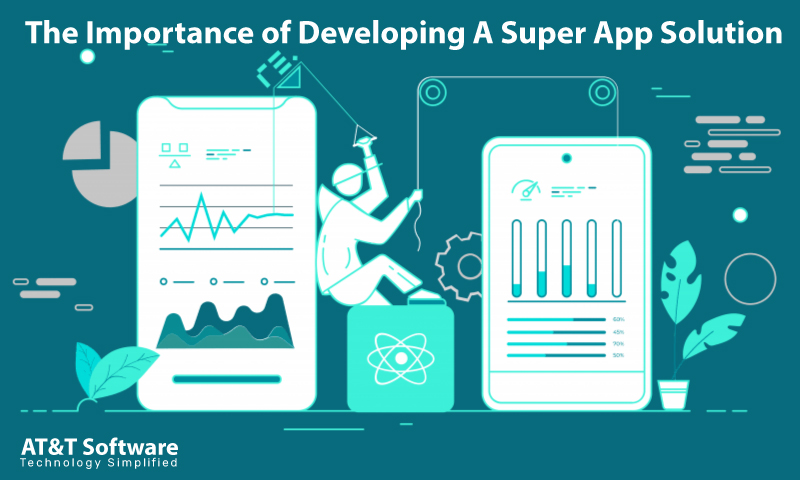 AT&T Software's highly experienced experts have created and deployed a number of cutting-edge applications that have revolutionized a number of industries. We strive to create app solutions that are versatile and dependable throughout their lifecycle, allowing you to run your business without interruption.
We are expanding our on-demand super apps to assist you.
Using a single stand-alone app, provide multiple on-demand services.
Obtain income from a variety of sources.
Deliver on time and earn the trust of your customers.
Request A Demo!
Introduce & Organize Your On-Demand Super App With This Comprehensive App Package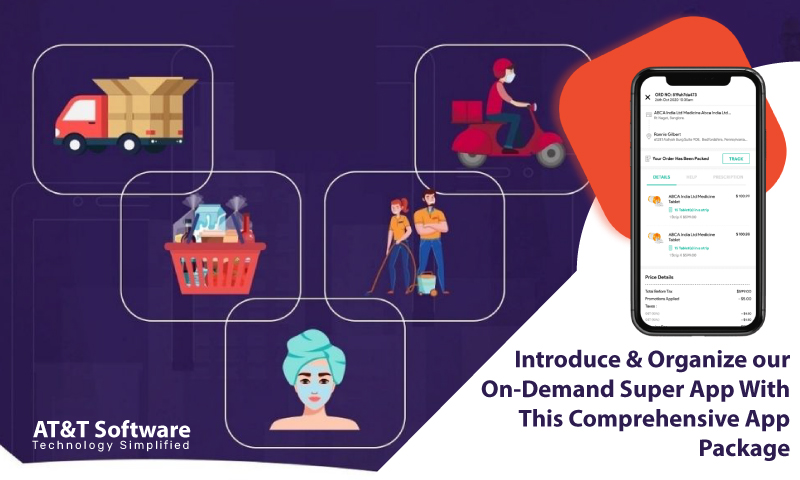 Our super app services include 60+ on-demand facilities to meet customers' needs from start to finish. Our all-in-one app solution package includes different sections for each stakeholder operating in the ecosystem. These sections can be easily installed on Android, iOS, and Windows devices.
Our Super App platform includes the followings:
Android Application for Users
IOS App for Users
Web Panel for Users
Android App for Drivers and Service Providers
iOS App for Driver/Service Provider
App Store for Android
App Store for iOS
Web Panel
User Kiosk for Android User
User Kiosk for iOS User
Web for Admin
Billing section
Pan for Dispatcher
Our Super App Platform's Entire Workflow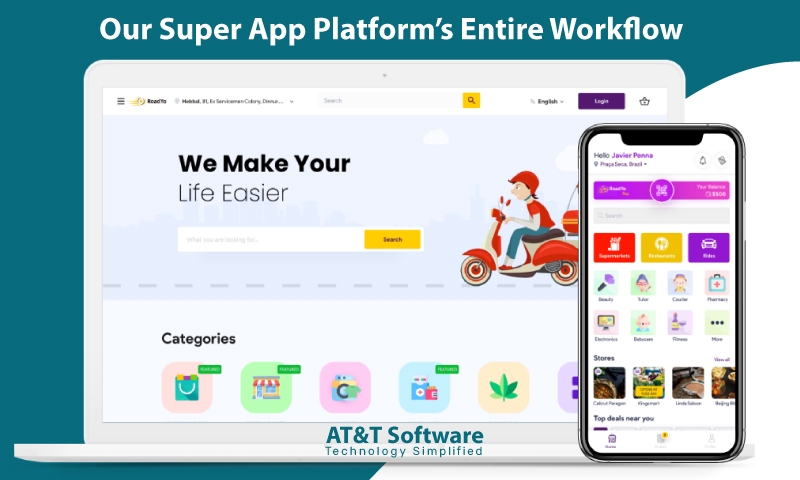 We offer a super user-friendly app that provides a variety of services such as cab-hailing, online food delivery, rental assistance, babysitting, beauty services, digital wallets, and much more. This is how the all-in-one super app works:
On the Homepage
All major on-demand facilities are mentioned in the app for users to view. They can also use this page to open their profiles, order and booking information, make payments, and so on.
Rental and taxi services
The entire list of available vehicles is provided so that users can hire or rent the car that best suits their needs.
Typical Deliveries
This service allows people to transfer any from one place to another. In addition, they can make single or multiple delivery services with the Help of delivery partners who are already in the area.
Division of Delivery
Users can select the type of vehicle that will be used for delivery. In addition, they can choose them depending on the size of the item to be delivered.
Additional On-Demand Services
Many primary on-demand facilities are listed in this app's section, in addition, to ride and delivery services.
One-stop Shop for On-demand Services
When people click on an on-demand service, all details about the service are displayed, along with detailed information. Then, users can browse the options and select the one that best suits them.
Delivery of Food
All eating establishments in a selected geographical region are showcased for user reference when users enter the section.
Other Important Deliveries
Several primary delivery services, such as food delivery, are included in the super app. In addition, grocery delivery, alcohol delivery, medicine delivery, and other services are available. Users can select the type of delivery they require.
Delivery of Groceries
This page contains a complete list of grocery stores in the users' immediate vicinity. Customers can compare and purchase groceries right away or set them aside for later.
Characteristics Of AT&T Software's All-In-One Super Cloning App: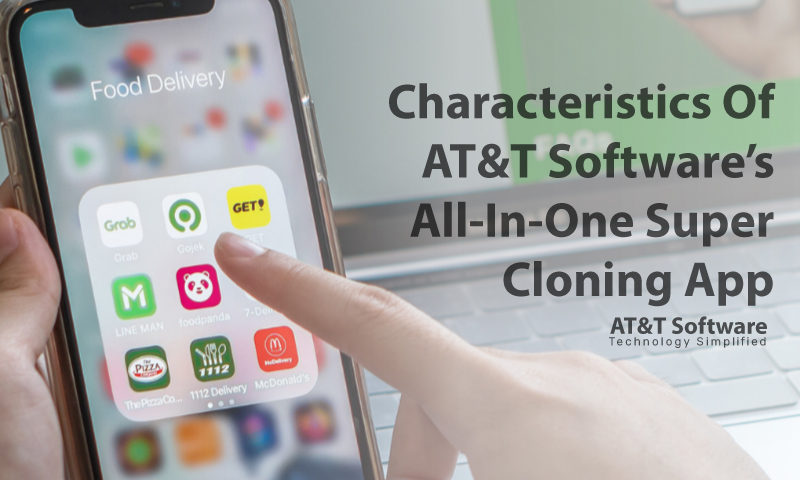 App For User
Registration
Customers can use their email accounts, mobile numbers, or social media performs to sign up for the app. Logging in is done with the registered version.
Schedule
Rides, rent and delivery services, and other on-demand services can be scheduled for a later date.
Booking
The app allows users to book cab or bike rides directly. They can also set up meetings with their preferred service providers and have a talk.
Chat/Calling within the app
Users can contact service providers or drivers directly through the app's in-app chat or call option.
Various payment options
Users can pay for the service they have requested or for orders they have placed using one of the many payment methods available. They can also use the in-app wallet to pay right away.
Tracking in real-time
Customers can use the geolocation tracking options to monitor the positions of drivers and service providers once they begin providing their services.
History of bookings
Customers can see all the details of all the orders or bookings they have made through the app in one place.
Reviews and comments
Users can leave feedback on the services they have used. They can also leave reviews to help maintain the service's quality.
Earn by inviting others
Users can share the super app with their family and friends by inviting them to download and use it. They will be given reward points in exchange for this. which can be used to pay for the service that has been requested.
Check the details
Users can look up service providers' accounts in their area and schedule appointments with them. They can also view the profiles of delivery drivers who have been assigned to provide the requested service.
App for Driver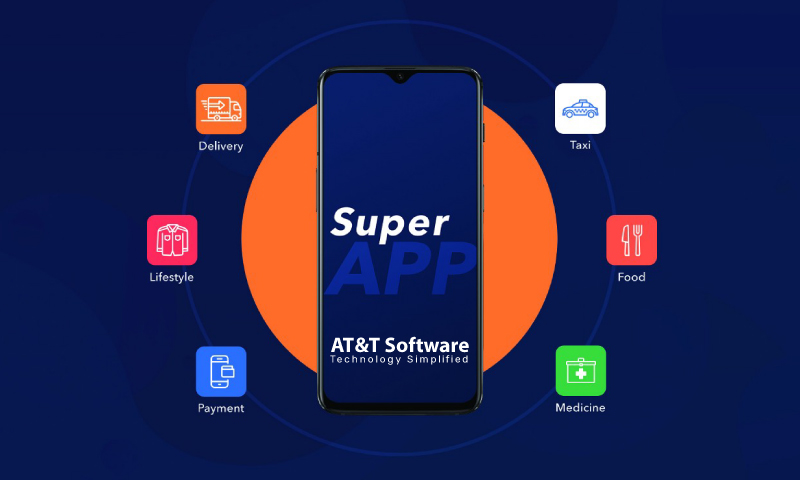 Onboarding
Service providers or drivers can join the app using their phone numbers or email addresses. They can use the OTP validation process to verify them.
Management of profiles
Users can create and manage profiles for service providers and drivers, including personal and contact information.
Organize your documents
Service providers can validate their accounts by uploading certificates for their services. In addition, drivers can provide their own vehicle information.
Toggle the availability
Service providers or drivers can advertise their products when they are readily accessible and go offline when needed using the toggle mode.
Create a service radius
Service providers and drivers can set a radius limit from their location to only receive requests from that area.
Accept or reject requests
A service request can be accepted or rejected based on different aspects such as distance, time, and so on.
Pop up notifications
Using in-app push notifications, service providers and drivers are instantly notified of upcoming service requests.
Optimization
The best possible route will be provided to service providers or drivers in order for them to arrive at the users' locations on time.
History of service
In this section of the app, service providers or drivers can see detailed information on all services offered or orders delivered.
Information on revenue
Service providers and drivers can see detailed information about the earnings they received for their services.
Store App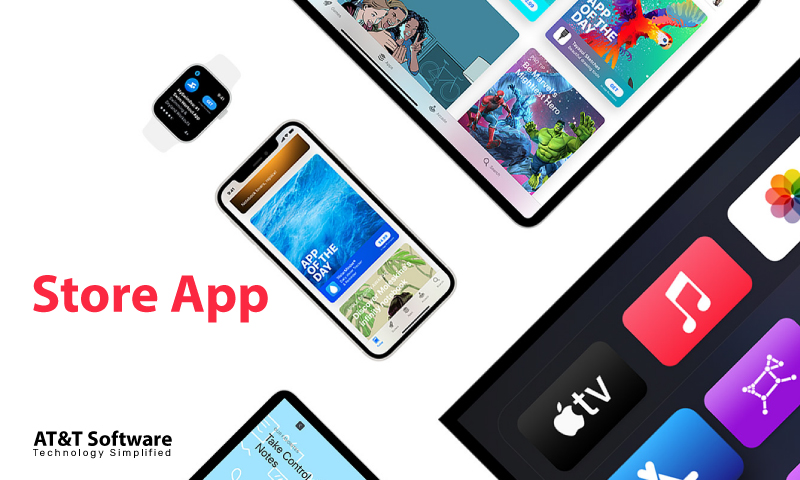 Control your store's profile
Store managers can monitor and update store information such as the address, business hours, and contact information.
Alerts on your orders
Instant alerts will keep store managers informed about incoming order requests. They will be able to begin processing it after that.
Organize menu and item listings
Store managers can categorize and subcategorize the items available in the store for users' convenience.
Management of orders
This section allows store managers to manage and check the details of all completed, pending, and processing orders.
Minimum cart price
Minimum orders can be set by store managers. The maximum number of orders that users can place.
Monitor drivers
Store managers can track the delivery drivers' locations in real-time until the product is delivered to the customers.
Report on earnings
Here is where store managers can see how much money they've made with the app.
Customer service
Customers' questions and concerns can be addressed by store managers, resulting in better service.
Kiosk App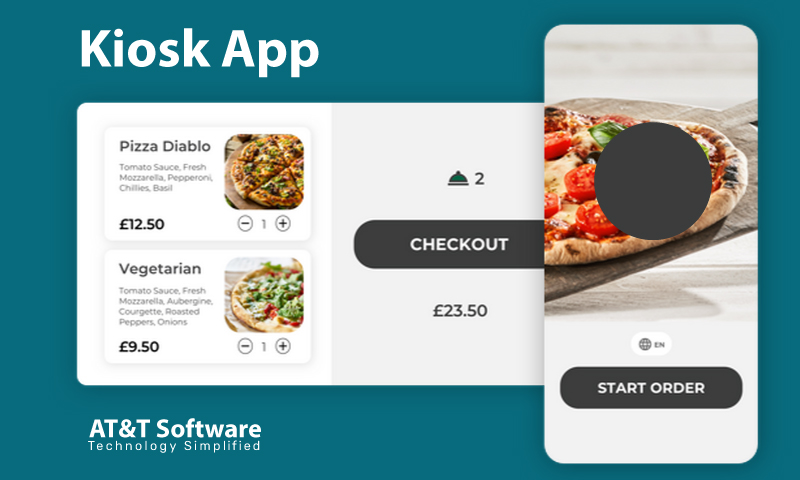 Book rides
Users traveling to foreign countries can book taxi rides through the app's KIOSK app center by entering their pickup and drop-off venues.
List of cars
Users can view a list of available vehicles and book the ones that meet their needs.
Cost estimate
The KIOSK app center allows users to see the expected cost of the service they have requested.
Monitor drivers
Users can track drivers' real-time locations until they arrive at pickup locations directly from the application.
App for Admin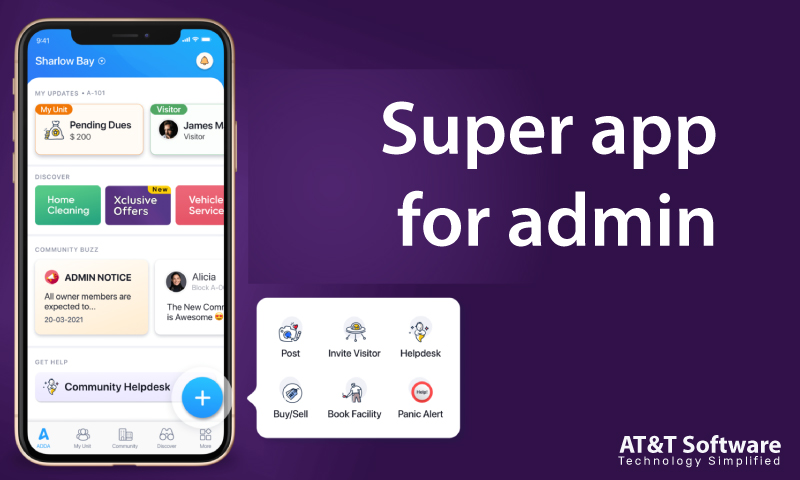 Easy to use dashboard
With the strong admin panel, the administrator can access all retail operations currently happening in the app.
Organize customers
The moderator has access to all users' information as well as the order requests they submit in the app.
Store management
The app's moderator can verify and list the stores that are readily accessible in a specific location. As a result, users can choose which ones they want to order from.
Manage the drivers and service providers.
The admin can check the information of service providers before allowing them to use the platform to expand their services.
Sub-admin management
Sub admins' information and functions can be managed by the administrator.
Reports on payments
The app administrator can see an in-depth invoice for each service or order placed in the app.
The use of advanced analytics
An in-depth analytics report is provided to the admin with ways to enhance the business service.
Support and guidance
The admin can assist customers at any time during their use of the app.
App for Dispatcher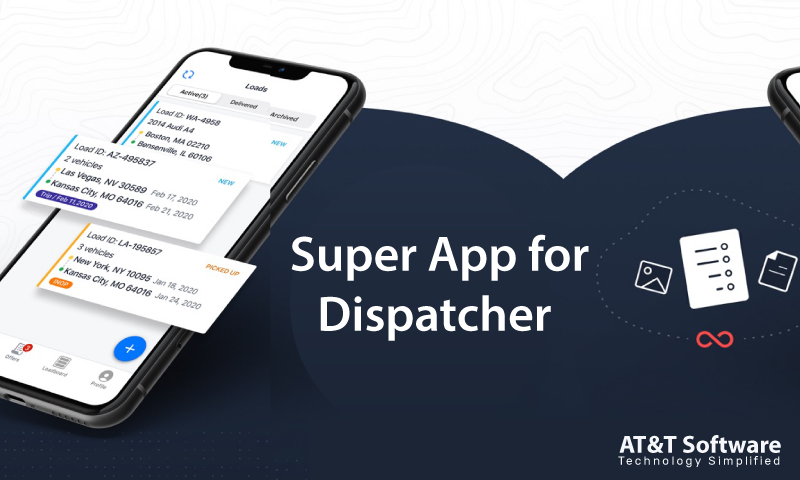 Assign rides and deliveries to people.
The sub-admin can quickly assign bookings or delivery requests to nearby riders or delivery guys after manual booking.
Advanced booking
For facilities scheduled at a later time, the sub-admin can assign service providers or drivers.
Request management
In this section of the application, the sub-admin can handle the requests that are currently being processed.
Billing section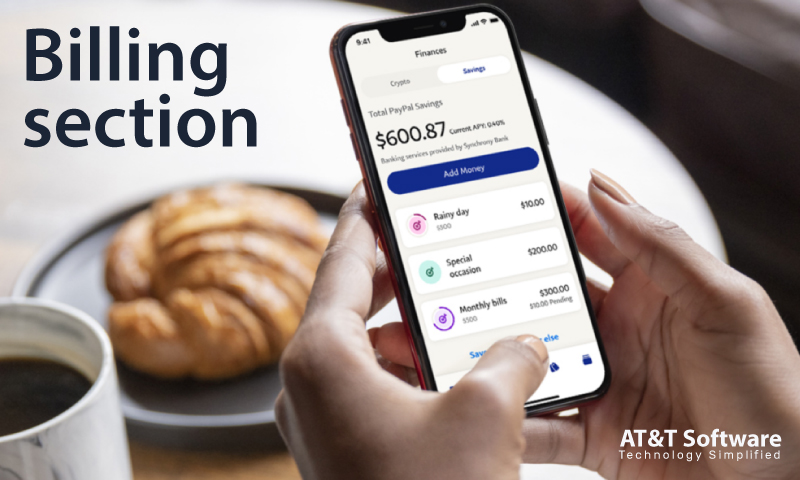 Invoice details
The earnings can be viewed by the sub-admin. Details of processed services, as well as the commission received for every service, are available through the app.
Subscription management
The subscription review, which contains detailed information about the users who have subscribed, can be managed by the sub-admin.
Canceled orders
The sub-admin has access to the details of the cancellations that have been processed, as well as the earnings that have been received.
What Makes Our Cutting-Edge Super App Solution So Special?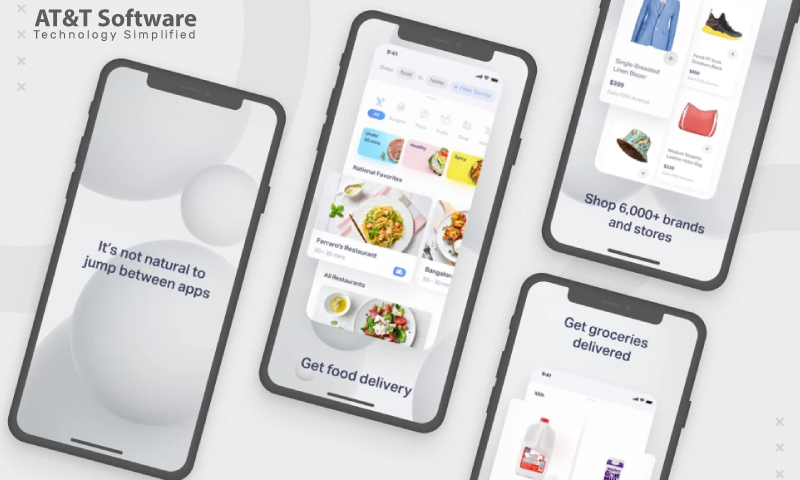 Services can be booked over the phone, via SMS, or via email.
With over 60 services, this is a stand-alone Super Clone application.
Any service can be added or removed at any moment.
Enjoy a stress-free and super fast delivery experience.
We offer the best possible assistance. When it comes to creating a cutting-edge Super App clone. Because
Fee for a one-time development
A demo of the app is available for absolutely free.
Source codes that can be changed.
On-time shipping
24*7 Help and support
Get in touch with AT&T Software today and discuss your super spp development requirements. We will analyze your requirements and give you a ride quote for the same.