I hope you enjoy reading this blog post.
Would you like to get expert advice? Click Here
home / blog / All You Need To Know About Clubhouse Clone Development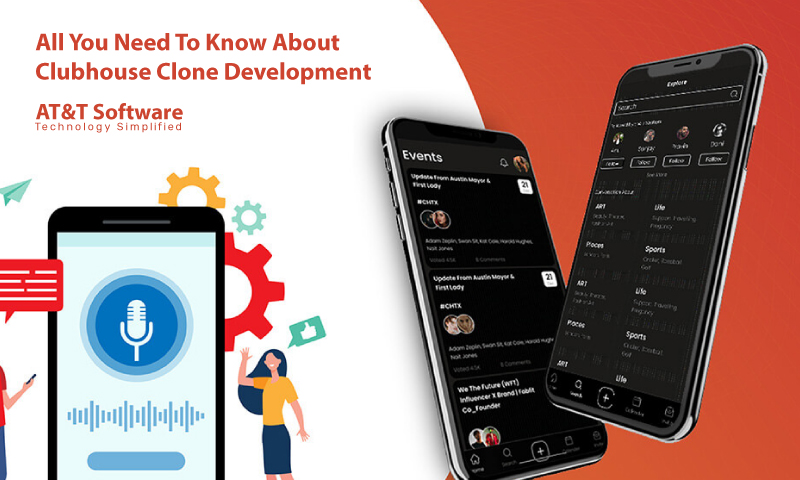 AT&T Software offers premium quality Clubhouse clone development services at an affordable rate.
AT&T Software offers best-in-class Clubhouse clone development services. Our Clubhouse clone is an audio-based social network app solution loaded with features to keep its users engaged on the app.
Over the last few years, the social media industry has flourished rapidly, and audio-based social network apps are gaining popularity. Like other industries, launching a stellar social audio app like Clubhouse for iOS version and the Android platform would help you take your business to the next level and make a huge profit.
So, if you want to launch a new app business, it is time that you invest in a Clubhouse clone app and generate high revenues.
The Power of Social Network Apps Like Clubhouse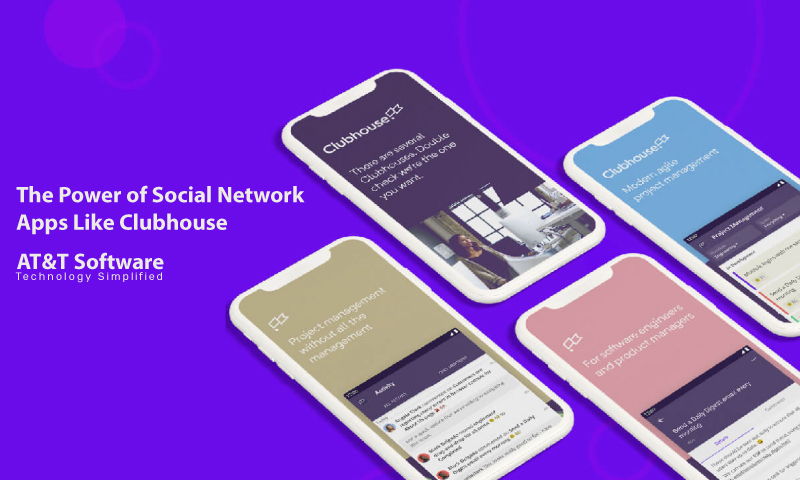 People are now aware of the daily happenings, incidents, and events occurring worldwide instantly through the various social media platforms. Even though different social media platforms, it is also effortless to get in touch with your friends and family virtually, if not physically.
Hence, social media is also a boon for this generation of kids and parents. You can upload photos and videos to it, and people can know about your whereabouts. Moreover, you can invite people to social media apps, host meetings, and discuss their topics.
AT&T software has developed a new and improved technology like Clubhouse clone development to assist newly made entrepreneurs who are venturing out creating an audio-based social media app. On this platform, the users can be connected and share their valuable opinions for the smooth and steady growth of the business. The buzz has created a lot of curiosity for users to join the audio-based platform. However, to serve a larger audience, there is a need for an alternative opportunity to encapsulate this new social form.
Facebook, Twitter, Instagram are all exceptional social media apps. All of them are used to upload photos, videos, etc. And an audio-based app social network app is now creating the buzz around. Hence, this new sensation of the social media app is becoming a trend among users quite significantly.
Get in touch with us today to discuss your Clubhouse clone development project, and let us take you through the app development stages and its features.
Important Features Of The Clubhouse App Clone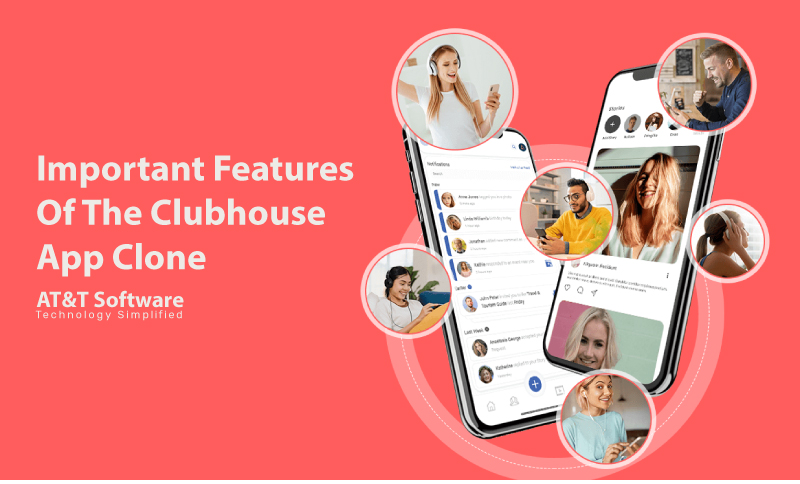 Hallway
The hallway in the Clubhouse clone app displays various audio meeting rooms that the people post worldwide or the community people by many users.
Room
A separate meeting room is created to organize any meetings in the Clubhouse clone app. Users can choose any topic to discuss and talk about at length; it will occur at the exact time.
Invitation
The user gets invited considering their user activity and the meetings they hosted. The total number of persons invited and credited users are categorically displayed in the invitation list. In addition, special delegates are given special priory in the list.
Notifications
The Clubhouse clone app has a key feature of sending in-app notifications. It is a vice-based social app that can keep users engaged with one another. Therefore, the users get instant notification of all the recent updates.
Audio Based Social Media App Solutions We Provide: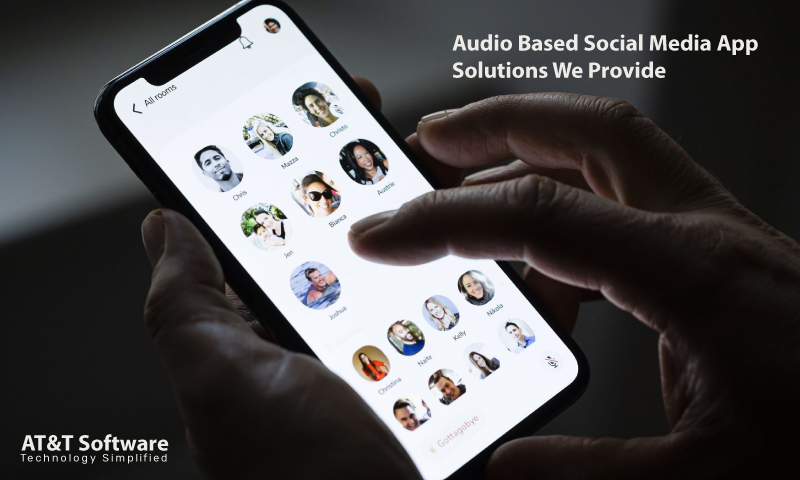 The Clubhouse clone app is designed specially. It is an invite-only social media platform. So you can use this app only if you are a bonafide user. Still, it is growing exponentially, surpassing all other existing social media platforms. Other chief features of the clubhouse clone app are mentioned below:
Social networking app
Develop a brand new social networking app to connect with other fellow users. They can also create groups communities and share relevant content. Social networking is nowadays the most powerful feature to grow any business worldwide. Thus, it will help to create a strong customer base.
Business network app
With the help of voice-based social network apps, business professionals worldwide can connect very easily. They can hold meetings, hold business talks and discuss the various business-related topics that can boost the business in the long run.
Social publishing app
Clubhouse clone app helps develop appropriate content that helps the user publish, listen, and share audio content to a podcast.
Community app
We are developing a Clubhouse clone app for a particular community or the people of the same periphery. They discuss some of the relevant topics within their community. Productive discussions among the people create much more understanding and clarity concerning the subject.
A social app for shopping
The person who is interested in shopping has special benefits eligible for them. The customization process helps users customize the audio-based social media app at ease. In addition, users can host meetings, discuss shopping experiences, review products, and sell them.
Women's social networking app
Clubhouse clone development services offer a special prestige and status to the woman. Private meetings and discussions on topics are held which are relegated to women. It also provides special privacy settings for the woman. However, this is a pathbreaking and extraordinary approach made by this app, giving women equal status as men.
Get in touch with us today to discuss your Clubhouse clone development project and get the best rate.
Audio Based Social Network App With Its Positive Use Case;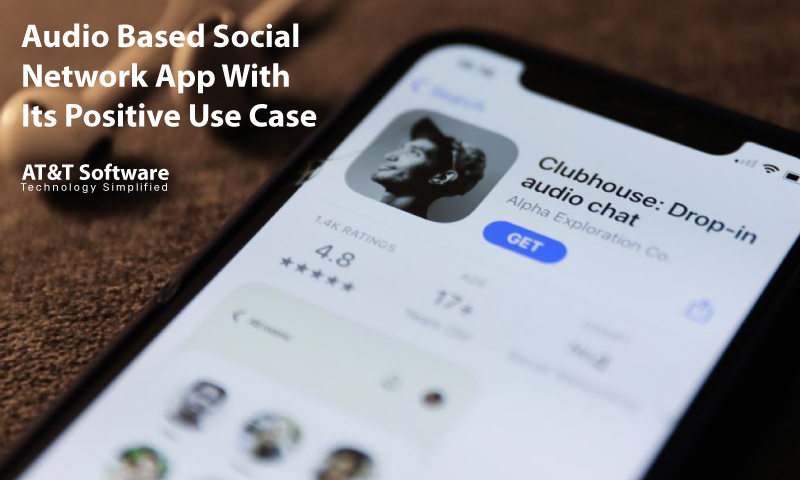 Community building for coaches and trainers
Various coaches and trainers effectively build communities by hosting meetings to discuss the topics they want to discuss. People can keep track of the details of the meetings hosted by the hosts and the trainers.
Virtual events
Due to the worldwide wave of pandemic, virtual events are getting much more important. However, privacy issues and settings have been a major concern. Social media app provides an exclusive group and community that helps people attend events across the globe.
Curating contents of meetings
Abiding by all the privacy policies, every user doesn't get access to join the meeting. The content of the meeting immediately gets deleted after the meeting is over. Content creators who can join the high-profile meeting can host the meetings by themselves and curate discussions about the particular meeting.
Get in touch with us today to discuss your Clubhouse clone development project and get a fully-functional voice-based social network app developed by us.
Other Noteworthy Features Of Clubhouse Clone App Covers The Following: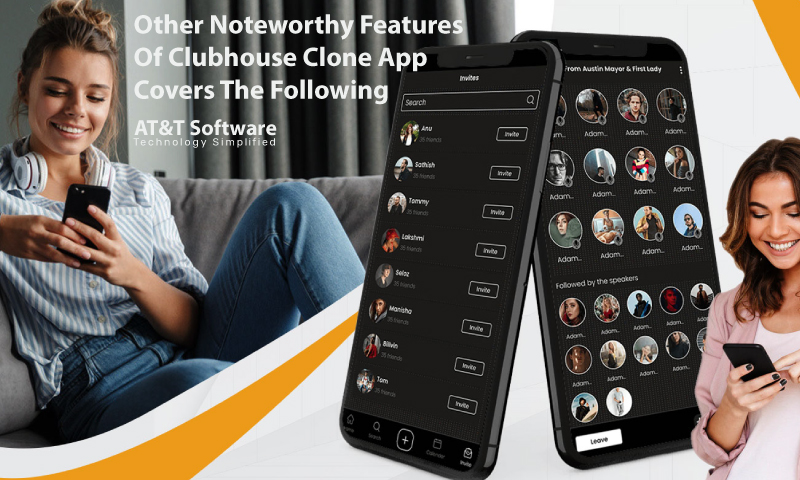 Collaboration with other professionals
Podcast communities
Network with experts in different disciplines
Rooms and clubs now become virtual with the help of the Clubhouse app clone:
Listener
Rooms and clubs are made in a very special way. Listeners are the users here, who are placed in the meeting room in the Clubhouse app clone. They can listen to the important discussions in the meeting room and can share their valuable opinions. They can also talk to the moderator if he can come on the stage to raise a certain issue. As a result, they can add some valuable information to the list.
Speaker
The speaker here is the user, who has complete access to the room in the Clubhouse app clone. Therefore, they can easily mute their microphone when they are not talking. Then, they can unmute it and speak again. The audience can also voice their opinions about something; they can also take the speaker's place.
Moderator
Here, the moderator can either create the meeting room or be promoted to this position by a particular speaker in the Clubhouse app clone. He is the supervisor of the room and maintains the decorum and the discipline of the room. A moderator of a Clubhouse app clone has several other duties to perform, such as;
They can invite people from the audience seat to speak about a particular topic.
While one person is talking, they can mute the voice of the other speakers.
Promoting other brilliant speakers is also an important task of the moderator.
They can also effectively send the other speakers back to the audience seat.
Accepting the request from the audience if they want to say something about that particular topic.
Get in touch with us today to discuss your Clubhouse clone development project and also get a rate quotation for the same.
A Unique Social Media App Like Clubhouse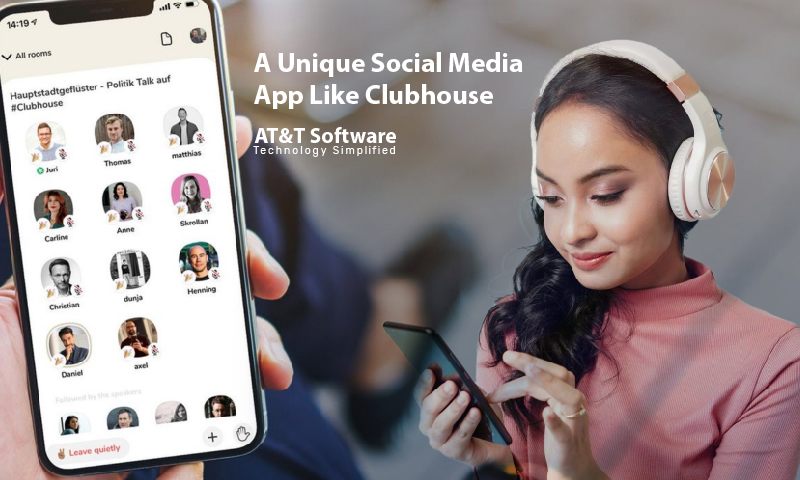 The Clubhouse clone app is unique in many ways. First, the uniqueness of the social media app captures the users' attention, unlike other social media apps. Any random user can easily log in and create a profile for themselves in a matter of seconds.
But in the Clubhouse clone, users initially download the app by entering their name and other credentials. But they can't create a profile unless and until they are invited into the account by an existing user. Hence, this is the specialty of this app.
The users' chat with their friends stays in other social media apps. Still, in this app, once the user has a conversation with another user, the discussion is immediately deleted.
Get in touch with us today to discuss your Clubhouse clone development project and hire our mobile app developers to develop a feature-rich fully-functional Clubhouse clone app.
Why Choose AT&T Software for Clubhouse Clone App Development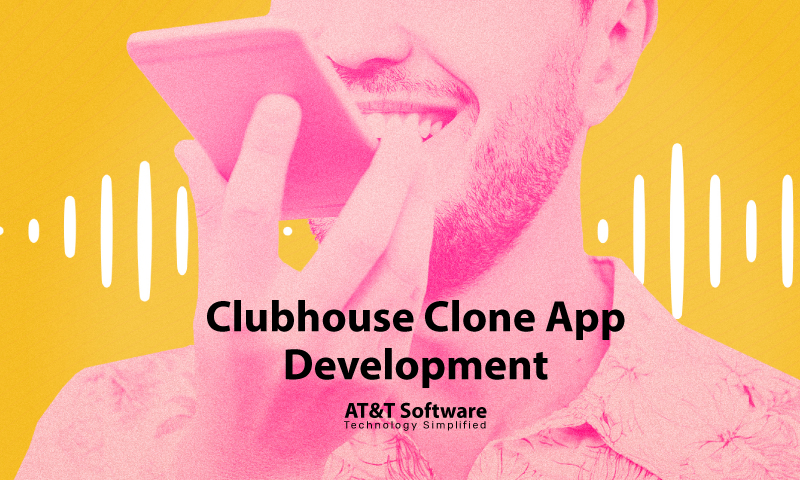 AT&T Software is a reputed name in the industry for offering best-in-class Clubhouse clone development services. We offer you budget-friendly rates for all our app development services.
We welcome you to all kinds of app development projects and new business ideas. Our dedicated team of professional app developers will analyze your business requirements and take you through our app development process and also explain to you how your business app can add value.
We analyze your business ideas and your business goals for curating the best Clubhouse clone development solutions. Get in touch with us today to discuss your Clubhouse clone development project.