I hope you enjoy reading this blog post.
Would you like to get expert advice? Click Here
home / blog / COVID Tracker App Development and Its Benefits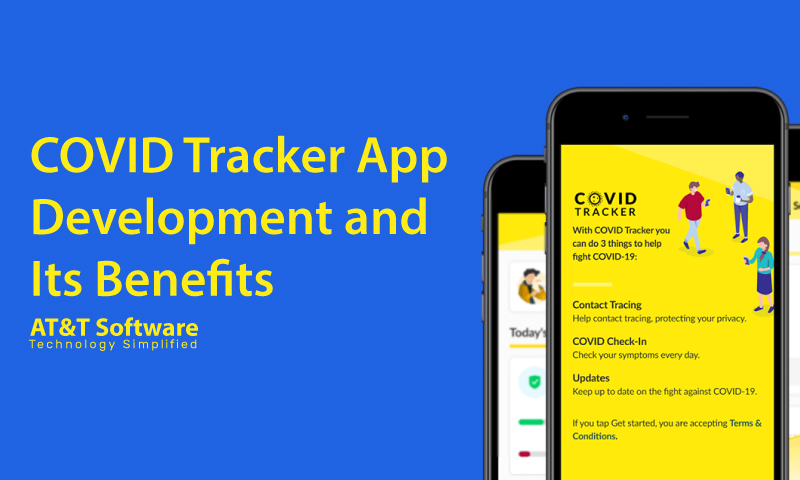 This cutting-edge Coronavirus tracking app is made on advancements and is designed with solutions that allow customers to always stay one step ahead of the virus. In addition, we have tried to focus our experience in app development technologies to strengthen this offering and help the global community while allowing entrepreneurs to come out on top with an advantageous business opportunity.
Request App Demo! Arrange A Callback! Talk To Our Experts!
In the midst of the COVID-19 pandemic, why do we need a Coronavirus Tracking App?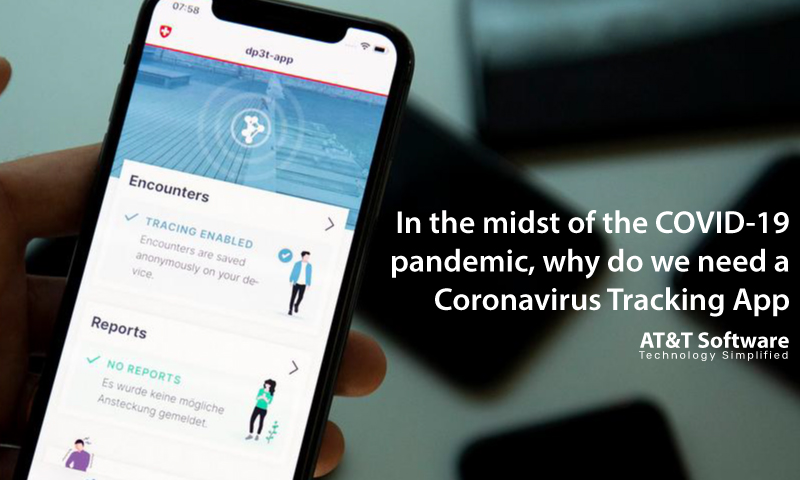 Because app technology permeates our daily lives, it is only natural that it be used to combat the ongoing viral pandemic. Coronavirus tracker app development helps users to stay up to date on the virus's current spread. Provides useful information, aids in staying alert, and ultimately helps them prevent infection!
With more information about their exposure, customers can decide whether to self-quarantine or seek testing when experiencing symptoms.
Contact Tracing Is Currently Available in Our Coronavirus Tracker app Development.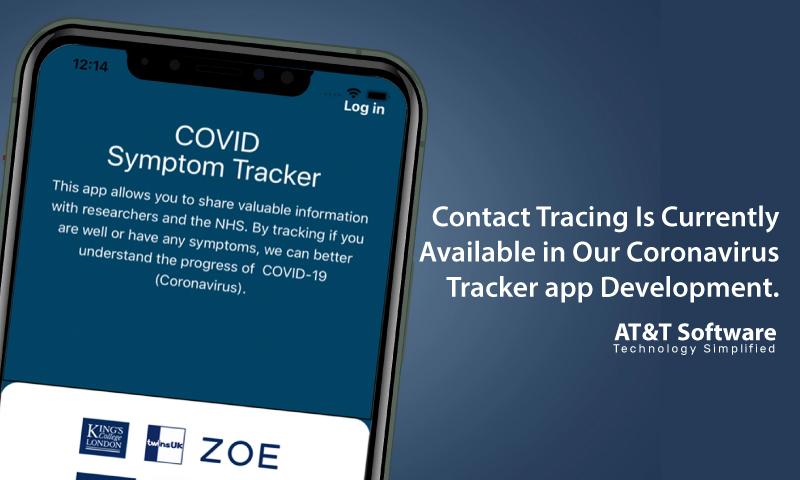 With no effective treatment or cure for the COVID-19 virus, there is only one impactful strategy that can help stop the virus's spread and keep people safe: social distancing. Social distancing, also known as physical distancing, is a precautionary measure used to prevent the spread of a contagious disease by keeping a physical distance between people and limiting the number of times people come into direct contact with each other.
With this practice widely used all over the world, it is important to be mindful of those who have been infected. Here comes the idea of "contact tracing" into play. Contact tracing entails locating each sick person and then determining with whom they have recently interacted. We can successfully separate the infected people from the rest of the community for the required amount of time.
Connect With Us!
The Operating Procedure Of Our COVID-19 Tracker App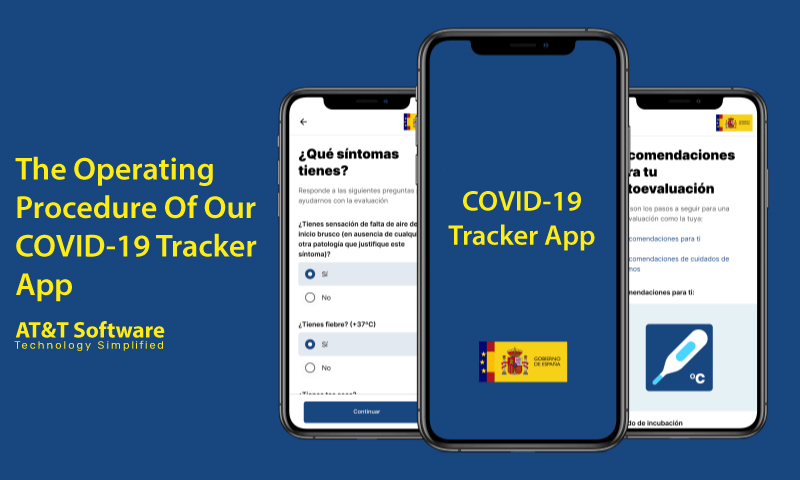 Our COVID-19 tracker plugin app operates straightforwardly.
Sign in
Individuals will be able to register themselves for an account and log in.
Details
They are asked for information, including their age, gender at birth, height, weight, postal code of the residential area, pre-existing medical conditions, and smoking habits.
Symptoms
They are then asked to describe any symptoms they may experience on a daily basis. These include fever, a persistent cough, chest pain, a sore throat, drowsiness, indigestion, vomiting, constipation, shortness of breath, and other symptoms.
Data Distribution
These symptoms are recorded on a daily basis, and data is gathered and shared with medical professionals and researchers.
Safety
This information is also used to trace the virus's expansion and keep the general populace informed and safe.
Schedule Your Date With Us! Get Your Customized COVID-19 Tracker App.
Privacy & Protection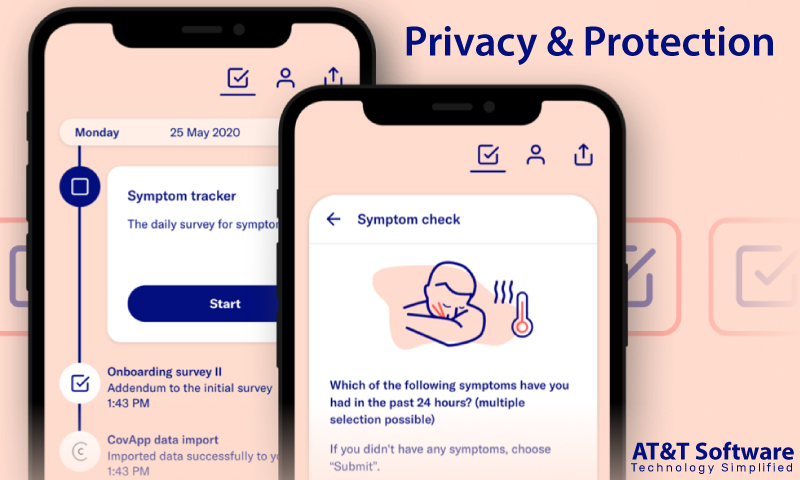 One of the problems with this procedure of contact tracing is that it may violate people's privacy. Even so, our focus on protecting our customers' data ensures absolute privacy.
Our COVID-19 tracker Mobile app development process follows the standards and guidelines established by the world's leading healthcare authorities.
We only assemble the data that is relevant
Data access restrictions.
Total transparency. You can determine who has access to your information
Have a clear understanding of how your information is used
Take Benefits of a comprehensive Coronavirus Tracking app.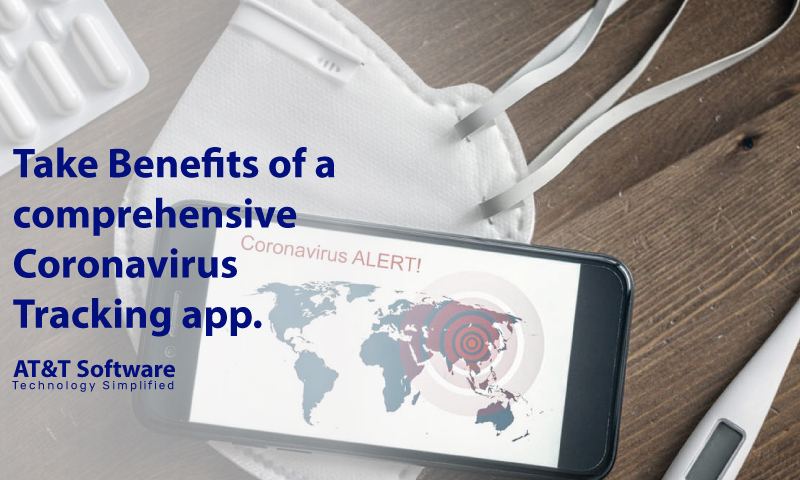 A tracking platform can be used as a standalone app or as a plugin that can easily be integrated into your existing app.
They both have their own set of benefits. You get all of the COVID 19 tracker app features in a complete, single app. This robust offering from top to bottom is a perfect fit for the present healthcare climate.
Having a Coronavirus tracker plugin integrated into your existing app, on the other hand, will definitely provide multiple benefits. This adaptable plugin can be used in a variety of business apps, including
apps for Taxis
Aids drivers in recognizing infection sites and locations.
Apps for Food Delivery
Assists delivery personnel in taking the appropriate precautions.
Apps for Healthcare
Helps users with concerns and provides real-time information, among other things. Whatever your company's needs are, our Coronavirus tracking app can be customized to meet them.
Talk To Our Expert Team to discuss your requirements for a Coronavirus tracker app!
Our Coronavirus Tracking app's Features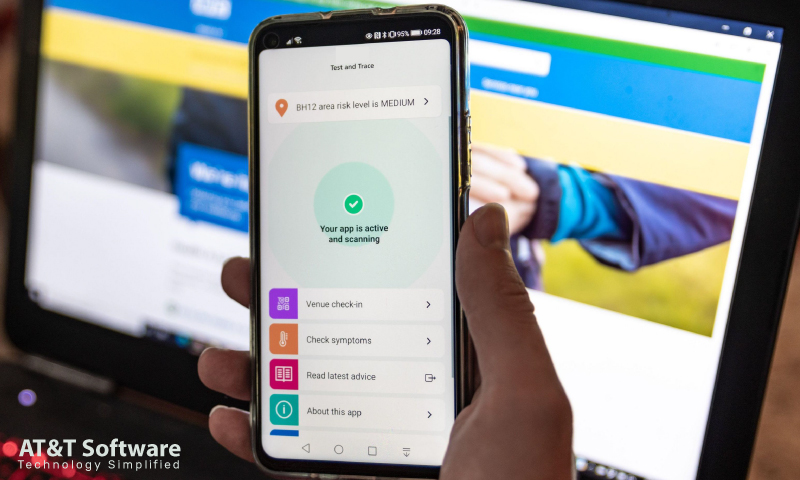 User App Segment In Coronavirus Tracker App
Account create and register
Customers are prompted to create an account with the app by entering the required information.
Turn on Bluetooth and GPS
For the app to accurately identify its location, customers will be required to turn on Bluetooth and GPS.
Latest news
Customers are given the most up-to-date and relevant news updates on the coronavirus pandemic.
Instructions for COVID-19
Official guidance that health professionals have validated is provided to the customers.
Invite your family and friends
Users can also request their friends and family to help spread the word and increase awareness.
Test results have been updated
If a customer tests positive for COVID-19, the app will automatically update the information, and the customer will be logged in to the system.
Alerts for Notifications
Customers are alerted in real-time of essential information and updates via notification alerts.
Self-Evaluation
Users are given a self-assessment test that classifies their infection risk while collecting medical data. Information includes name, age, symptoms, cold, sore throat, and so on.
Admin App Segment In Coronavirus Tracker App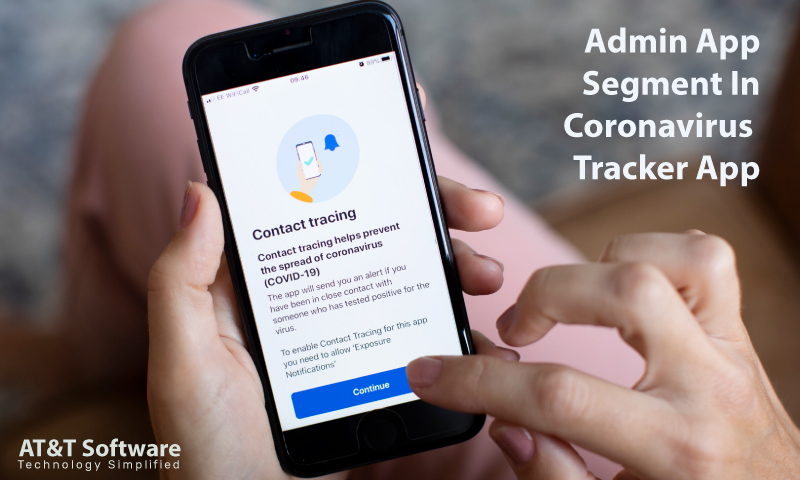 Log-in
Admins are required to provide their personal information like names, mobile numbers and email IDs etc., to log in.
Registered customers
Admins can see a detailed list of all the users who have registered on their app.
Send notifications to users
Admins can immediately send real-time alert messages to their users' devices to keep them updated.
Updated guidelines
Admins can keep the information given to their users up to date by following the established guidelines.
Organize your database
Admins can manage all of the information they have already gathered in one convenient location.
COVID-19 news updates management
Admins have complete control over what news and updates are displayed to the app users.
Dashboard
Admins are given all of the information they require in one easy-to-find location.
Our COVID-19 Tracker App Development Process Can Be Broken Down Step-By-Step In The Following Manner: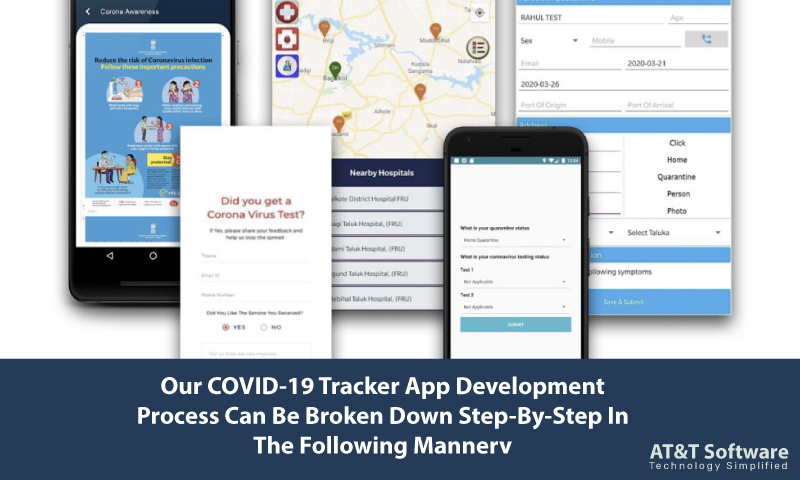 Evaluation
We pay attention to your needs in order to determine the best path to your very own COVID-19 tracker app.
User Interface Design
We design a visually appealing app with a user-friendly UI that is simple to operate.
Back-end programming
Meanwhile, our specialist development team works on the app's functionality, ensuring that you get the best of all worlds.
Trialing
We run the app through a battery of tests after the development process is finished to ensure that it is ready to use.
Release
Your app will be ready to launch once we receive your approval. With our significant experience, we ensure a successful app launch with the widest possible reach.
Our Coronavirus Tracking App Meets The Most Stringent Medical Requirements: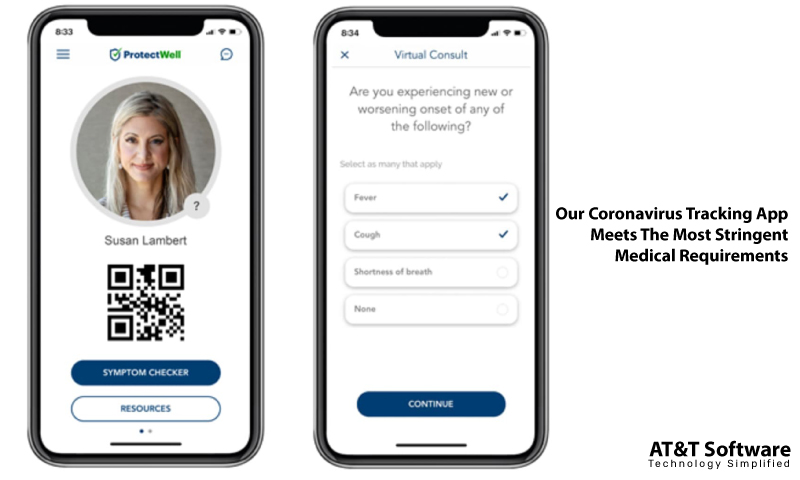 We make certain that all of our healthcare products meet the most stringent medical standards.
1. HIPAA
The Health Insurance Portability and Accountability Act establishes a standard for the protection of sensitive data. Therefore, we take the appropriate steps to ensure that your information is secure and private.
2. EHR
Electronic health records allow healthcare providers and organizations to collaborate. This ensures that health records are held to high regulatory guidelines.
Connect With Us! Buy Now!
Why Should You Consider Buying A COVID-19 Symptom Tracking App?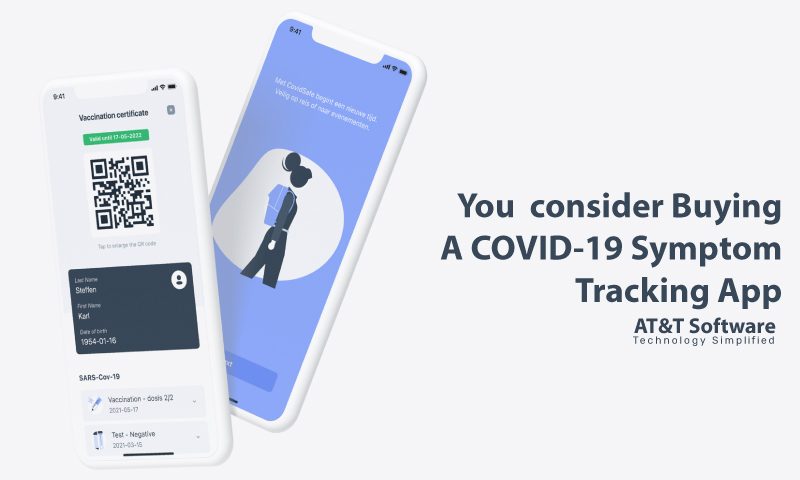 With the coronavirus pandemic wreaking havoc on people all over the world in every way possible, developing a COVID-19 tracker app is one of the most effective ways to combat the disease. Not only can you help a lot of people all over the world, but it is also a good business opportunity. You can set yourself up for long-term success by embracing the most of this situation.
Why Must You Hire AT&T Software to Create Your Coronavirus Tracker App?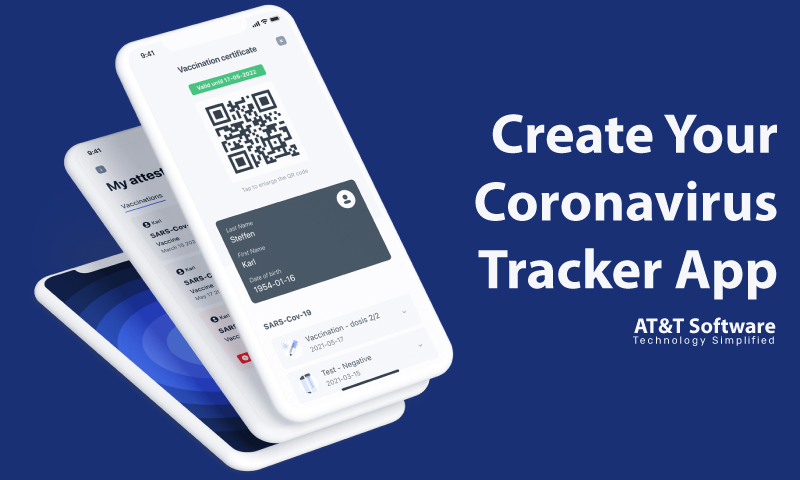 We have a talented team with wide-ranging knowledge in the areas of healthcare app development who can effectively bring your ideas to life.
Data Protection And Privacy
All of the information we collect is held to the highest health code standards, ensuring your private data.
Compliant With HIPAA
All of our healthcare apps adhere to the most stringent HIPAA regulations, so you can rest assured that your information is secure.
Technology On The Cutting-Edge
With our extended experience in the area, we can provide you with the most cutting-edge technology, ensuring that you are set for years to come.
100% Customizable
We recognize that each of our customers has specific needs, so we make sure that our products can be customized to meet those needs.
Extensive Knowledge
We have the knowledge and ability to guide you down the path to success because we have years of experience creating robust health care solutions.
Connect with us today to discuss your requirements for coronavirus tracker app development!