I hope you enjoy reading this blog post.
Would you like to get expert advice? Click Here
home / blog / Exchange Clone Development: How It Can Bring Profits in 2022 and Beyond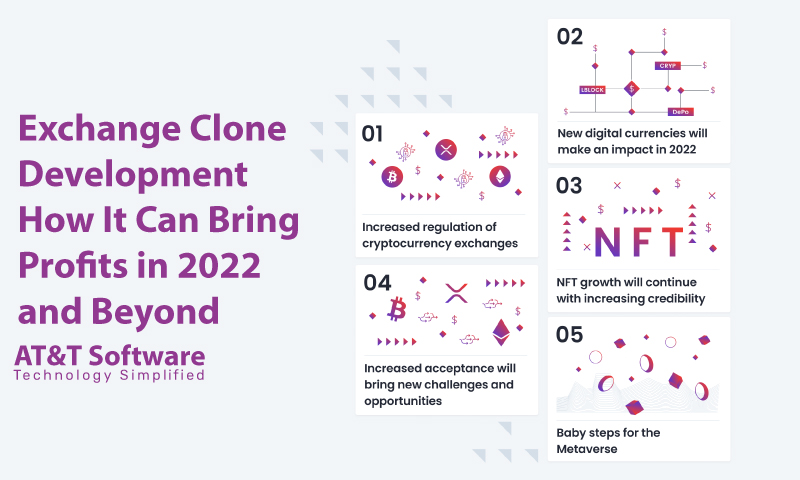 AT&T Software offers high-grade Cryptocurrency Exchange clone development services to start your own exchange business and make huge profits.
Crypto-based exchange is gaining impetus all around the world, and hence it is time that we develop an app that is par excellence and allows you to have a safe transfer experience. However, most of us who know even a bit about what Crypto is would agree with us when we say that the Crypto market is still volatile. Finding a safe platform is very difficult, keeping the current scenario in mind.
The Exchange clone development app is one such endeavor to make better opportunities available, and that too in the world of Crypto exchange today! The Index clone app is one of our most coveted developments, and given the right market, it will certainly make a profound impact in the Cryptocurrency exchange world.
Today the trading domain is not that well developed; however, Crypto is one field that is still not that well developed, given the scope it has. Hence, investing in our Exchange clone development app can offer you many new possibilities and profit-making opportunities for you.
At AT&T Software, we have taken up this challenge and ensure that our clients do not have to worry about the exchange platform that is safe and offers them the most promising set of values when it comes to the domain of Crypto exchange. So, if you are interested in the field and want to invest in an app that speaks of the future, this particular option is the way to go!
What Is The Exchange Clone Application All About?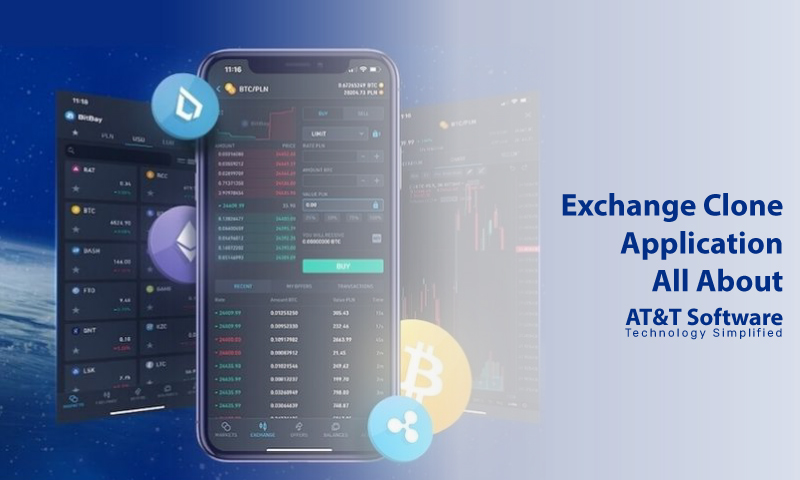 For those who do not already know, Cryptocurrency is one of the most coveted forms of digital currency. The market is still coping with the repercussions it can bring to the economic world. However, because the field is not yet well developed and there is a lot of speculation about whether it will be viable, the number of platforms that let you work in the domain and exchange without any problem is very less.
One must understand that there is always a need for a safe platform that does not get you into trouble for a Cryptocurrency exchange. However, the tension is still quite pertinent because Crypto as a medium has not been legalized in most countries.
The app that we have developed is a premium platform that has been built with the notion of providing a safe platform for every individual when it comes to the field of Crypto exchange. We have tried to make this platform a huge consensus. Hence, numerous options have been incorporated to make the medium more profound and help you with easy transfer or exchange of the Crypto bases exchange.
If you are here to make it big in Crypto-based exchange, then the name to trust is none but exchange clone development. You can make your account, and it will ensure that you can come forth and choose to trade depending upon your requirements.
Top Features of Our Idex Clone App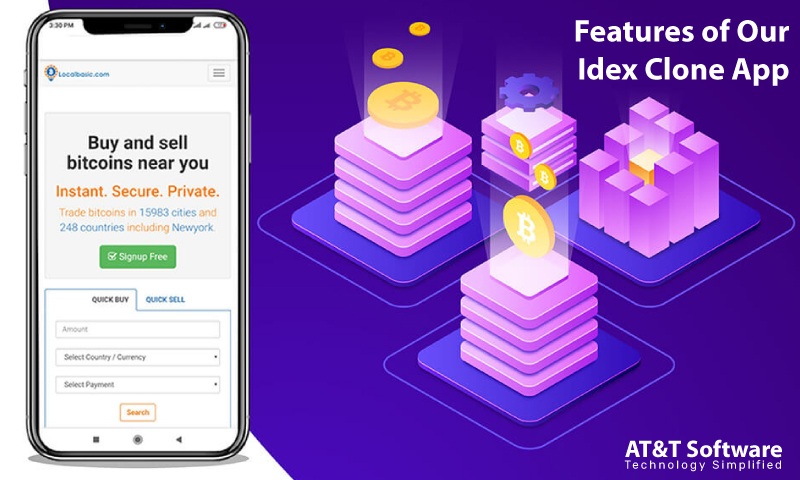 It is always the features that add to the viability of a platform, and that is what we have tried to focus upon as well. We have made this a well-equipped domain with some of the most amazing features that can be easily deployed and made the best use of. Remember that the features that make a platform more viable, which is what we have focussed on. Trust in us, and we will make the best happen for you consequently.
Verification
Most of you would agree that the world of Cryptocurrency is not very clear till now, and hence it is very important to go through a stringent verification process. Because of this, we have incorporated KYC-based verification, which is currently the best standard of verification. If your account is not KYC verified, you will not be able to make any exchange, and it will also be blocked from making any transfers. Therefore, we believe that when it comes to the domain of Cryptocurrency, this bit of extra cautiousness is very important.
Atomic Swap
Not only safe, but we have also tried to ensure that Crypto-based exchanges can also make use of the advanced technology systems. Hence the atomic swap has been introduced, making Cryptocurrency transfer among peers a very easy job. The technology is built so that you do not have any problems in the atomic swap and can make the transfer quick and effortless.
DEX Order Book
We have always been very aware of the field of Cryptocurrency exchange and hence incorporated the DEX order book. Wondering what it signifies? The DEX order book is one of a kind option, and it ensures that each of the buy and sell orders has its very own exhibit in the order book. It is safe, but the best thing is that the DEX order book is also very synchronized, which will even help the users.
Multi Sig Crypto Wallet
We have incorporated tons of other features and the password or pin sign-in to take up the security field a bit higher. The multi Sig Crypto Wallet ensures that you have to go through a stringent SMS verification process each time there is a login to have that extra bit of security. The Crypto wallet can only be accessed once you have verified and logged in to the same site easily.
Multi Crypto Pairing
The next feature that we will talk about is one of the very best and a must include when it comes to Crypto based exchange. We have tried to make sure that the users can select any Crypto based exchange that day to enhance their number of additions to the pre-existing list. The Multi-Crypto pairing option gives the users a better upper Hand and ensures that there is a better opportunity for enhanced business.
Smart Contract
The smart contract is smart because it guarantees a much more enhanced Crypto exchange service to individuals. Here we have tried to introduce blockchain technology, which ensures that each transaction is facilitated with the help of an unhackable public database. Sounds very interesting, right? It is quite secure and ensures that clients have the edge when it comes to this particular field of exchange.
Maximal Security
We have often seen that the field of Cryptocurrency is filled with all sorts of vulnerabilities, which, in turn, puts the clients under threat. Since its inception, our major prerogative has been to ensure that security is the best possible measure of our application. The most importance has been given to this domain as well. We have tried to enforce maximum security with the help of some of the best software, and it will ensure that there are no fraudulent activities at all which can hamper the domain or the user.
Market Statistics
It would not be wrong to say that just like the stock market, even the Crypto based market is prone to fluctuation. Hence, when we talk about this particular field, it is important to understand that you need to have a detailed view of what the market statistics are and exactly how they can help you in the long run. Having a good knowledge of market statistics is very important, and consequently, it will help you make better judgments in the investment domain.
Multilingual
Crypto is a field that is mostly accessed by people worldwide. Hence, we have tried to put forth a multilingual option because it will help people understand better. It is possible that English is not a comfortable point for most users, and hence to make the exchange transparent and hassle-free, we have incorporated this particular feature. The multilingual feature is one of a kind, and it will ensure that all the individuals can have a full understanding of the field and only then move forward to invest consequently. Having this option is a prerequisite to keeping the global demand in mind.
How Can One Use The Exchange Clone App?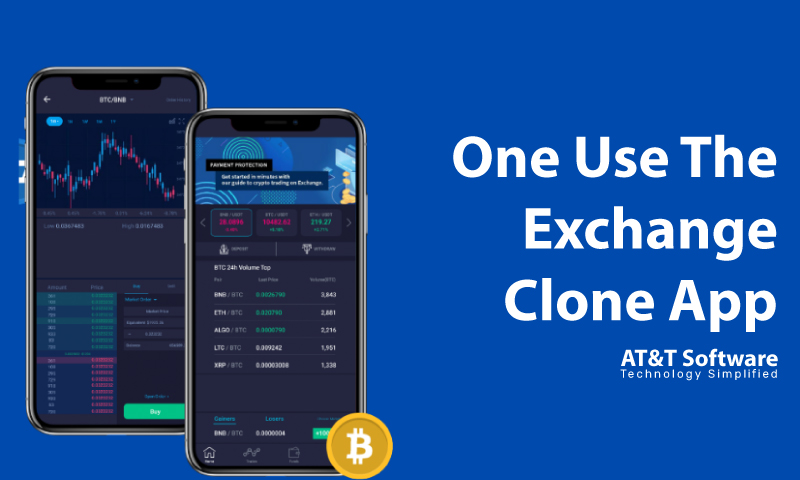 For those who do not know how the app can be used and you can start trading, we have the most comprehensive and detailed description for you.
Step 1: The first thing you need to do is create a valid account, and for this, you have to go through a stringent verification process. It is also very important that you are done with the KYC verification; otherwise, your account will not be accessible.
Step 2: Once your account has been created, the users can choose to use their smart contract and buy or sell orders depending on their requirements.
Step 3: if you have already found your perfect buyer or seller, you can choose to complete the order, and for that, the transaction needs to be made. Numerous payment options have been mentioned because we understand that the payment option might not be uniform for every individual.
Step 4: To maintain extra security, we have tried to incorporate the digital signature component. The signature is verified, and then consequently, the order is processed.
Step 5: Next, the signed trade is submitted to Ethereum by the exchange, and it automatically awaits the confirmation or verification for further processing.
Step 6: Consequently, the authorized transactions are sent to the judge who chooses to dispatch them to maintain a sequence.
Step 7: Once the process has been completed, the cryptos are automatically credited to the buyer's account almost instantly.
Why Partner with AT&T Software for Exchange Clone Development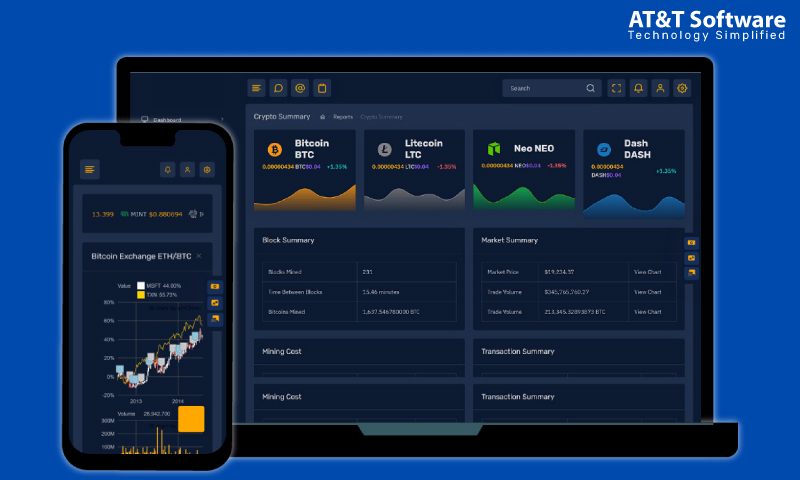 AT&T Software is a reputed app development agency with a wide portfolio of apps developed in the past. We have catered to multiple clients with different requirements and created apps for different platforms. There are a lot of benefits of associating with team AT&T. Here is what you will get by hiring app developers from our agency.
High-Quality Work
We always ensure premium quality app development services. Our app developers ensure to add all the necessary features in the app so that the end-users have a great UI/UX. From the moment we discuss the app development requirements till its launch in the app store, we do every necessary thing to make the app rich in features so that users love to use the app.
Affordable Rate
AT&T Software offers affordable mobile app development services. The best way to use our services is to discuss your app development requirements with us. Our expert app developers and designers will analyze your requirement and give a rate quote for the same. And once you approve, we start with the app development work.
Timely Delivery
AT&T Software has made a reputation for delivering work within the deadline. We decide on the time required for an app and inform you beforehand. Once you give your approval, we start with the work and also finish the same within the decided time.
If you also want to invest in a platform that is one of a kind and provides the best options for the users, then there is nothing better than the platform that we have provided at AT&T Software.