I hope you enjoy reading this blog post.
Would you like to get expert advice? Click Here
home / blog / Get An AliExpress Clone For A Flourishing E-commerce Business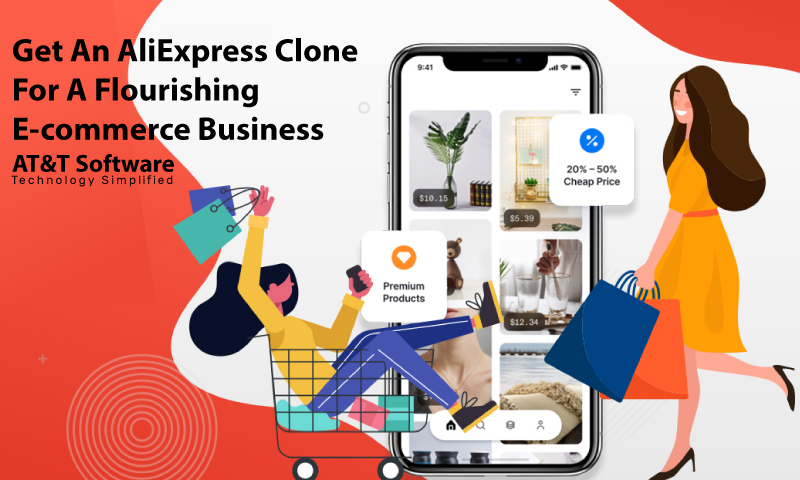 The popularity of online shopping is fueling the growth of the eCommerce business, which has grown significantly over the last several decades. If you're looking to launch an eCommerce business with room for expansion, an AliExpress Clone script is essential.
The most exemplary AliExpress script includes the ability to match a company's dedication to providing world-class customer service. In short, it's a good chance for businesses to navigate this industry and develop a high-quality solution to provide.
We at AT&T Software assist you in bringing your eCommerce company concept to completion. To get started with your own AliExpress Clone, you can take advantage of our flexible technological script, which includes a configurable front-end user interface, comprehensive admin dashboards, and a variety of effective analytics panels.
What To Choose Between Ready-To-Use Or Customized AliExpress Clone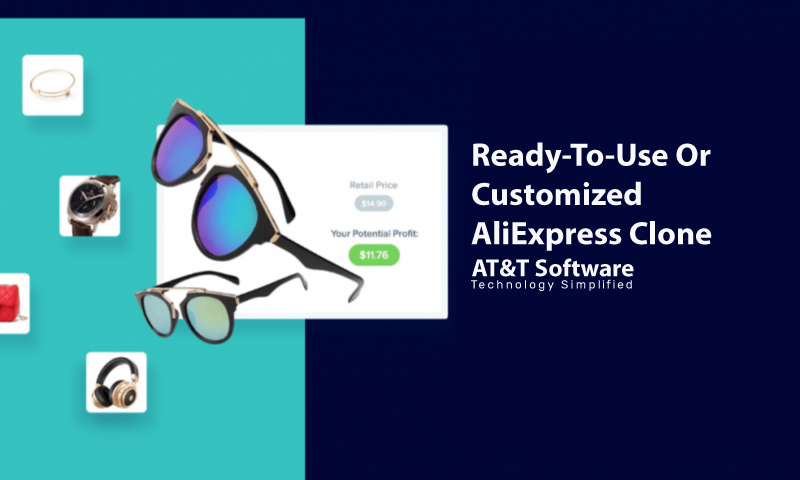 You may not be able to meet all of your niche market's needs just by employing the pre-written script. AliExpress Clone is easy with our solution since it's very scalable and can quickly be tailored to your exact needs.
What Makes AliExpress Clone The Perfect Fit For Ecommerce?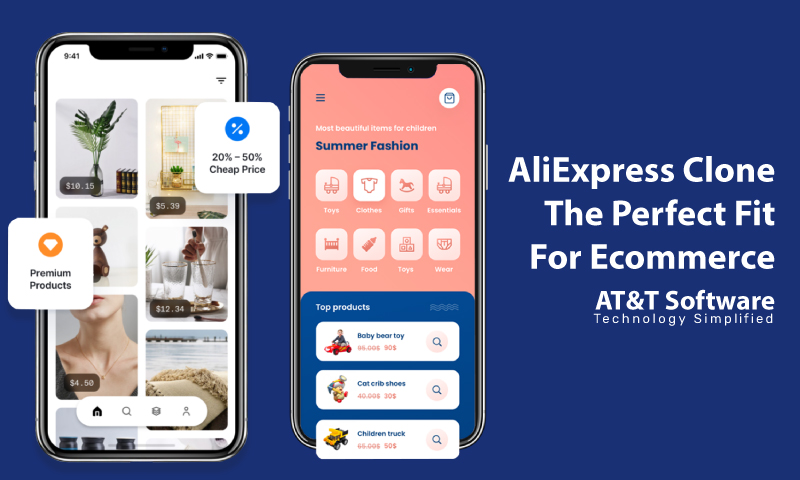 Our AliExpress Clone solution allows you to launch an app or website comparable to AliExpress in a short time, with world-class quality, and without an item of significant expenditure. In addition, the standard back-end framework has built-in capabilities that allow you to get your project up and running without having to re-invent the wheel.
The Revenue Model Of The AliExpress Clone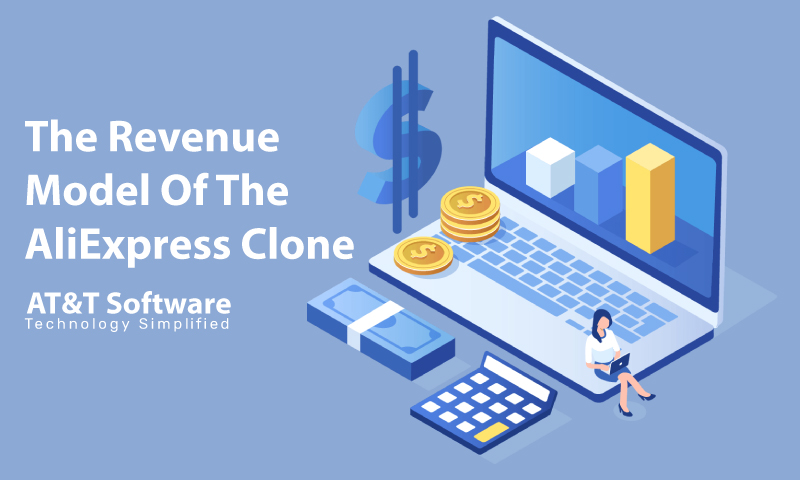 Besides the default revenue model in the AliExpress Clone, you may choose to include banner adverts, subscription plans, or commission-based revenue modules to increase your revenues. Here, our business specialists can provide a helping hand so that you may confidently enter the market and succeed.
Permanent Assistance And Supervision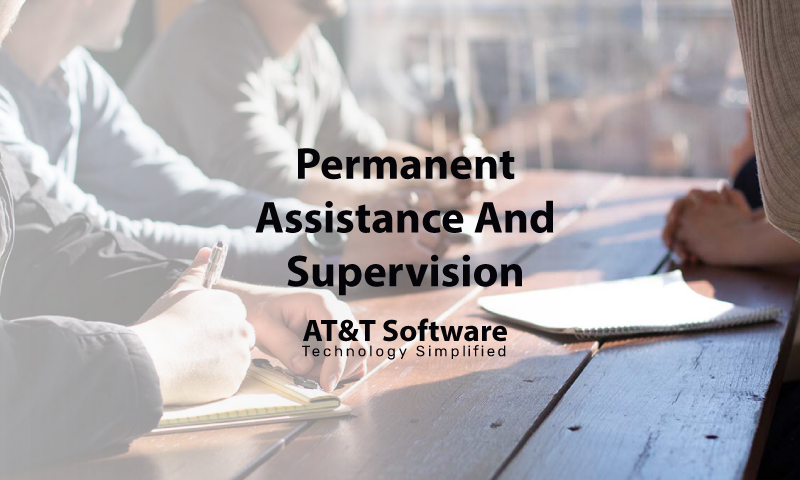 AliExpress Clone is a one-stop-shop. We'll handle all aspects of your project, from business analysis to design, development, implementation, hosting, ongoing support, etc. You may be sure that our development and support teams are always ready to assist you.
What Role Does An AliExpress Clone Play In The Automation Of An Online Store?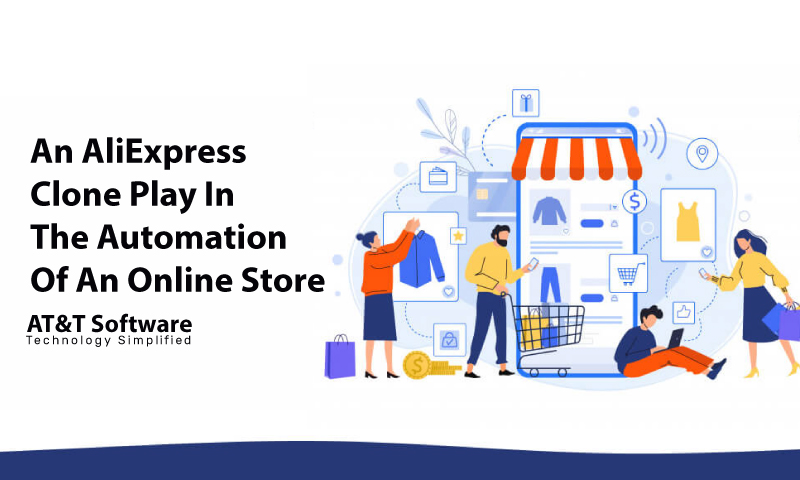 Our AliExpress Clone makes running a company a breeze. It is possible to run a company smoothly thanks to the high-quality features included in the eCommerce script. The administration of a website is made more accessible with a user-friendly admin panel. It is easy to manage business activities from the site's backend. The site administrator can estimate and monitor all site actions, which saves a lot of work in the long run. It is a vital part of a company's long-term strategy.
Using our AliExpress clone, running a company is as simple as 1-2-3. It is possible to run a company smoothly thanks to the high-quality features included in the eCommerce script of our AliExpress Clone. The administration of a website is made more accessible with a user-friendly admin panel. It is easy to manage business activities from the site's backend. The site administrator can estimate and monitor all site actions, which saves a lot of work in the long run. It is a vital part of a company's long-term strategy.
How An AliExpress Clone Is Similar To The Aliexpress Platform In Terms Of Functionality?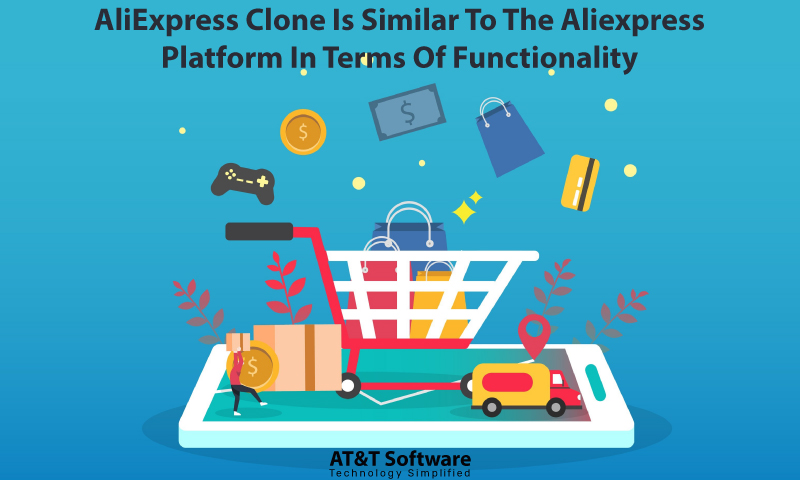 Alibaba owns the online shopping business AliExpress.com. Are you interested in starting an online store just like it? If that's the case, you've found the proper place. Our AliExpress Clone script is an eCommerce software designed to launch high-quality online retail businesses in Alibaba's marketplaces. Now is the time to start working on your company if you want to build a website like AliExpress. Entrepreneurs looking to establish a name for themselves in this market can benefit significantly from an AliExpress script. AT&T Software's solid corporate infrastructure will keep your company on solid ground.
Using an AliExpress Clone, you may lay the groundwork for a successful eCommerce company. You may use the AliExpress PHP script to catapult your current eCommerce firm into the digital era.
Are We Starting A Multi-Vendor Ecommerce Store Using Aliexpress Clone?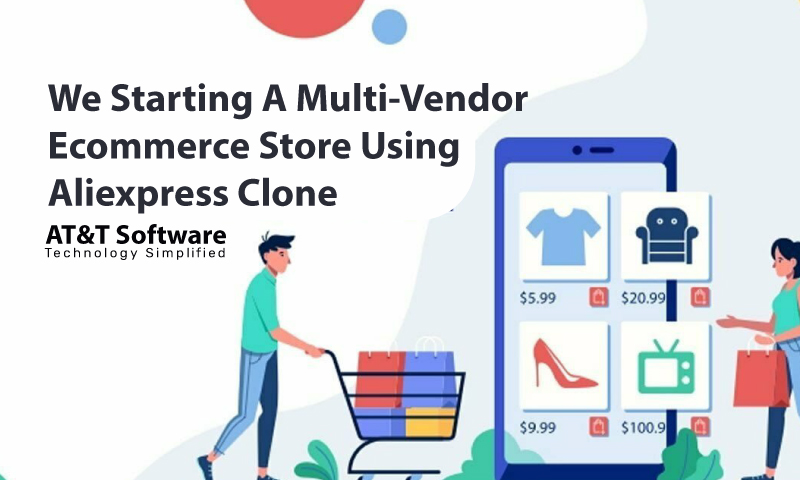 Using the AliExpress Clone, you may get started with your eCommerce site, an online commercial hub that connects "X" numbers of buyers and sellers.
With this multi-merchant e-commerce platform, you can provide your dealers with an easy-to-use dashboard where they can log in using their web-based social networking profiles like Facebook or Google Plus.
Vendors will soon be able to add 'X' amount of things, publish various deals, and manage items, discount requests, delivery zones, and more.
Customers are also encouraged by an easy-to-understand customer dashboard where they can log in with their online networking accounts like Facebook or Google Plus, search for different items using propelled search and channel options, add items to their most-loved list, report wrong things to the administrator, buy 'X' number of things, and share items on various web-based social networking sites.
On the other hand, Admins will be able to manage everything from commissions to orders to reclaim requests to merchant demands to customer demands, and everything in between.
AliExpress Clone – The Most Important Players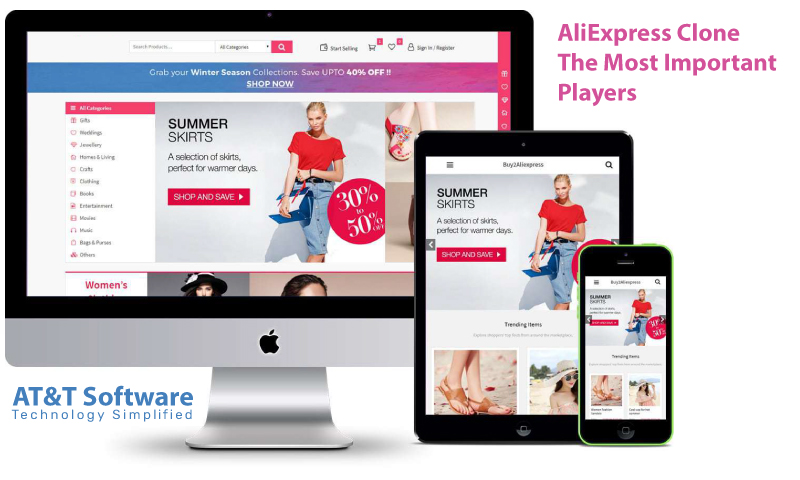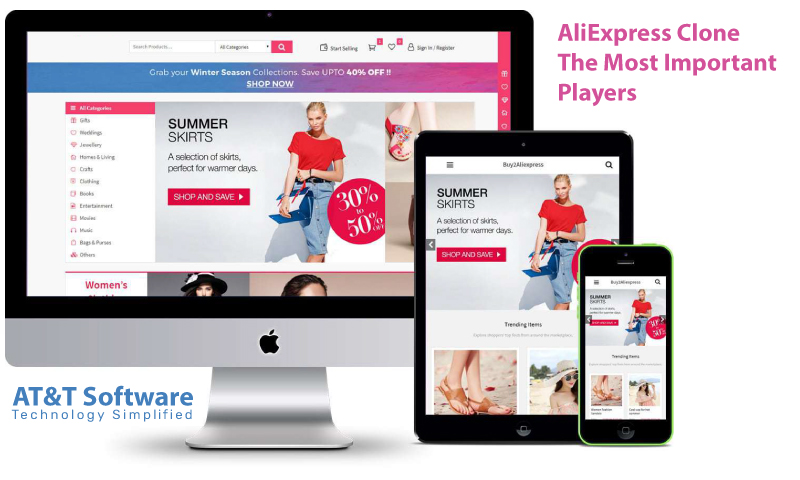 There are generally three primary participants in each AliExpress Clone, each of whom plays a specific role in the overall scheme of things:
Administrator
An administrator will be able to deal with each errand/bargain via a simple dashboard interface. They will have the ability to supervise the CMS, customers, purchasers/vendors, and various posts, installments, and other related activities.
Dealers
They are permitted to list their items or administrations in this multi-vendor commercial center to provide their services or products. They will be able to cope with things and transactions. They may also get some information about the products and services available.
Purchasers
These are the folks who will make purchases of the goods or services made available for sale by the merchants. They may provide their evaluations of the vendor and the things, and they can also put their requirements for the items they want to acquire.
You can choose between a ready-to-use AliExpress Clone script or a custom development solution.
We Offer Dynamic Ready-To-Use AliExpress Clone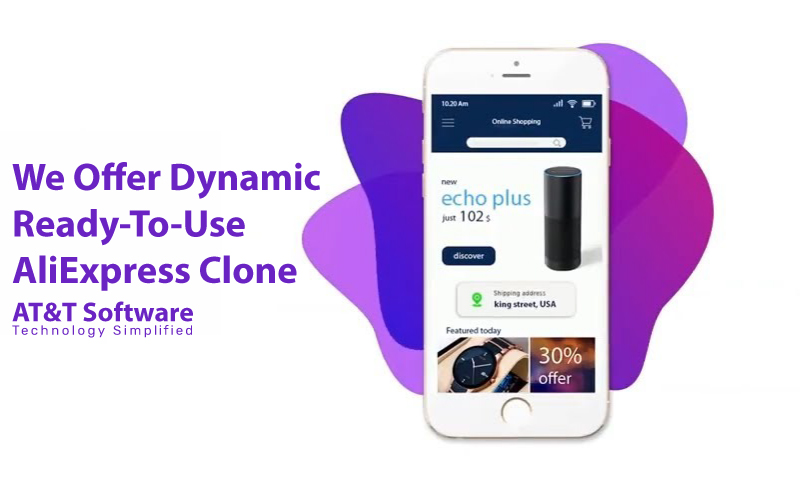 Our AliExpress clone platform already has standard features implemented, allowing you to get your project up and running fast and with high-quality results. Furthermore, you will benefit from working with us since the basis has already been set up for you! The website clone architecture that we use to develop cutting-edge clone scripts comparable to AliExpress is exceptionally scalable, resilient, and user-friendly, and it can be readily adapted to meet the specific needs of your project.
What Should Be The Ideal Choice- Pre-Buit or CustomMade?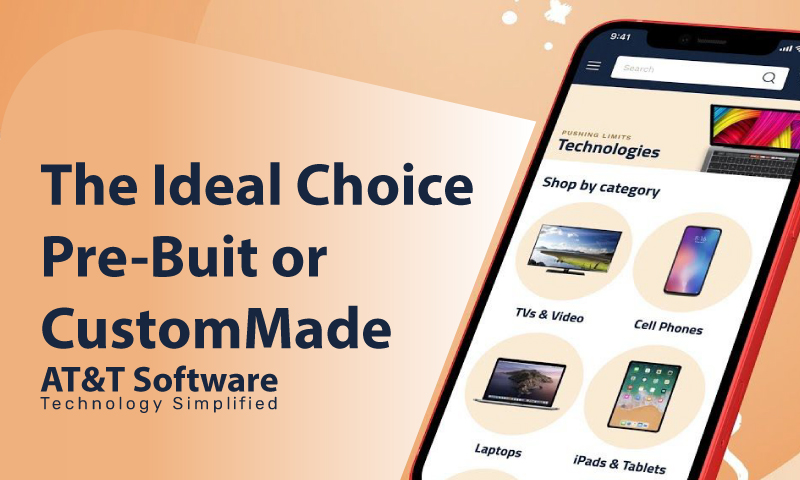 Well, it all depends on your budget and your specific objectives. We have tried to include almost all the features in the AliExpress Clone script. But if by any chance you feel the need of having some customized features, you can always discuss the same with our team and get things sorted. AT&T Software always make sure to give you the finest customer experience that you expect.
Licensing and Custom Development for AliExpress Clone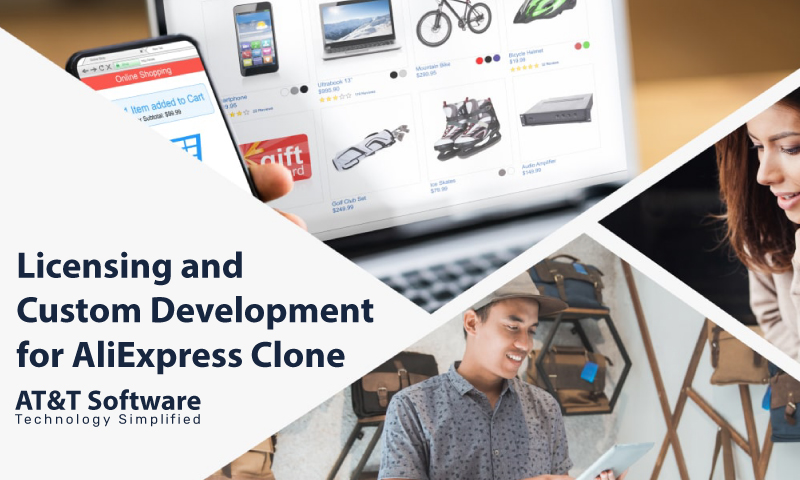 In addition to enabling you to quickly establish your website similar to AliExpress at a significantly lower cost initially, ready-to-go off-the-shelf AliExpress Clone scripts will also allow you to alter it considerably in cases where the market sector already has intense competition. You simply would not want to go with another copycat website that does not communicate a special message to your target audience and does not provide any distinguishing characteristics that distinguish it from your rivals' websites.
Although a potent AliExpress Clone script may contain basic capabilities that will enable you to test the waters with a prototype, these features may not be sufficient for a website that you want to generate money from! Suppose you launch a fully-fledged website with the same standard features as everyone else. Why would visitors continue to be interested in your website if it has nothing new or different to offer than AliExpress or the regular competition that is using the same AliExpress clone script as you!
What we do is based on our knowledge and experience. So take our word for it when we say you will need modification since you will most certainly require it because your website users will expect to see something different when they visit your site. Get your AliExpress Clone at the most affordable pricing from our team.
Because the base platform is highly expandable and customizable, we can easily modify it to match your requirements, whether it is for some design UI (user interface) tweaks or a complete custom or responsive web design requirement, a few features alteration, or the addition of many new unique features and modules – we have done it all. Therefore, we are eager to hear about your requirements regarding the AliExpress Clone.
eCommerce Product Design and Development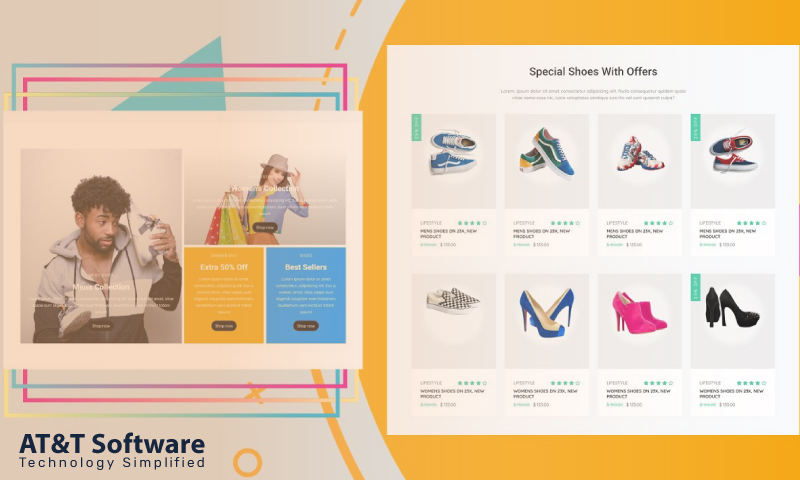 It takes subject knowledge, skill, insight, and perseverance to turn your eCommerce vision into reality. To meet the demands of the eCommerce business, we provide specialized product engineering services. Take a look at how we can help you turn your concept into a reality.
Concepts
To verify your proposal, we work on proof of concept (POC), minimal viable product (MVP), prototypes, and other forms of market research.
Analysis
Our Business Analysts will work on wireframes, SRSs, SOWs, diagrams, etc., to examine and explain your AliExpress Clone concept to execute it.
Design
We'll focus on the features and user experience most likely to appeal to your target demographic. For example, the AliExpress Clone design might be similar to one of your reference e-commerce sites, or it can be new and original.
Development
Your AliExpress Clone will be developed in line with your specifications. In addition, a Center of Excellence (CoE) has been designated to implement the solution using agile development and DevOps to meet your needs.
It's all about making sure your product or service.
We do complementing unit, integration, and regression testing as part of your project to guarantee product efficiency. Additionally, we provide speed testing, server load balancing, security testing, and stress testing.
Launch
We'll assist you in deploying your server so that you may go online. We can also host your own AliExpress Clone. Your location or the target market from which traffic is expected may act as a location for a web server.
Contact AT&T Software for more details!