I hope you enjoy reading this blog post.
Would you like to get expert advice? Click Here
home / blog / Open Up New Possibilities with a Multi Vendor Ecommerce Script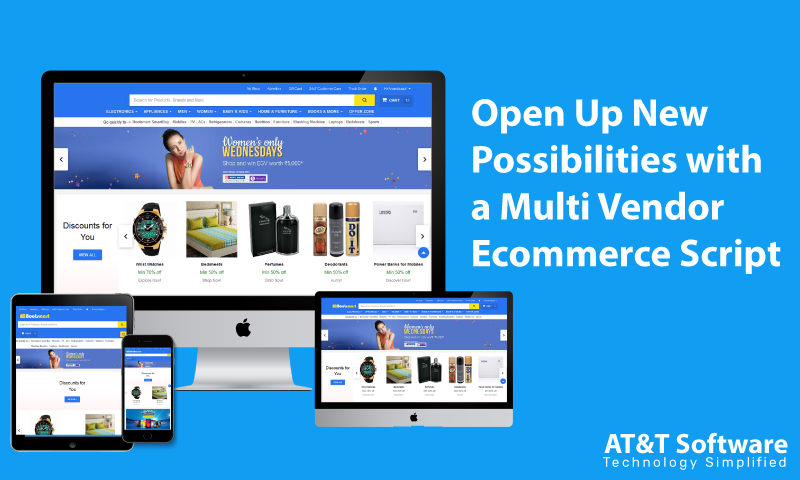 AT&T Software offers a top-of-the-line multi vendor ecommerce script for a stunning online marketplace.
Ecommerce has become the primary way of making sales for all kinds of products or services. Customers these days value their time more than ever before. Hence, they prefer to shop from the convenience of their time and space without having to travel to a physical store. This saves time, effort, and also a whole lot of options in choosing their preferred products or services.
AT&T Software offers premium quality multi vendor ecommerce script solutions to business owners and entrepreneurs to start a new online marketplace.
Any person or business may contemplate going online to build their own online marketplace. In fact, the actual technique of running such a marketplace could be pretty complex. Hence it is necessary to use the best software to make operations smooth and efficient.
AT&T Software offers the most effective assistance to ensure that you, sellers, and customers get the best user experience while using the online marketplace made with multi vendor ecommerce script.
Multi-Vendor Ecommerce Script: How You Can Benefit From It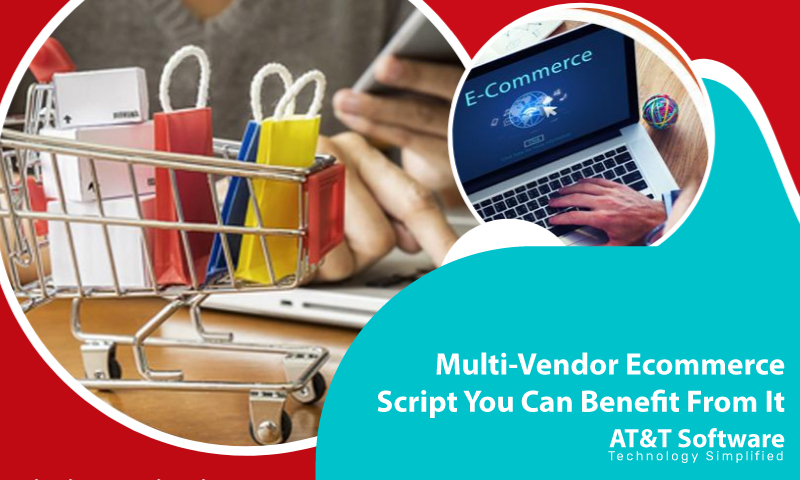 We at AT&T Software are a team of experienced and competent web and app developers. We offer high-quality multi vendor ecommerce script solutions for a high-grade UI/UX. Our team has experience writing multi vendor ecommerce scripts to meet your specific needs of an ecommerce store and monetize the platform.
We provide high-quality multi vendor ecommerce script development services tailored to the client's needs. We constantly deliver a user-friendly solution that meets all requirements of current market trends. We provide unique and appealing ecommerce app development solutions that help you stand out in a crowded market and attract new customers and engage them for conversions.
Use Cases of Multi-Vendor Ecommerce Script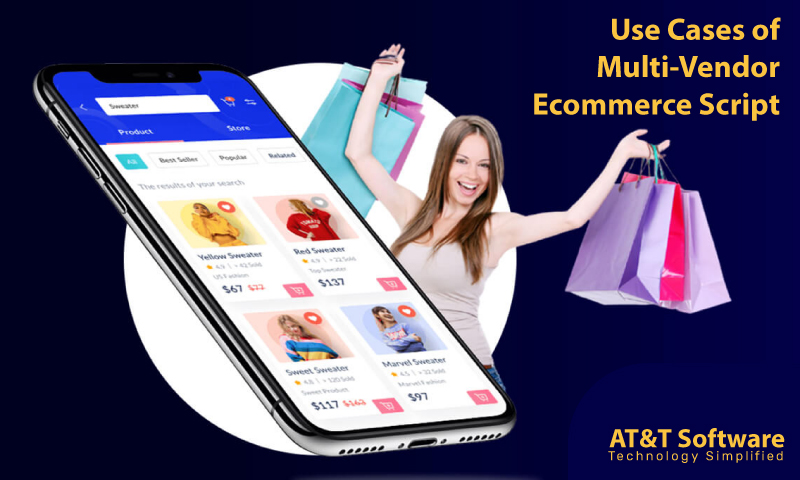 Are you interested in launching your own multi-vendor ecommerce website? Amazon, Flipkart, and Snapdeal are a few examples. Food, grocery, pizza, bakeries, catering, laundry, flower, pharmacy, spa & salon, bar, courier, and many more industries may benefit from our ready-made multi vendor ecommerce software solution.
The features of our multi-vendor eCommerce platform are comparable to those of Amazon, Snapdeal, and Flipkart clones. Every element in our app is designed to help you grow your company and make a good profit.
We can customize the multi vendor ecommerce software with your logo and other features to make it a unique website and app. Above all, you have the opportunity to build a billion-dollar company with a stunning multi vendor ecommerce app developed by us.
With our ready-made multi vendor ecommerce software solution, you can effortlessly reach out to your customers anywhere to improve company income. Easily manage your ordering and delivery operations and achieve business goals.
How We Can Help With Multi Vendor Ecommerce Software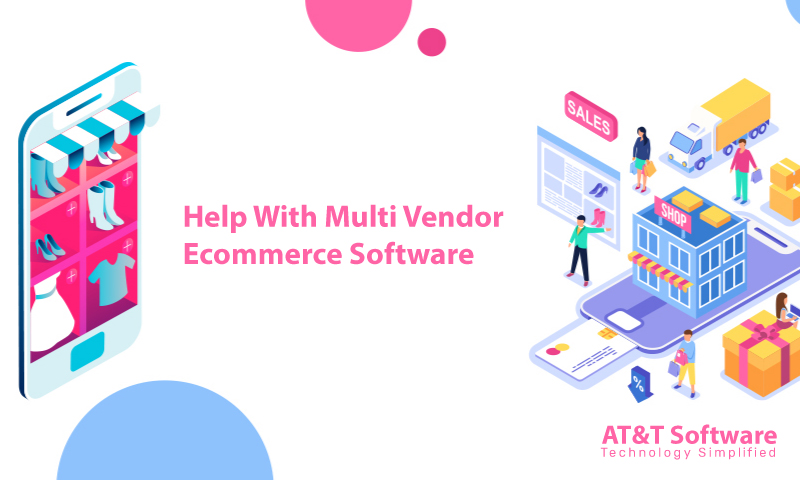 If you're searching for a top-notch solution for your next multi vendor ecommerce script development project, you have come to the right place. We will take care of all of your multi vendor ecommerce script development requirements. We create a clone of the most popular application in the market and customize it to meet your requirements, and create a site or an app that will suffice the requirements of your target customers.
Hire multi vendor ecommerce script developers from us to have high-quality work completed at a low cost and in a short time. We will provide a one-of-a-kind solution that is entirely functional, interactive, and user-friendly.
As a leading web and app development firm, we emphasize work quality, client specifications, and best recommendations based on current market trends. Before beginning work, we always listen closely to our customers, discuss their expectations, analyze their target customers and app monetization model, and eventually develop the most excellent prototypes of their business app.
Why Open An Ecommerce Marketplace With Multiple Vendors?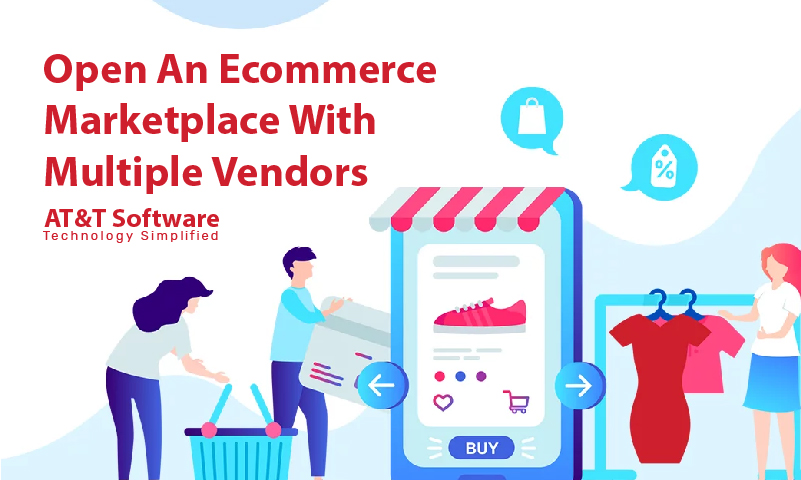 It will be hard for you to stock and ship everything you sell online as a company owner. Stocking products results in much dead inventory and a significant storage expense, cutting your online profit margins. A marketplace model, which operates on a just-in-time basis for product order fulfillment, comes to your rescue at this juncture.
A customer on your site may order many products using the AT&T Multi-Vendor ecommerce platform. The order is then automatically shared amongst the vendors whose products these customers order. The merchants may receive the orders using their control panel and accordingly fulfill them. The system handles the payment received from customers and automatically deducts the app commission, and shares the same with the vendors.
Top Features of Multi Vendor Ecommerce Marketplace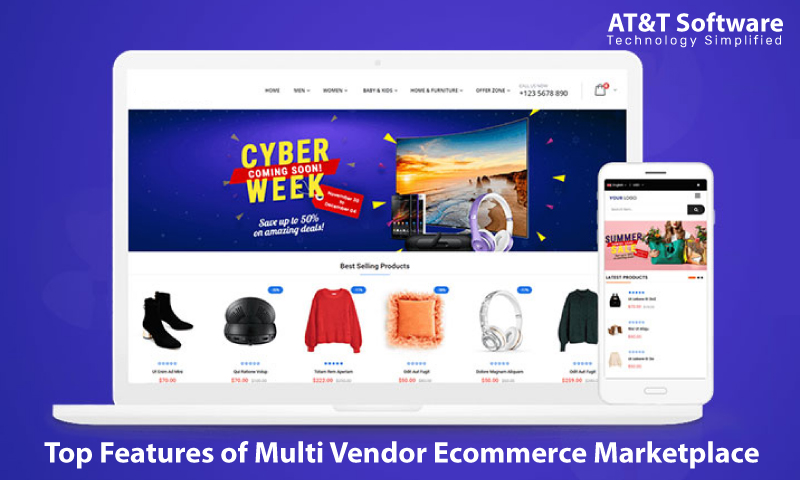 Front-end web development
Make your own fully functional marketplace website.
100% customizable and compatible with third-party integrations
Friendly to search engines and social networking
Dashboards enable administrators and sellers to see real-time sales information.
Set your commission, shipping, and seller subscription prices.
Sellers have their pages, and shops have their URLs.
Administrative panel
All the tools you need to run your shop in one spot.
Management of users
Organize your payments
Configure the app and the shop.
Options for database cleaning
Management of discounts
Manage your shipping options.
Options for database backup and recovery
Integration with other parties
Vendor Panel is a group of people that work as vendors.
All the tools you need to run your shop in one spot.
Management of users
Organize your payments
Configure the app and the shop.
Options for database cleaning
Management of discounts
Manage your shipping options.
Options for database backup and recovery
Integration with other parties
Development of APIs: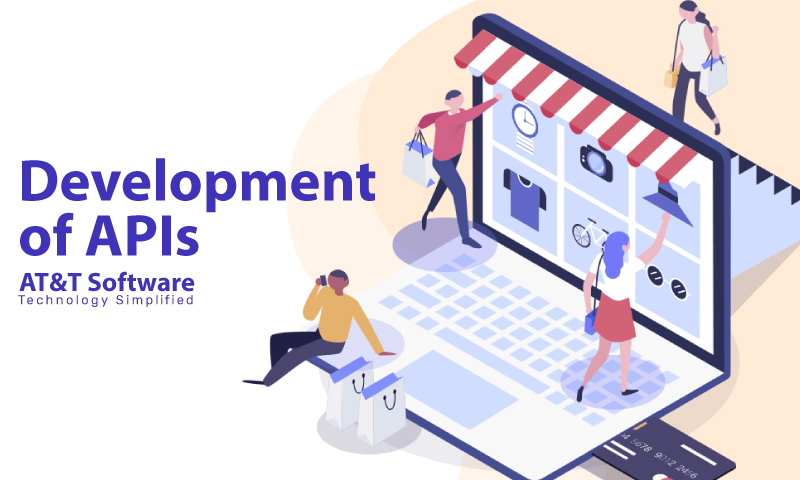 Your eCommerce business will have its mobile shopping app.
On Android, iOS, and Windows, make use of the advantages of a native app.
Customize your mobile eCommerce app according to your preferences.
With more than 100 ecommerce-friendly features
Push notifications, deep linking, geolocation, and more are all available.
Support for several currencies, languages, and payment gateways
Magento, OpenCart, WooCommerce, PrestaShop, and other ecommerce platforms are supported.
AT&T Software App Development Service Module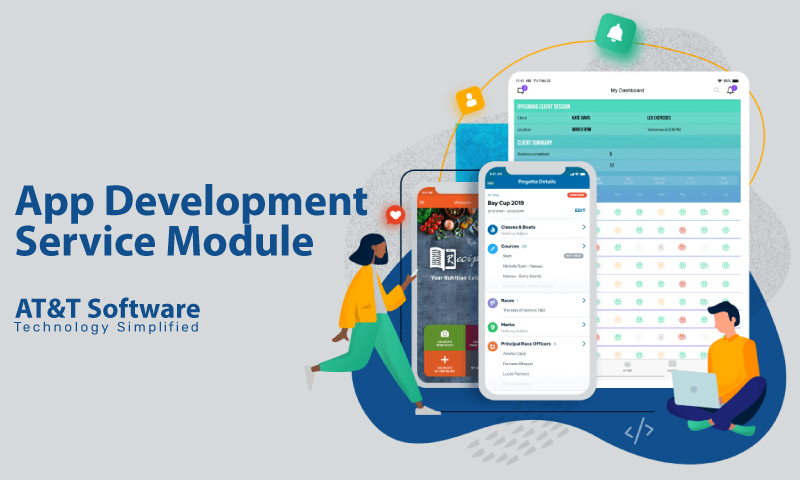 We assist companies from different sectors worldwide in developing innovative brand solutions that help them stand out from the crowd.
We employ cutting-edge technology that will benefit your goods in the future. We constantly offer the most significant recommendations and solutions to assist you in understanding things.
Examine Customer Requirements
Our team has extensive expertise in analyzing customer requirements, mocking up and prototyping them, and developing best-in-class solutions.
Result-oriented strategy
We consistently prioritize quality and results-oriented solutions tailored to our client's needs and current market trends.
Testing and Quality Control
We always give a well-tested solution that has been thoroughly tested in terms of design and functionality. We ensure that everything runs smoothly.
Cross-platform
We create cross-platform apps, and our developers are experts in creating perfect cross-platform solutions.
User Control Panel
We provide a user-friendly user panel that allows users to simply access services and goods. We offer a user-centric forum where users can quickly explore and purchase services and goods.
Attractive Design
Our graphic designers are skilled in creating a user-friendly, innovative, and one-of-a-kind design that is clean, appealing, and simple to browse. We always create a cute idea for your app that will draw in customers and make your business or product stand out.
Admin Control Panel
We provide an intuitive admin panel from which you can manage all of your users, sales, orders, goods, inventory, pricing, payment methods, shipping, and discounts, among other things. Our built admin panel enables the administrator to control all systems effortlessly.
What We Provide In Our Multi Vendor Ecommerce Clone App Development Services
Unending Assistance
Over the years, we've worked with a variety of sectors; our team has extensive expertise in designing web and mobile apps for various businesses and customers all over the globe. We are always available to give assistance and maintenance.
Result-Oriented Approach
We constantly work according to the demands of the customer and the task specifications. We always give a requirement-specific and user-friendly solution that meets our clients' needs and provides the best in class solution for their organization.
Adaptive Functionality
Our team provides a dynamic solution for each application we develop; each can be managed from the admin panel. The administrator may handle all aspects of the program through the backend panel and update any data independently.
A Low-Cost Alternative
AT&T offers a cost-effective solution for all your Web and Mobile Application Development requirements. We provide the most cost-effective pricing to meet your needs. We deliver high-quality Web and App Development services at a reasonable cost.
A Platform For Multi-Vendor Ecommerce
Multi-vendor ecommerce software, similar to Snapdeal clone, Flipkart clone, and Amazon, is a program that allows several vendors to offer their goods or services on a single platform. Each vendor handles their sales activities and concentrates on boosting the company income in multi-vendor eCommerce software. Every vendor has its order management dashboard.
This Flipkart clone, Snapdeal clone, and similar websites have become famous for promoting and selling things online. Customers also choose a multi-vendor eCommerce software platform for acquiring items that offer a diverse selection of collections. For a multi-vendor eCommerce software demo, don't hesitate to contact us.
Deliverables For Multi Vendor Ecommerce Software: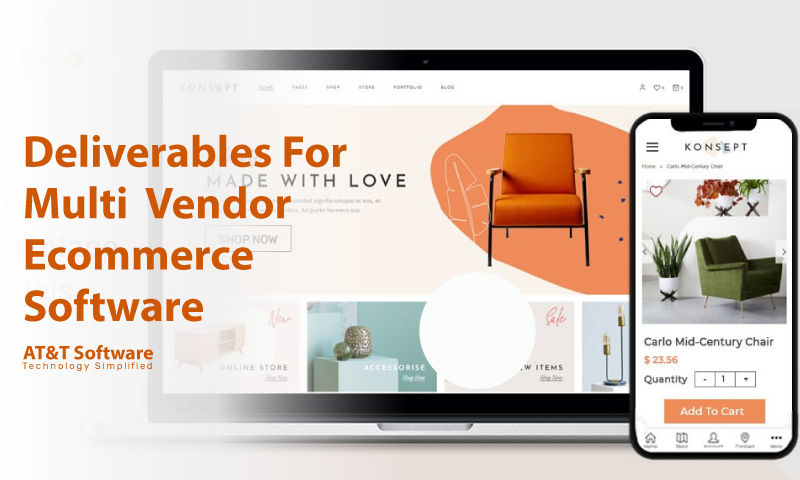 Administrative Panel
Admins have access to a robust online backend panel to manage various suppliers and customers from the back end.
Panel Of Vendors
Each vendor has its vendor login to manage its listing and shop on the online platform.
App For Customers
Customers may use the customer web front end and mobile app to access your multi-vendor eCommerce software system.
App For Delivery
Customers' orders are delivered to their doorsteps by delivery agents. Delivery agents are notified through an app.
Features Of Multi Vendor Ecommerce Software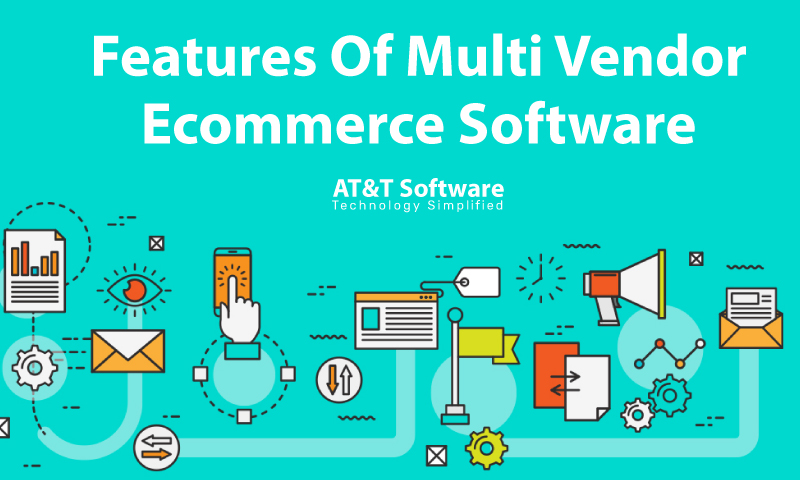 Single Platform For Several Vendors
An efficient multi-vendor ecommerce script that enables an administrator to manage several suppliers while delivering a wide range of items to clients on a single platform.
Deals / Auctions / Products
The app owner may create and maintain a list of all branches of a particular restaurant in a specific city. This is done according to the App owner's preferences. The customer has the option of selecting their desired site.
Support For Multi-Languages
People from all around the globe will be able to utilize the Trio Commerce multi-vendor-shopping-cart script in the same way their English-speaking counterparts can.
Get The App And Get Mobile
Merchants should expect more sales conversions, increased site traffic for the admin, and sales conversions on mobile devices. You may now create your business application.
Platform For Merchants
Each merchant may have several storefronts on this platform to exhibit many items from various categories. For a shopkeeper, this is a complete retail mall.
A Robust Administrative Panel
All money transactions are controlled via the admin panel, including comprehensive charts, user administration, seller management, and email management.
Payments Are Processed Safely
Trio commerce offers simple payment choices and seamlessly manages the whole payment process. A suitable framework includes the entire chain of activities, from product purchases to notification of vendors.
The Storefront
All money transactions are controlled via the admin panel, including comprehensive charts, user administration, seller management, and email management.
Seo And Marketing
Your website's online store will be SEO friendly, thanks to the TrioCommerce multi-vendor shopping cart script. SEO recommended practices such as configurable headers, titles, and meta description elements are supported. This improves your marketing capabilities.
Option To Filter
Filter your product search results by price range, color, and stock availability. Spend less time and effort determining what you want.
Product Evaluation
Customers may evaluate the prices, special offers, and characteristics of the identical items offered by other businesses to justify their purchase.
General Options
The multi-vendor site's administrator may monitor and regulate transaction data such as currency codes, fund request amount limitations, and transaction status.
What Makes AT&T Software Unique?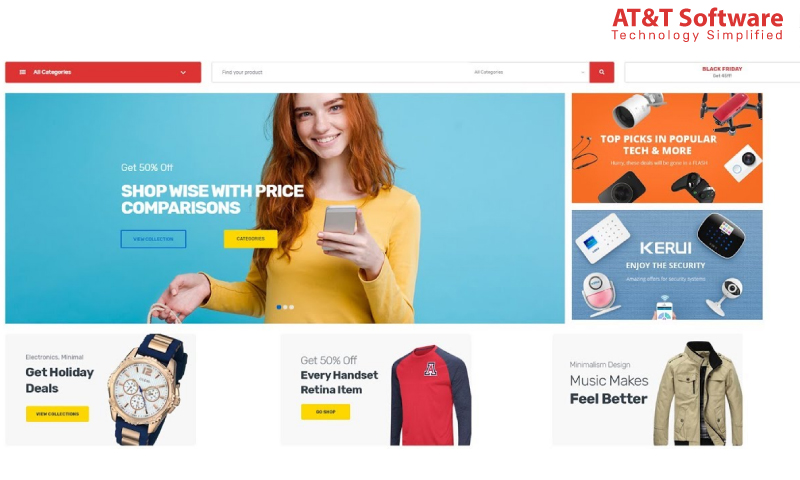 Everyone wants to create their own online company and become successful in the ecommerce market, but creating a smooth path to success is difficult.
AT&T has created a ready-to-use multi vendor ecommerce clone app that may be used in various industries. Each element in our app assists you in growing your business and can be personalized with your company name. This enables you to build a billion-dollar online company. Vendors may reach out to their clients at any time and from any location using their automated software program to boost income.
With multi vendor ecommerce clone app development services built by a competent team at AT&T, you can conveniently manage your ordering and delivery company. They have the most expertise in developing cutting-edge ecommerce applications that meet customers' needs at a reasonable price.
AT&T is a leading multi vendor ecommerce clone app development firm that can assist you in turning your physical and mortar business into a virtual store. You may also modify it to work with multi-language shopping cart software.
Our comprehensive software allows you and your third-party sellers, such as manufacturers, to sell their items on your platform. With a single click, they could control their items and shipping returns. Each vendor or manufacturer may also have their store using the multi-vendor shopping cart under their domain name.