I hope you enjoy reading this blog post.
Would you like to get expert advice? Click Here
home / blog / Reface Clone App: Why It Is Time To Develop One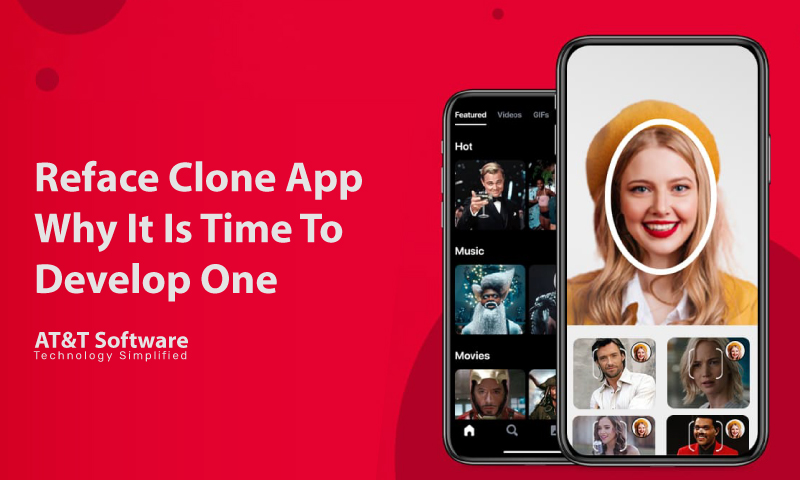 AT&T Software offers high-quality Reface clone app development services at affordable rates.
The pandemic has made people stay very confined in their spaces. Before, there was a lot of scope for interacting with people physically. In today's generation, social bonding and interaction have significantly reduced with the increasing work pressure. Therefore, people have found their escape on various social media platforms. They express their feelings and emotions only through social media. Also, they find their amusement in the different social media platforms to get rid of extreme monotony and depression.
Many applications are now building up for entertainment and amusement; this face-swapping application is also one of them. Face swap applications are now one of the trending applications. It is a perfect blend of entertainment and ingenuity; it is 100% customizable and well-equipped with some groundbreaking technology.
Also, with an affordable price range for everyone. Launching Reface clone app is a path-breaking choice for budding entrepreneurs. This application also has high scalability and is highly customizable. This application values your time, and it can be launched in seconds. Reface clone app offers its customers a variety of features complemented with rich functionality.
The face swap app gives its customers full entertainment and various other amusement activities. Through this, they are also earning considerable revenue from worldwide users. Thus, the face swap application is now one of the excellent entertainment platforms that cater to the masses.
Reface clone app is world-class and is end-to-end customizable. It empowers its users to add their facial features with popular elements of pop culture in the form of different images. Just take a glance at the google play store and apple application store. You can apply to witness the dominance of the celebrity look-alike app in the hearts.
Various Development Solutions We Can Provide With The Reface Clone Application.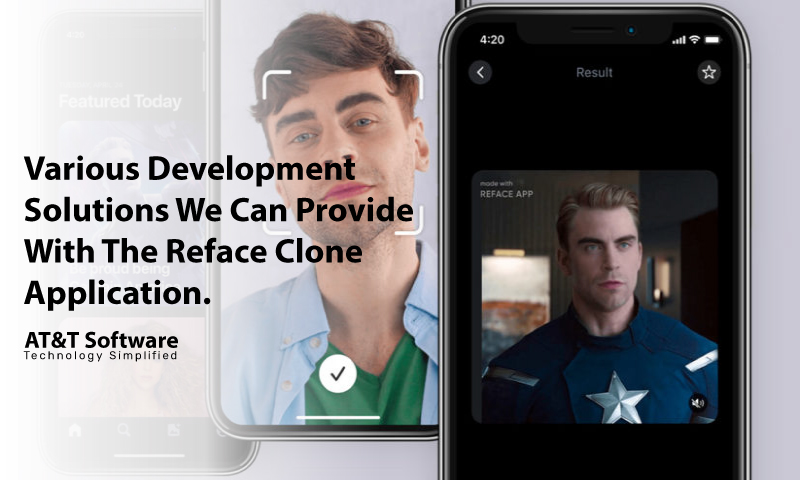 Face Swap In Pictures
Face swapping is a handy feature of this Reface clone app. You can flaunt the power in actualizing the face-swapping pictures very efficiently. An application like Reface is made to keep in mind the application's functionality. It perfectly captures all the facial expressions and then emulates a clip with the face of the user embedded in it.
Face Swap Deepfake Video With A Celebrity Face
All the clips that feature celebrities' face swaps are a rage and soar in popularity on time. The celebrity look-alike app solution has unique features and benefits separate from other popular applications. It does the job of swapping at its best.
Face Swap In Memes And Gifs
Memes are nowadays trendy and entertaining things on social media. The face-swapped memes and gifs seamlessly dominate the social media platform with so much ease and clarity.
Which Celebrity Do You Look-Alike?
You can entice the extensive user base using the look-alike celebrities by uploading their pictures on the Reface clone app. It is devised in such a way to sow the seeds of sustained customer engagement.
Adding The Custom Emojis Filters In Photos And Videos
Adding emojis gifs is quite popular today by clicking on the exceptional images containing defining features of the Reface like app development powered by artificial intelligence. Hence, with the development of various technological improvements, this sort of thing has become relatively easy now. Moreover, making customized emojis and filters has also become very easy to create.
Impressive Photo Editing Textures And The Al-Based Portraits
Clicking the exceptional images powered by artificial intelligence is a most underwhelming and defining feature of the reface, like application development. Here, adding texture and effects can be smoothly done in quite a hassle-free manner. Impressive photo editing filters entice users and customers worldwide to use this application. It also gives a hassle-free experience to its users.
The number of smartphone users has crossed over 5 billion; technically, it is a vast number. So with the advent of technology supported by artificial intelligence, various app-based businesses are blooming exceedingly. As a result, the app-based companies earn huge revenues and many market shares.
However, keeping in mind the customer's demands, many new technologies and applications have also started emerging. Also, there is a need for an alternative platform. Thus, it is time to customize and launch a Reface clone app that can perfectly fulfill the users' needs and demands.
How Does The Reface Clone Application Work?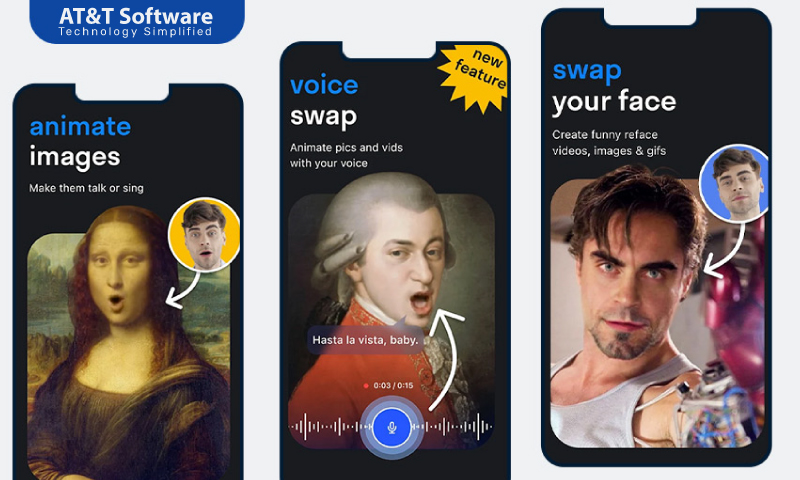 User Registration
The process of registration is also straightforward in this Reface clone app. Users can quickly get into the application by giving their respective credentials and logging in through their email address and phone number.
Select Source Video
Users can instantly do the face swap action on the Reface clone app. The users can select the appropriate file they want to use as the face swap option from a large stock of the available videos and gifs.
Upload Identity Image
Then the users can upload the image, which needs to be superimposed on the original photo or the video clip from the online platform from their respective devices. Thus the process of face swapping is comparatively more accessible in the Reface clone app.
Share video
Users can share the video within their friends' circles and with their connections very quickly with the help of social media platforms.
Celebrity Look-Alike Applications Dominate The Charts Of Google Play Store And The Apple Application Store.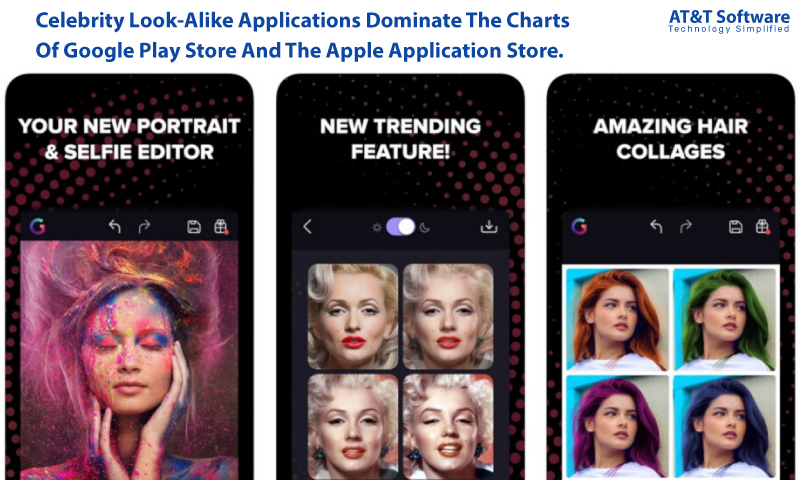 Our look-alike app development solutions ensure the best user interface and user experience. Let us have a look at the face swap app solutions we provide.
Cropping Images
Users can enjoy the process of face swapping in the Reface clone app. Furthermore, as they can easily crop any part of the image, they can also utilize it for swapping purposes.
Search Uploads
Users can very easily upload images/videos from devices or the internet. In addition, they can also take selfies that are powered by face recognition technology of the Reface clone app.
Real-Time Face Swaps With Friends
The Reface clone app allows users to enjoy the process of face swapping with their friends as well. Users can change their faces with their friends, sharing the images and video clips in real-time. Thus, it gives so much amusement to the worldwide users of the face application platform and earns revenues through this process.
Face Swapped Video Recording
The Reface clone app also has a video recording feature that differs from the other face swapping platforms. You can make a funny video using video clips and share it with friends and various social media platforms. Thus, through this, people can get rid of boredom.
Filters/Masks
You can instill the index of some fun elements by simply suffusing the Reface clone app and incorporating it with multiple features, which can be effortlessly collaborated with selfies and video clips.
Gender Swap Images
The Reface clone app also has the feature of gender-swapping using advanced technology. Users can quickly generate and share all the gender-swapped images and clips. It is also supported by the tremendous technological support that functions well.
Young/Old Transformation
The Reface clone app has other gratifying features, as the users can quickly transform their age. They can look older or younger with the use of improved technology.
Share On Social Media
Social media platforms play an essential and dominating role here. Sharing pictures and videos on social media is a widespread practice nowadays. The use of social media is now rampantly occurring throughout the globe. You can spread the gospel of unending amusement by a perfect authentication of the users to share their images and video clips on their social media profiles via the Reface clone app.
AL Portraits
You can entice the users of Reface clone app with the range of capabilities to make a unique balance to sustain AI-enabled portraits and a beautiful score of estimation of similar images related to the metrics.
Celebrity Twin
Reface clone app users can promptly discover the curious images of celebrities whose images match their faces. Then, they can upload those photos of their friend's family and get to know about the celebrity twins more closely.
The Revenue Model Of The Reface Clone Application Script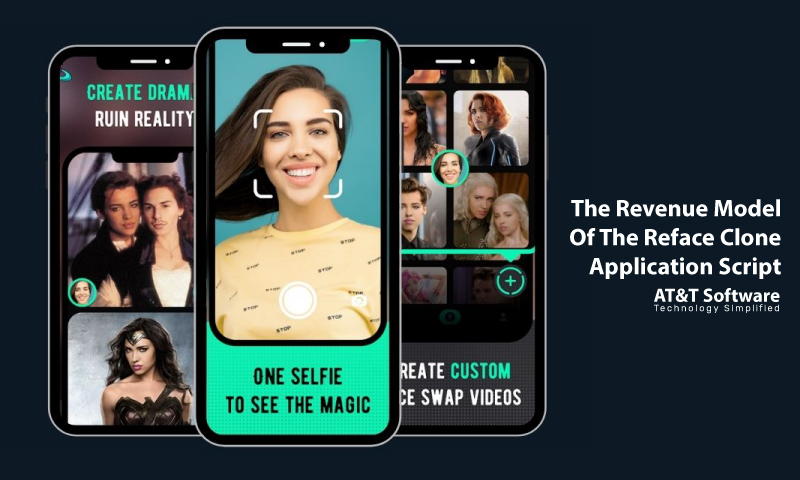 Subscription Fee
Users can mandate all the subscription plans in the Reface clone app. users can go for certain advanced features and pre-existing features. So the customers will go with plans that will fulfill all their needs and demands for using the application to enjoy the benefits of face-swapping seamlessly.
Promotional Fee
The face swap app charges a considerable amount in the In-app purchases segregated for more advanced features. Also, there is a high probability that the customers can purchase the plans of the free versions very effectively.
In-App Purchases
Through e-commerce functionality and integration, the products are sold through the celebrity look-alike app. As a result, various celebrities and expensive products are marinated with the ever-relevant demands that the application can quickly fulfill.
How To Keep Essential Things In The Application That Will Make A Successful Face Swap Video?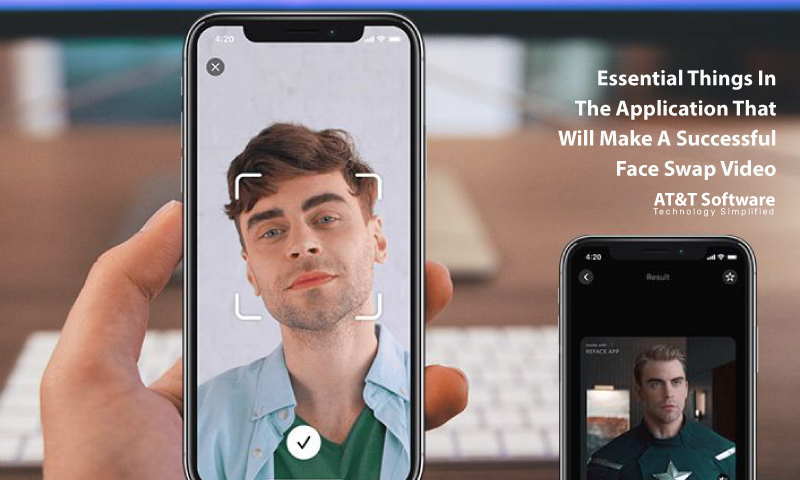 Object Recognition
The successful mapping of the users is one of the most defining and attractive features of the Reface clone app. This feature captures all the minute details with ease and observes a sharp distinction with the various other objects.
Content Identification
It is structured and designed with innovative, cutting-edge technology. The Reface clone app offers users a wide range of content and gracefully bypasses flag offensive and any obscene content with utmost accuracy and clarity. These features ideally make the application suitable for the users regardless of age group. The users can feel safe and protected while using this application.
Emotions recognition
The Reface clone app offers the tremendous potential of spotting down the uploaded images with excellent precision and intelligence. It helps in sustaining the user with so much ease and adulation.
Our Reface Like Face Swap Video Application Development Processes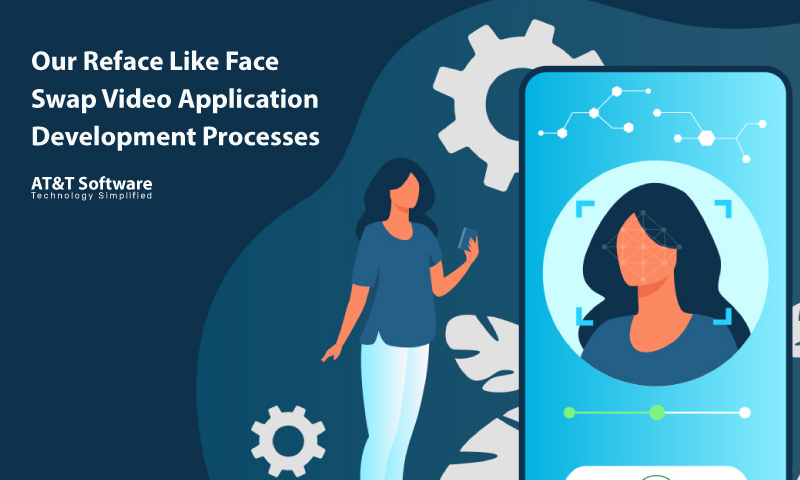 Requirement analysis
The moment you confirm the collaboration, our effective team of executives deals with customers diligently. They hang out with you to scribe all the essential requirements, business needs, and the extended application vision.
Wireframing
It is also a unique feature of the Reface clone app. A full-fledged [lanner and provision must be followed by a meticulous wireframing process of every celebrity look-alike application
Designing
The designers do backbreaking work to show their talent and creativity. Then, they do the creative processes with intense hard work and dedication. As a result, they bring out the best design elements and user experience in industry conventions.
Development
The Reface clone app is coded in its totality using our efficient and expert developers. The backend is infused with robustness and concurrently embedded with unique features and applications. Thus the super specialty of this application entices worldwide customers to use this application with ease and comfort.
Testing
An expert team is always vigilant about the various activities happening on the Reface clone app round the clock. A stringent quality assessment is done by the team diligently. Therefore, they incorporated techniques for eliminating any obstacles or clothes that may hinder the smooth process of the application.
Deployment
Installing the Reface clone app with a proper server of choice in applying to the apple app store and google play store. We do the entire app development process so that the user can download it in the shortest period with a hassle-free experience.
How Much Does It Cost To Develop A Reface Clone App?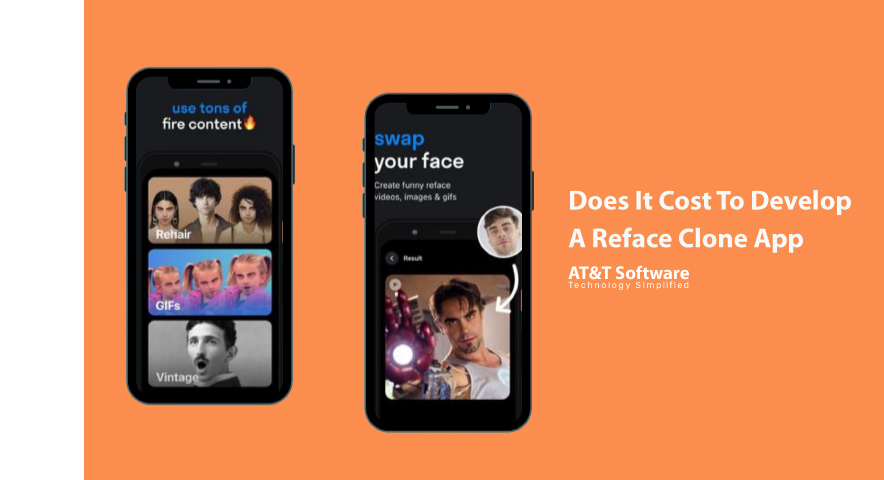 We produce the best talent and expertise in this field for better development of the celebrity look-alike application. A chunk of global entrepreneurs is also coming up to collaborate with this type of application and platform. It will help them immensely boost their business and expand in terms of popularity and increase their market shares.
Also, having been said that a Reface clone app also requires several other factors like-add-ons, functionality, launch platform, installation choice, etc. You can easily connect with your expert team to estimate the app development cost effortlessly.
How To Choose Reface Clone Application Development?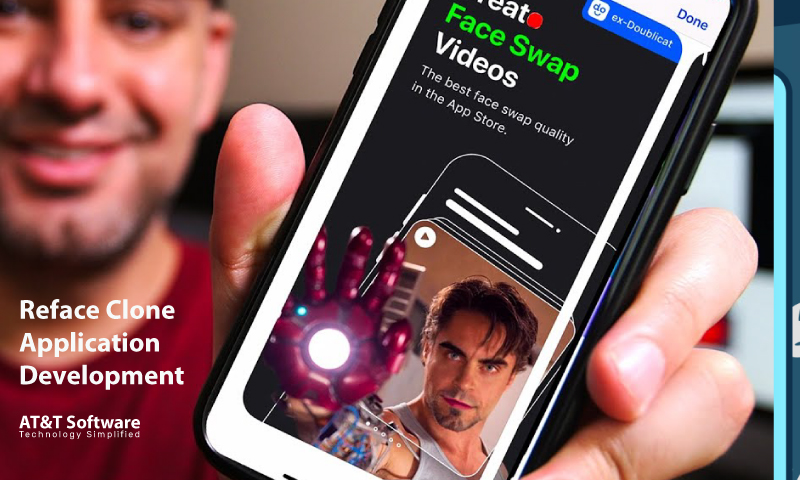 Holistic Development
We do not outsource any development process of Reface clone app under any circumstances. All the intricate rules and any significant issues are resolved by the expert team, who are peasant for 24hrs service. The assigned unit looks after every nitty-gritty. so there is no need to seek assistance and help from outside.
Flexible Hiring Models
Very flexible and experienced developers work efficiently for a smooth and steady Reface clone app development process. All the first-rate developers and their teams are working here, having the knowledge and degree in this field. A versatile model is made to fulfill all your developmental needs and business requirements.
100% Customizable
This Reface clone app is 100% customizable. It is entirely structured and built to keep the business ideology and customer's point of view. Therefore, it is altogether a user-friendly application. Furthermore, every feature made in this Reface clone app has been perfectly tried and tested before. Therefore, this application is customized until it fulfills your expectations.
White Label Solution
You can rebrand your business identity elements such as logo, brand, name, UX design, color pattern, etc. Logo; branding is essential for the proper promotion and advertisement. Hence, to attract more customers and users, it is evident to emphasize the branding and designing part. It thus helps enhance the growth and propels the growth smoothly with any glitch.
Lifetime Upgrades
Reface clone app is built with all your latest technologies and improvements. So to keep it updated with all the latest technologies and branding, that too is free of cost. Thus, we prefer all the regular upgrades free of charge.
NDA
The term NDA stands for a Non-disclosure agreement. We care extra about the safety and privacy of our valuable users. Therefore, all the information about this application is completely safeguarded from any external threat as the safety and security of the users are in our hands. Furthermore, the detailed information structure of the application is completely protected so that they don't feel threatened.
Conclusion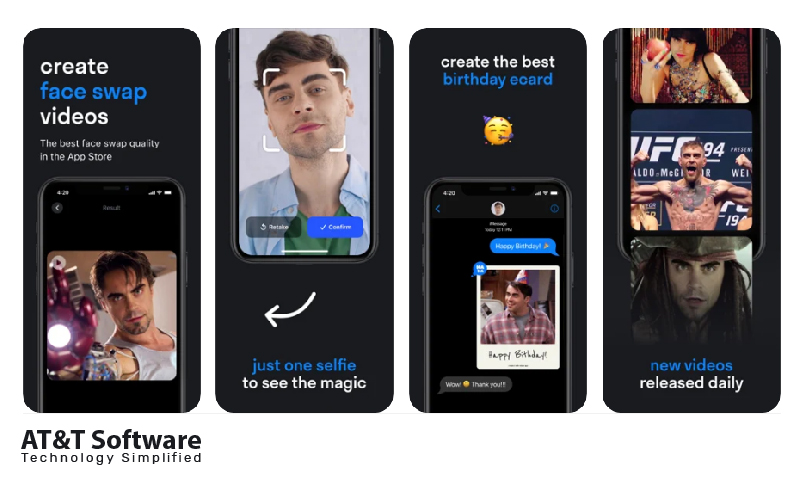 The Reface clone app is among the leading applications. It is built and structured to keep the customer's point of view. It is 100% customizable and embedded with all the latest techniques and technologies. The process p0f face-swapping has become so easy with the help of this application. That is why people are enjoying the use of applications across the globe.
We are also very cautious about the privacy concerns of the users. Keeping safety and privacy intact is our chief concern. The customer should not feel any threat or unsafe using this application. Thus, this application is user-friendly. Various ways of face-swapping can be done using this application. The users can create multiple funny videos and share them with their friends using social media.
Thus, this kind of application is made for entertainment purposes. These kinds of entertainment activities help reduce the amount of stress, anxiety, and depression. So for some time, people can be occupied with some fun activities that will relieve them from boredom and also energize them for working more.
Contact AT&T Software today to discuss your celebrity look-alike app development project and get a rate quote.