I hope you enjoy reading this blog post.
Would you like to get expert advice? Click Here
home / blog / Construction Company WordPress Themes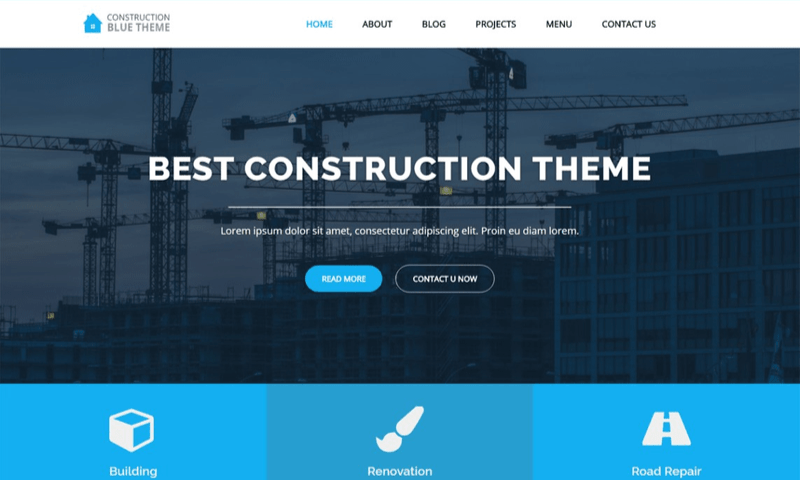 A website represents your construction company. To build one, you can use a variety of WordPress themes to do it. With a complete and enriching website, you can promote your services effectively. Most of the WordPress themes come with pre-built page designs that ease the web development. To customize your website, use themes including customization options and page builder tools.
Here are some of the best construction company WordPress themes to use for your website:
Lightwire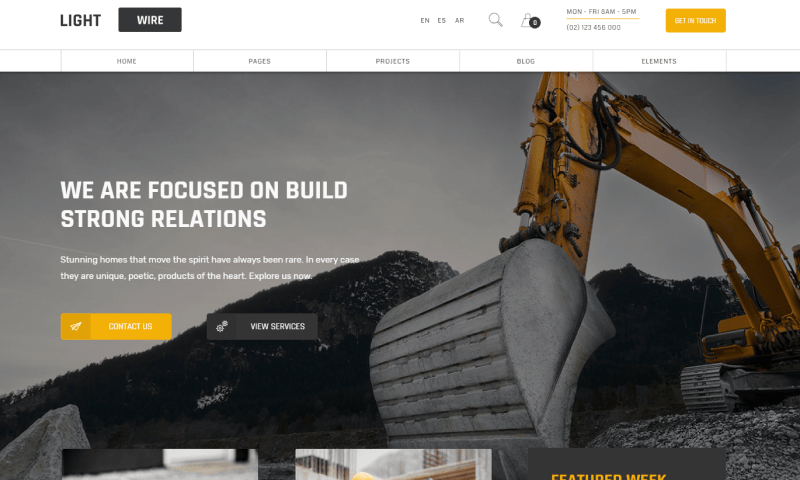 Lightwire comes with pretty-built content and numerous options for construction company website development. The Lightwire theme package with more than 35 total pages helps you find the most suited design for your website. When checking the demo content, you get to see six types of website modes.
The demo site you select gives you access to a prosperous home page design filled with useful features such as lists for service promotion, logo display panel to show off clients, video players,, and sliders to welcome visitors. This theme's flexibility allows you to select the elements from the available templates you wish to display on your website's homepage.
Yellow Business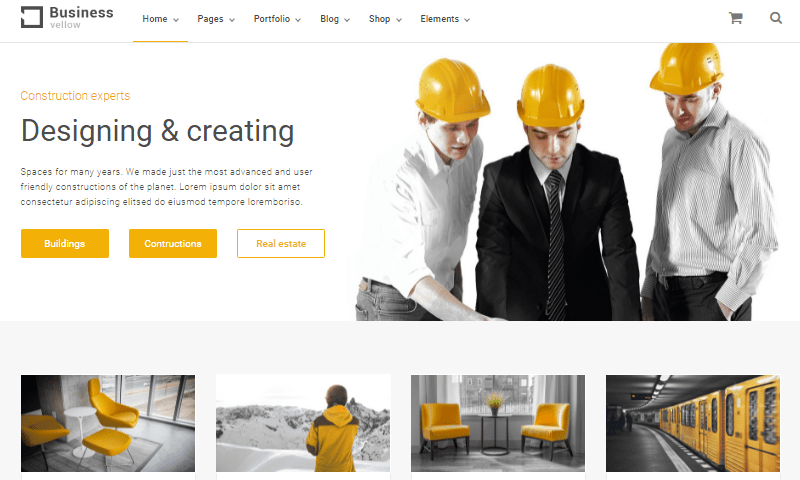 Yellow Business is the perfect WordPress theme to build a professional construction business website. To generate maximum leads via your website, choose Yellow Business as it has a professional and focused design. Once you install it, you can select the demo homepage layouts you want to add to your website and internal pages that you wish to post. The vast availability of templates and layouts helps you to find the most delicate designs that appeal to potential customers.
With Yellow Business, you use a powerful drag-and-drop interface to build enticing content designs and layouts that make your website stand out. You get 15 portfolio design variants that help you to choose the perfect option to display finished projects. If you ever face any difficulty using Yellow Business, reach out to the 24/7 help desk and leverage the online documentation. This new construction company WordPress theme is packed with advanced and most delicate features.
Kalium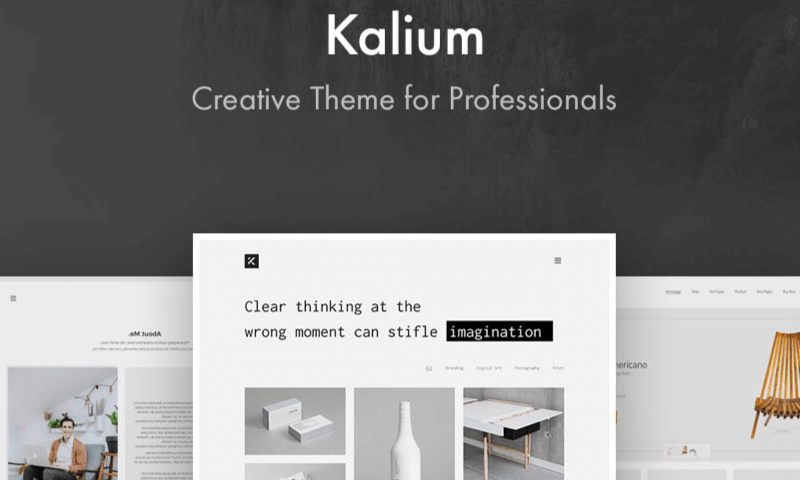 When you install Kalium, you can import an entirely built construction company demo website into the WordPress dashboard with a few clicks. After import, you can edit templates to make sure that your website can show off your company perfectly. The professional-looking homepage website layout, inner-page templates, and WPBakery Page Builder are some of the great features you get in the theme package. The user-friendly premium plugin helps you in customizing your construction company website the way you want.
The Kalium theme settings offer more customization options. With them, you can instantly change the entire layout style of your website. As the templates are mobile responsive, you can access your website with no hassles. Kalium demo provides you with all the visually appealing templates that you need for your website.
Wilmer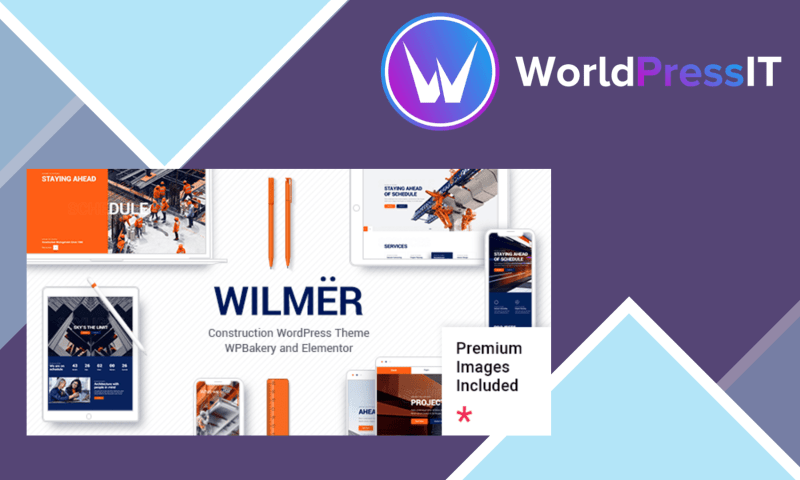 Wilmer comes with nine homepage layouts that you can use for your construction company website. The modern Wilmer theme offers a visually enticing design that adds a premium look and traditional gainful features to your website. When you check out their demos, you get to see that this WordPress theme suits various websites for construction companies. Besides choosing a demo, you can also choose header styles – header menu design, left side menu bar, and full-screen menu option. Use the mega menu functionality to show various content in your drop-down menus instead of only links to improve your navigation areas.
The slider tool allows you to include interactive slideshows to your website for showing your finished construction projects. As Wilmer is mobile-friendly, your website and its content will look excellent regardless of the users' devices. To be creative with the website design, make most of the Wilmer theme that includes the premium WPBakery Page Builder plugin. You can open up all the templates to edit via a drag-and-drop user interface without coding. This theme offers multiple customization options and tools. Wilmer can be a great choice for users who prefer a ready off-the-shelf template as it has nicely laid out predesigned content.
Koncrete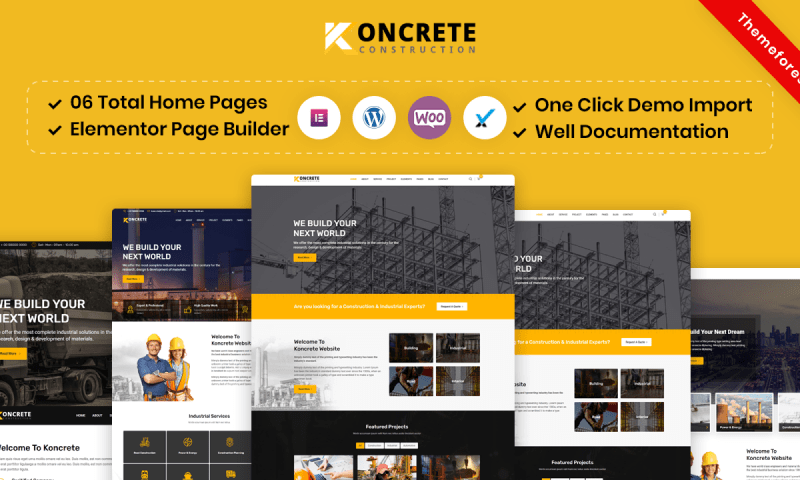 Koncrete is a drag-and-drop construction company WordPress theme that is used to build professional business websites. With Koncrete, you can build cutting-edge and user-friendly website for your construction company that can impress maximum visitors. The animated background display is an unique feature in the Koncrete package that helps you grab eyeballs. Animated text is another feature that helps you to introduce your business to people as soon as they visit your website.
The default design of Koncrete gives you the chance to introduce your team, share customer feedback, and outline your services. Use catalog templates and eCommerce templates to list products for sale and show featured products on your home page. With blog templates, you can share latest the updates on your website.
Koncrete helps you to customize almost everything about your construction company website. With this WordPress theme, you can move sections across the homepage and other pages of your website, include new sections, and make changes to boost overall appearance. Go for Koncrete if you want to build a visually appealing website.
So, you get a good deal of WordPress theme options to build your construction company website. Some of them are mentioned above. You can find information about others online. Identify your web development needs first and choose the right construction company WordPress theme suited to your requirements!